PARTY'S OVER FOR SEAHAWKS' LARGENT, BUT IT'S A BIG TREAT FOR HOMELESS
Associated Press
December 25, 1989
DEC. 24 -- Seven thousand fans showed up at a party to say goodbye to Steve Largent after he had played his last game for the Seattle Seahawks. "I wish I was as neat as you all think I am but I'm not," Largent told the capacity crowd at the Washington State Convention Center.
Seattle's homeless will benefit from the $70,000 the party produced, including $5,500 given by Largent's teammates.
"I'm overwhelmed by all of this," he said.
Largent, the NFL's all-time leading pass receiver, never went to a Super Bowl but he became the favorite player of Seahawks fans, for his overachievements on the field and his humble demeanor off it.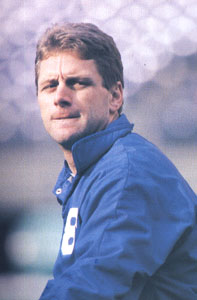 Mike Haynes, Los Angeles Raiders defensive back, sent Largent a telegram, saying: "For a guy too slow and too short, you sure fooled a lot of people."
Largent, 35, also received videotape messages from President Bush and former President Reagan.
"You are one of those people who really have made a difference," Bush said. "I offer my heartfelt thanks not only from the community of Seattle but from this president."
Said Reagan, "Several times when I've watched you, I wanted to shout, 'Win one for the Gipper.' You are truly a role model for the rest of us."
Largent said his retirement hadn't really hit him yet.
"It's just the end of another season," he said. "It may even take until next May or next September when I'm not putting on a football uniform to realize my career is over."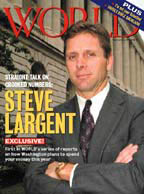 Largent prepares for next route
After Seahawks legend runs for governor of Oklahoma, can ultimate post be far off?
Friday, June 29, 2001
By DAN RALEY
SEATTLE POST-INTELLIGENCER REPORTER
TULSA, Okla. -- Unrecognizable in his golf cap, sunglasses and khaki shorts, Steve Largent was stuck in the sweaty crowd earlier this month at the 101st U.S. Open, trying to get from one end of Southern Hills Country Club to the other. He had a pressing appointment. He saw an opening.
Largent caught 819 passes for 13,089 yards and 100 touchdowns in 14 seasons with the Seahawks, establishing several league records that have since been broken.
With only a spectator badge in hand, Largent casually slipped behind a barrier separating fans and golfers, an off-limits area, daring anyone to stop him.
"It's easier to ask for forgiveness than permission," he said with a smile.
It has been 12 years since Largent caught his last pass for the Seattle Seahawks, completing a Hall of Fame career. When not improvising, he still runs a very precise route.
In 17 months, he intends to leave this gritty Bible Belt city, his birthplace and home since leaving the NFL, and move 102 miles down the lonely, four-lane Turner Turnpike, past the idle oil refineries and wide-open spaces, and into the governor's mansion in Oklahoma City.
A congressman for six years, he has been a political wide receiver. Now he wants to be quarterback.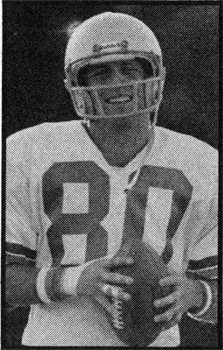 "I always felt the gifts you need as governor were more suited for my personality," he said. "I'm a good team player, but I'm not a policy wonk. In Congress, you need 218 votes to make anything happen. When you're governor, you're the CEO of the state. You establish the vision and standards for the state. You're the leader."
Extremely popular across this flat landscape, Largent won his re-election to Congress in a landslide. Next is the gubernatorial race to replace Frank Keating. Which, considering the natural progression, lends to another question.
What about the White House?
There's been an actor in the Oval Office. People from Tulsa to Seattle say an athlete is coming, and it won't be Jesse Ventura. Already there are those in the Seahawks organization mulling what cabinet posts to ask for.
However, Largent isn't about to think two plays ahead -- at least not publicly.
Still, he leaves enough room to turn this quick out into a fly pattern.
"I don't want to go back to Washington," he said, referring to the city, not the state. "I have enough light to see the next step. I don't know what's up ahead. I just don't know. But I also said I'd never be in politics when I retired (from football) in 1989.
"I never say never."
Politics in the huddle
For now, Largent lives in a quiet, tree-lined neighborhood in South Tulsa, a few blocks from Southern Hills. Three out of every four homes are made of brick, to combat the elements. There's no gated community. Nothing too outrageous. Anyone can ring his doorbell.
That's why they like him in this part of the country. He's one of them. God-fearing. Republican. Grass-roots.
"I'd like to see him as governor," said John Chitwood, 48, a salesman from Broken Arrow. "He's an honest man with good morals."
Said Kerri Davenport, 45, a security company manager from Musgokee, "I think he has a good vision for Oklahoma. I don't think he has any ulterior motives. I haven't heard anything bad about him. Let the people speak."
Largent first gained an interest in politics while still a Seahawks player. On team charter flights, he used to hold long, thought-provoking discussions with teammate Jeff Kemp, son of a former NFL All-Pro quarterback, congressman and presidential candidate.
It wasn't enough to make him run for office right away, but he had a grasp for things previously foreign to him.
Out of football, Largent returned to Oklahoma and started a marketing and advertising company, a successful venture. He made public appearances, did motivational speaking, even agreed to have his family appear in a Hanes commercial (wearing sweats, of course).
Now raising four kids with his wife, Terry, his high school sweetheart in Oklahoma City, Largent became increasingly annoyed with political decisions emanating out of Washington. He thought most had a negative effect on his family.
He was urged by his wife and others to get involved. In 1994, Largent declared his candidacy for an open seat as U.S. Representative in the Tulsa-dominated 1st District. One man was chiefly responsible for this leap into the political arena.
"It was probably Bill Clinton more than anything else -- total frustration," Largent said. "Gays in the military. Repealing abortion. Tax increases. Government health care. Scandals. It was one thing after another. I've met him and he's a very personable guy. He's very likeable. I like him.
"I just didn't like the way he was doing things."
Largent proved himself a formidable legislator from the beginning. He wasn't afraid to go across the middle and take a hit. Or give one out.
In 1997, Largent and 10 other Republicans boldly derailed a GOP spending bill, infuriating Newt Gingrich. The Speaker of the House wanted to increase staff and salaries. Largent had voted his conscience, remembering the public had been promised a one-third cut in this direction.
Gingrich called a mandatory meeting for the House of Representatives, demanding that a roll call be taken. He literally had the heat turned up in the room to make people uncomfortable. He started in on a rant.
"It was belittling, insulting and intimidating," Largent recalled.
Zeroing in on the dissident 11, Gingrich asked why these individuals thought they were so much better than everyone else, why they didn't act like adults. He waited for a response. Largent stood up.
"I told him I'd been in a lot smaller rooms with a lot bigger men," Largent said, referring to the NFL. "I think it totally shocked Newt."
Gingrich lost much of his bluster as the former football player and novice politician got a big show of support from his peers for not wavering. Gingrich backed off his crusade. Before long, he left his position and was out of politics.
Largent always has been a man of conviction, even if it goes against popular opinion.
As a fourth-round draft pick of the Houston Oilers -- before he was traded to the Seahawks -- Largent negotiated his own three-year contract, which was unheard of in the NFL. Still is. The All-America receiver from the University of Tulsa agreed to salaries of $28,000, $32,000 and $40,000, plus a signing bonus of $20,000. The numbers were symbolic.
"The signing bonus was as much as anyone had ever made in my family," he said.
Largent also was one of the first big names to cross the picket line during the 1987 NFL players' strike. Principle superceded relationships.
"I signed a contract," he said, "and I was going to honor it."
Of course, not everyone views things the way Largent does in his current post, either. His negative stances on homosexuality and abortion are not welcome in those camps. People think he could be a little less rigid in his overall dealings -- be more tolerant.
"I've been in his office and he has a picture of Martin Luther King with a quote on his wall," said Robert Myer, 39, a self-employed Tulsan who is African-American. "It's not that he's close-minded to racial things, but he has to look at all people as equal, such as gays."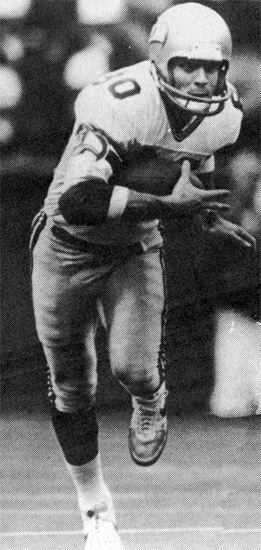 Said O.L. Saunders, a retired Tulsa engineer, "He hasn't impressed me as a legislator, but there's no doubt he's going to be elected governor. That's a given. He's got where he is on name recognition more than anything else. He's done fine for himself, but he hasn't done much for Oklahoma."
But will he vote for him?
"Probably," Saunders said. "Anything beats what we've got."
Largent doesn't even have that much political clout in Washington state. He appeared in a TV ad supporting Ellen Craswell's 1996 campaign for governor. She lost. That same year, he endorsed state Rep. Barney Beeksma, another religious-right legislator, from Oak Harbor. Beeksma lost. Largent also was featured in a TV spot aired by opponents of an initiative to outlaw bear baiting and use of dogs to hunt bears, cougars and bobcats. The initiative passed.
Home on the range
Largent caught 819 passes for 13,089 yards and 100 touchdowns in his 14 seasons with the Seahawks, establishing several league records that have been broken since. His old team has a big need for wide receivers for next season. He looks like he might have something left.
At 46, Largent appears sturdy and fit. At 190 pounds, his weight remains the same as it was during his playing days. He's lost very little muscle tone. He works at staying healthy.
"I run five or six miles every other day," he said. "My exercise is for two reasons: 1) stress release; and 2) so I don't have to worry about what I eat. I run to eat."
For football these days, Largent often plays catch with his son, Kelly, 16, a junior-to-be and wide receiver for Metro Christian Academy, a 3A high school (6A is tops), or runs routes with the prep team.
Unlike most other NFL players, Largent didn't take any debilitating injuries with him to retirement. He's had elbow surgery, but that was from either pitching for the congressional baseball team or playing tennis.
"I'm in good shape," he said. "I don't have the illusion I could go out and play football. I don't think I was a year too late or a year too early in retiring. If the Seahawks had been in the playoffs a year later, I might have had some regrets."
It was time to move home, to patch up some differences. Largent's personal history was well-documented when he was a Seahawk; he grew up in family that ended in divorce, with alcohol and other abuses fueling the turmoil, leading him to religion. He was estranged from his father.
A construction worker, Jim Largent returned to Tulsa and moved close to his congressman son. At 66, he died last year.
"It was a sad chapter that had a positive ending; not to the point I would have liked, but we were able to reconcile," Largent said. "He had a sad life, one I don't want to duplicate. I was holding his hand when he took his last breath."
He returns to Seattle once or twice a year, usually to bring his youngest son, Kramer, 15, to Children's Hospital. Kramer, who suffers from spina bifida, a congenital spinal disease, had foot surgery there last month.
Largent says he doesn't normally support using public funds for stadium construction. But he wasn't opposed to the Seahawks stadium project. He said taxpayers were permitted to vote on the project, Paul Allen provided 25 percent of the stadium cost and Allen paid for the election, all good things for Seattle.
"I like to see owners be local and have an investment in the stadium; it cuts down on owners blackmailing the city and threatening to move," he said. "With the Kingdome, it was a liability issue with the tiles and earthquake. To me, that was a no-brainer. Something had to be done."
Largent keeps fairly close tabs on the Seahawks. His ties to the team were strengthened with the off-season coaching hire of Jim Zorn, Largent's first pro quarterback.
"I'm a big Mike Holmgren fan," he said. "Like everybody else, I'm hoping Matt Hasselback is a player."
The healing process
If and when he becomes governor, Largent will have to move out of his beloved Tulsa. Downtown is a mix of office buildings and nearly a dozen large churches, some with gothic steeples reaching high into the skyline. The Arkansas River separates them from the fields of blackened oil refineries.
It's Dallas without the traffic, the last stop before the Ozarks, an overly friendly place, he says.
Largent will head for a new home still suffering and in mourning, six years after the terrorist action of Timothy McVeigh blew up the Alfred P. Murrah Federal Building, killing 168 people, many of them children.
Where the nine-story building once stood, there remains a shell of concrete and re-bar surrounding a national memorial, a wrenching sight. At each end are the Gates of Time, gold-colored archways. One carries the numbers 9:01, the other 9:03, meant to keep the destruction -- the bomb went off at 9:02 -- confined to the site.
A reflecting pool covers the street that crossed in front of the Murrah building, where McVeigh parked a truck full of explosives. One hundred and sixty-eight chairs, arranged in rows of nine, represent the victims. A museum documenting the horror sits inside a nearby building that survived the blast.
A block-long cyclone fence holds photos, ID cards, letters, T-shirts, teddy bears and other personal items belonging to either bomb victims or their family members. Across the street is a statue of a "Weeping Jesus."
Though a government employee, Largent had never visited the Murrah Building before the explosion. Nor did he know any of the victims. However, within hours of the bombing, he and all of the state's top politicians arrived in Oklahoma City to survey the damage.
Largent was overwhelmed by what he saw. He did not oppose McVeigh's execution on June 11.
"I am pro-death penalty, but not an enthusiastic death-penalty person," he said. "I think there's a place for it, that it should serve as a deterrent. With his execution, I think justice was served and there was a sense of finality and closure.
"That was good for Oklahoma. I don't know if it completes the healing process."
Another Largent is lending a hand
KIRKLAND – Strength and determination resonate in the firmest handshake at Seattle Seahawks minicamp.
Kramer Largent, 19 years old and a volunteer assistant trainer, doesn't have to worry about getting a grip. He might, however, want to avoid the tackle football games he sought out in high school.
Much like his famous father Steve, who beat the odds in becoming a Hall of Fame receiver for the Seahawks from 1976 to 1989, Kramer seems averse to limitations.
Especially the ones associated with spina bifida, the congenital disorder that keeps him from running, but not much else.
"It's not that you even tip your hat to him," quarterbacks coach Jim Zorn said after practice Monday. "He is just a kid that is trying to gain experience and learn."
Zorn and Steve Largent remain close from their days as teammates.
Kramer, who recently finished his freshman year at Seattle Pacific University, is living with the Zorns now that school is out. He said he'll transfer to the University of Tulsa, his father's alma mater, after learning that SPU's athletic-training program is not accredited.
In the meantime, the Seahawks are giving him a chance to learn from the pros.
"I realized somewhere in middle school that I wanted to be somewhere on the field, but I found out I couldn't play football," Largent said. "My junior year, I realized I might as well be an athletic trainer; I could feel part of the team."
Zorn has tried to get Kramer to channel some of his competitive drive into wheelchair sports.
"I'm too stubborn," Largent said. "I don't want to be in a wheelchair when I don't have to be."
Largent walks with a limp but pushes equipment around without apparent difficulty.
"He's got two other brothers and one sister and they have never treated him any differently than anyone else in the family," Zorn said. "He's just a guy. He has had some limitations in that he can't run, but that didn't prevent him from playing sports and trying whatever he could do."
For Ex-Wide Receiver, It's a Nice Recovery
Largent Back on Course After Stroke
Source: Washington Post
By Michael Arkush
Special to The Washington Post
Thursday, August 18, 2005; E04
The subject is strokes. Except Steve Largent, the ex-Seattle Seahawks wide receiver, isn't asking for any, or giving them away.
In April, he suffered one.
"I went home and was in a daze," recalled Largent, 50, early in his round at Congressional Country Club's Gold Course in Bethesda. "My wife said: 'Where have you been? We've been waiting for dinner.' I said, in very delayed terms, 'I can't explain it.' After dinner, we went to the hospital."
It remains difficult to explain. There were no missed signs, such as high blood pressure or high cholesterol, and he was working out several times a week.
Since the stroke, he has lost at least 15 yards with his short irons, although he can still drive it about 275. He also knows how to scramble. At No. 10, a 493-yard, par 5, after his tee shot nearly found the hazard, he salvaged par with a 60-yard wedge to tap-in range. A 12-handicapper, he finished with a 15-over 86.
Scoring has never been Largent's problem. In 14 seasons (1976-1989), Largent caught 819 passes for 13,089 yards and 100 touchdowns. Yet, as much as he loves football, he isn't the type to constantly rehash the past. "A lot of guys leave the game involuntarily," said Largent, who was inducted into the Hall of Fame in 1995. "I left when I wanted to leave."
Nor does he become overly nostalgic about his second career, which also unfolded in the public eye. A conservative Republican, he was elected four times to the U.S. House of Representatives, giving up his seat during his final term to run for governor of Oklahoma in 2002. Largent, who lost by about 6,500 votes, has wondered if he should have been more aggressive in going after his opponent's record. However, he quickly added, "I just felt there was just too much negative campaigning, and I didn't like that."
These days, he's fully involved in career number three. As president of the Cellular Telecommunications and Internet Association, Largent lobbies Congress on behalf of the wireless industry and organizes two major trade shows each year.
"I think we're just seeing the beginning of all that will be known as wireless communication," he said.
After retiring from the Seahawks, he thought briefly about trying to get his golf game in decent enough shape to compete on the Celebrity Players Tour. He decided to back off.
"I think I just got a healthier perspective of life and golf," said Largent, who didn't own a set of clubs until he was 21. "I was hyper-competitive when I played football . . . hyper. And I've lost that a little bit."
Obviously, not entirely. About 15 minutes later, after a solid drive at No. 12, a 414-yard par-4, he pushed his approach into the water, leading to his only double bogey of the day. "Golly, I can't believe I did that," said Largent, who hopes to tee it up about 15 times this year. He explains his disappointment with the errant shot: "I still like to play well."
Largent is asked if he would ever make another run for public office. He resorts to the never-say-never cliche. Referring to his service in the House, he said: "I didn't get into Congress for a career. I sort of feel that's the way the founding fathers meant it to be."
As for football, he explored the possibility last year of becoming the general manager in Seattle. The Seahawks, he said, were not interested.
No matter. Largent is quite content. Except for taking a blood thinner and aspirin once a day, Largent, who has experienced temporary memory loss, hasn't made any changes in his lifestyle since the stroke.
"Now I'm going to do what every other golfer does," he joked. "I'm going to blame my irons, and go out and get a new set."
Seattle's Zorn married
Waterloo Courier
April 9, 1979
SEATTLE (AP) - Seattle Seahawks quarterback Jim Zorn married Christine Joy Sturton Saturday in Bellevue, Wash. Seahawks wide receiver
Steve Largent
was best man, and his wife was the matron of honor at the church wedding. The ushers included other members of the National Football League club — running back
Sherman Smith
, tight end
Ron Howard
, guard
Ron Coder
and former linebacker
Ken Hutcherson
. About 20 Seahawks, including office personnel, were among those attending.
The Zorns planned a week's honeymoon before moving into a home Zorn recently bought on Mercer Island.