Looking for THE game? The story on Steve Largent and Mike Harden?! Yeah, I thought so.
Here it is!
Seahawks History Includes Memorable Mondays
But they're not all good memories just ask Brian Bosworth.
By Scott M. Johnson, For the Kitsap Sun
December 4, 2005
KIRKLAND
1) Largent's record
Oct. 6, 1986: Seahawks 33,San Diego 7
Wide receiver Steve Largent breaks Harold Carmichael's record for consecutive games with a reception, catching a pass for the 128th game in a row. Largent catches four passes in that game, including a 15-yard touchdown reception while Seattle scores 33 unanswered points over the final three quarters.
Aftermath: Largent's streak reaches 177 games before his 1989 retirement and is later broken by Jerry Rice.

TRIUMPHANT SEAHAWKS HOPE THEY'VE TAUGHT THEMSELVES A LESSON
By Michael Wilbon, Washington Post Staff Writer
December 15, 1987
DEC. 14 -- It's fitting that the National Football League's most unpredictable team, the Seattle Seahawks, came into their Kingdome on Sunday on the heels of two consecutive defeats and on the brink of being knocked out of the AFC playoff race -- and proceeded to beat Denver and climb within a half-game of the division lead The Seahawks team that showed up Sunday was the one many people picked to represent the conference in the Super Bowl. The Dave Krieg who showed up Sunday was the one ranked statistically among the top five passers of all time. The Seattle offense that showed up was one that played with imagination and spark. And the defense that showed up was one that contained Denver's John Elway as few defenses have.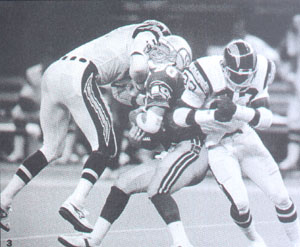 The Seattle fans were so thrilled with the Seahawks' wide-open play calling -- Coach Chuck Knox is known for his conservative "Ground Chuck" offensive approach -- that they even cheered wildly when wide receiver Steve Largent threw a terrible and incomplete pass to quarterback Krieg in the second half. It was just one of those days when the Seahawks looked better than any rival in the AFC and as good as San Francisco or Chicago in the NFC.

Source: Seahawks.com

Oct 6, 1986
Seahawks defeat San Diego Chargers, 33-7, on Monday Night Football as Steve Largent breaks NFL record for most consecutive games with a pass reception. Largent catches a pass in the 128th straight game in which he participated.
Dec 27, 1987
Steve Largent catches six passes in a 41-20 loss at Kansas City and becomes the NFL's all-time leading receiver with 751. Largent breaks the previous record of 750 by Charlie Joiner.
Sep 18, 1988
Steve Largent becomes the NFL's all-time leader in pass receiving yards with 12,167 at San Diego, but the Seahawks lose to the Chargers, 17-6. Largent breaks Charlie Joiner's record of 12,146 yards.
Nov 26, 1989
Steve Largent ties Don Hutson's NFL record of 99 career receiving touchdowns in the Seahawks 41-14 loss at Denver.
Dec 10, 1989
Seahawks win 24-17 at Cincinnati as Dave Krieg throws three touchdown passes. One goes to Steve Largent, the NFL record 100th of his career.
Dec 23, 1989
Seahawks close out the season with a 29-0 loss to the Washington Redskins. In pregame ceremonies, retiring wide receiver Steve Largent is honored and his is the first name inducted in the Seahawks Ring of Honor.
Jul 29, 1995
Steve Largent is formally inducted into the Pro Football Hall of Fame.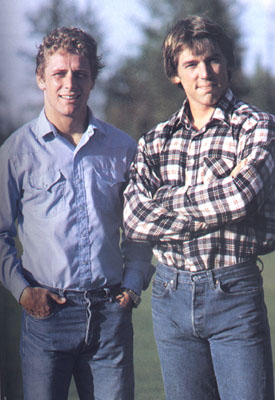 NEW AND IMPROVED / HALF A SEASON INTO EXISTENCE, THE NFL'S NEWEST EXPANSION TEAMS ARE MORE FEARED THAN INTIMIDATED
Source: The News Tribune
Nov 10, 1995
By John Clayton
The Seahawks scrubbed their entire starting backfield three days before their franchise debut and put receivers Steve Largent and Steve Raible at the running back positions in a passing offense.
Seattle Seahawks, 1976 - Steve Largent began his NFL career by catching 54 passes, most of any expansion receiver. Tossing him the ball was Jim Zorn, who threw for 2,571 yards, easily the best among expansion QBs. The result: A respectable team, but just a 2-12 record.
Street and Smith's Pro Football 1978
Seattle will be in business for a long, long time before they sign a more valuable free agent than Jim Zorn or trade more judiciously than they did when they acquired Steve Largent.
Zorn and Largent are the heart of the Seattle team.
Largent got a quick peek at the Houston training camp two years ago. The Oilers needed a wide receiver, but even though they drafted him the fourth round, they thought so little of his chances that they shipped him to Seattle for an eighth-round pick.
Largent has 87 receptions in two years. He averaged 19.4 yards on his 33 catches last year and pushed his touchdown production from 4 to 10.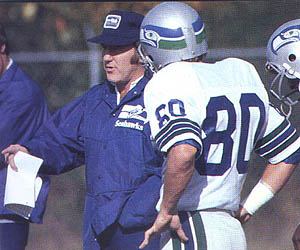 The Seahawks knew what they were doing. Their quarterback and receiver coach is Jerry Rhome (pictured at right with Largent), who coached Largent at Tulsa. Rhome realized that Largent knew where the end zone was located. Steve caught 14 passes in each of his last two seasons to lead the nation's colleges.
The Master of Tomfoolery
Source: Football's Most Wanted: the top 10 book of the great game's outrageous characters, fortunate fumbles and other oddities
Raiders' defensive back Lester Hayes called him "The Master of Tomfoolery." During his playing days he set career records for most pass receptions (819), most receiving yards (13,089), and most touchdown receptions (100). He caught passes in an incredible 177 consecutive games.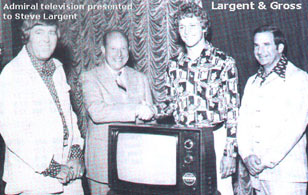 HAWKS OOZE TALENT - ENOUGH TO BE COMPARED TO 12-4 CLUB IN '84
By Dave Boling
Aug 9, 1998
News Tribune columnist
After racking up those 12 triumphs, the '84 team landed seven players (quarterback Dave Krieg, receiver Steve Largent, safety Kenny Easley, nose guard Joe Nash, Brown, kicker Norm Johnson and special teams standout Fredd Young) in the Pro Bowl, with two as alternates (defensive end Jacob Green and back Eric Lane).
And while the 1984 defensive front of Green, Nash and Jeff Bryant was extremely effective, the '98 wall of Sinclair, Adams, Kennedy and Phillip Daniels should be far more disruptive to opponents.
The current offensive front, meanwhile, might be better at every position than the 1984 group. McKenzie was excellent, but aging; Blair Bush and Bob Cryder had been first-round picks. But the current group has a pair of former Pro Bowlers, a pair of first-rounders and a starter off the defending Super Bowl champs.
The 1984 team, without question, benefited from several giant playmakers.
Easley was that season's NFL Defensive Player of the Year, and Largent went on to the Hall of Fame. Their influence is immeasurable. Krieg, meanwhile, was extremely inventive at quarterback, and Young was a special teams terror.
However, Galloway, Kennedy, Adams, Brown, Moon, Darryl Williams and Ricky Watters all have the capacity to individually influence the outcome of games this season.
The strength and character of the current team remains undefined, but Brown can point to the power source of the 1984 unit without hesitation.
"It was our unity; we always remembered we were a team," he said. "There was a pride, an integrity there. Every player had the drive to be the best he could be so the team could be the best it could be. There was nobody going to convince us we weren't going to the Super Bowl."
And so it comes down to this: If the talented 1984 team was to match up against the 1998 club - which has yet to compete in a single regular-season game - who would win?
"If you lined them up, this team against that team, I think this team wins," Wright said, "because there's so much speed and defensively dominating players."
Brown just wants to wait and see.
"These are talented guys, but this team hasn't done anything yet," Brown reminded.
"Between the two, though, I'd have to say our bunch."
Why?
"Because everybody knows they don't make 'em like they used to."

Steve Largent: The Natural
Inside the Seahawks magazine
Volume 1, Number 25
APril 17, 1987 - May 7, 1987
Thirty-two-year-old Steve Largent is marching full speed toward the Pro Football Hall of Fame outfitted by Natural Selection Top photo, Steve wears a Patagonia sweatshirt, $36.98, and Swatch watches, $35, with Swatchguards for $2.98.
Middle photo, Steve has donned an exclusive "Paradise"print T-shirt, 11.98, and Patagonia lightweight walking pants for $39.98.
In the bottom photo, Steve cuts the glare with Swatch Shields sunglasses, $30, exclusive heavyweight 100% cotton polo shirt that's available in 12 colors for $19.98, and exclusive 100% cotton sweatpants, also in 12 colors for $2498.
Seahawks Beat Jets, End Five-Game Losing Streak
Source: News Services, Washington Post
October 26, 1981
Wide receiver Steve Largent ran 10 yards for one score and caught a 27-yard touchdown pass from Jim Zorn to help the Seattle Seahawks end a five-game losing streak with a 19-3 upset of the New York Jets today. Largent ran 10 yards around right end for Seattle's first touchdown late in the first half, and gave the Seahawks a 13-0 lead with his scoring catch early in the second half. Sherman Smith also scored for the Seahawks on a four-yard run in the fourth quarter.
Seahawks Stop Fouts, Chargers, 24-0
From News Services, Washington Post
October 30, 1984
SAN DIEGO, Oct. 29, 1984 -- Dave Krieg passed for 282 yards, Steve Largent caught three touchdown passes, Kenny Easley had three interceptions and the Seattle Seahawks easily beat the San Diego Chargers, 24-0, tonight.
The Seahawks sacked Chargers quarterback Dan Fouts six times and forced three turnovers as San Diego suffered its first shutout since a 7-0 loss to Denver in 1979. Seattle improved to 7-2, good for a second-place tie with the Los Angeles Raiders, one game behind the Broncos in the AFC West. The Chargers played without injured receivers Kellen Winslow and Wes Chandler and used No. 2 tight end Pete Holohan sparingly. San Diego fell to 4-5, all the losses against AFC West opponents, and severely hurt its playoff hopes.
Krieg, who entered the game with a 53 percent pass completion rate, completed 23 of 29 passes against San Diego's inexperienced secondary. He directed touchdown drives of 96, 81 and 63 yards.
Largent, who has caught passes in 100 straight games, caught scoring passes of 11, 13 and 16 yards. His first touchdown catch was his first reception of the night, the fifth straight game he has done that.
Easley, a fourth-year pro from UCLA, squelched three drives. He intercepted passes at the Seahawks' four-yard line in the first quarter, the six in the third and the eight in the final period.
Twice Krieg passed to Largent for touchdowns in the first half, and Norm Johnson kicked a 42-yard field goal for a 17-0 lead at intermission. Largent's third touchdown pass came on the team's second possession of the third quarter, after Easley had intercepted Fouts at the Chargers six and returned it 32 yards.
San Diego's offensive line collapsed around Fouts. The Seahawks got 47 yards in sack losses against Fouts, who managed to complete 24 of 39 passes for 200 yards.
Krieg directed two long touchdown drives in the first half and the Seahawks turned two San Diego turnovers into 10 points.
Fouts took the Chargers to Seattle's 39-yard line on the team's second series, but a flea-flicker from Lionel James to Bobby Duckworth was stolen by Easley at the four.
Krieg got the team to the 27 with a 13-yard completion to Byron Walker, then threw a perfectly placed 60-yard pass to Darryl Turner, who beat defenders Gill Byrd and John Turner and came down on the San Diego 13. Two plays later, Largent beat Byrd for an 11-yard touchdown.
Seattle and San Diego both were limping. The Seahawks, who lost running back Curt Warner in the season opener, have seen wide receiver Paul Johns, defensive back Don Dufek, tight end Pete Metzelaars and linebacker Michael Jackson go down with injuries.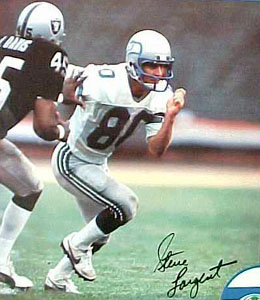 SEAHAWKS PUT SKIDS TO BENGALS
Associated Press
December 11, 1989
Dave Krieg passed a yard to Curt Warner with 3:51 to play to give the Seattle Seahawks a 24-17 victory over the Bengals yesterday in snowy Cincinnati. The Seahawks, who had trailed by 10 points, badly hurt the Bengals' playoff hopes.
On the play before the winning pass, Bengals Coach Sam Wyche disputed a call. He never did calm down and barred reporters from his team's locker room and ordered his players not to talk to reporters.
"I told them not to say anything," he said outside the locker room. "It's kind of like officiating; sometimes things aren't fair."
The Seahawks (6-8) appeared to be stopped when Warner failed to score on third and goal from the 1. But head linesman Tom White blew the play dead and threw a flag for illegal motion. Referee Bob McElwee ruled there was no illegal motion, but the whistle had ended the play anyway, giving Seattle a second chance. Krieg then found Warner wide open in the right flat.
Krieg got the offense going just before the half. He directed a 78-yard drive in 12 plays, improvising a 10-yard touchdown pass for Steve Largent's 100th touchdown catch. It moved Largent ahead of Don Hutson for No. 1 on the NFL's touchdown receiving list.
Largent, 35, already had extended his NFL record to 175 consecutive games with a reception when he caught a nine-yarder on his team's first possession. He also became the first NFL player ever to catch passes for 13,000 yards.
LARGENT HURT
Associated Press
September 11, 1989
Randall Cunningham passed for 240 yards and two touchdowns today to lead the Philadelphia Eagles to a 31-7 victory over the Seattle Seahawks, who lost receiver Steve Largent with a fractured elbow. The Eagles' defense scored one touchdown and set up another as they had three interceptions, three sacks, blocked a punt and held Seattle's running game, led by Curt Warner and John L. Williams, to 77 yards.
Seattle's Don Clune looking for place to play
By GENE GOMOLKA
Daily Times Staff Writer
Delaware County Daily Times
Saturday, December 11, 1976
Don Clune almost didn't make the plane from Seattle to Philadelphia Friday afternoon. Not that the former Cardinal O'Hara and University of Pennsylvania star was tardy. It's just that a week ago Clune lost his job as wide receiver with the Seahawks and his National Football League future was in limbo.
Forty-eight hours later, Clune was re-signed and, as a once-again member of the expansion team, will appear in Sunday's game against the Eagles at Veterans Stadium. But, then again, maybe he won't.
If this all sounds confusing to you, think how Clune must feel. After three years in the game, the name Clune has become synonymous with uncertainty.
Tomorrow, Clune may be in a Seattle uniform for the last time. He is playing out his option and unless he and the Seahawks get together before May, 1977, Clune will become a free agent.
Which may be the best that could happen for the Havertown resident. He has not seen much action lately although he did start earlier in the season. He's caught a total of four passes (none for touchdowns) for 67 yards while competing against two rookie receivers and veteran Sam McCullum who seem to have a lock on the position. It looks like Clune's future is with another club.
The last nine months have been rather upsetting for Clune. He was, after two years with the New York Giants, placed on the 'veteran allocation' list along with Other players who were considered expendable and available for draft by expansion teams Seattle and Tampa.
One of the reasons the Giants were ready to release Clune was because he had informed them he would be playing out his option year and very likely would make a deal with another team after the season.
In March, he became the property of the Seahawks who selected 39 NFL veterans. Seattle also drafted 25 collegians, including wide receiver Steve Raible out of Georgia Tech. The Seahawks then traded for Steve Largent, a rookie wide receiver from Tulsa who had been Houston's fourth-round draft choice.
Largent became a phenomenon while Clune watched from the sidelines. Largent, voted Seattle's rookie of-the-year and offensive player of-the-year, has caught 47 passes for 607 yards and three touchdowns. Raible has four for 126 yards, including an 80-yard touchdown. McCullum has four touchdowns among his 29 receptions for 495 yards.
TEAMMATE BLASTS ZORN
SYRACUSE POST-STANDARD
Monday, April 19, 1982
Veteran center Art Kuehn of the Seattle Seahawks has lashed out at teammates
Jim Zorn
and
Steve Largent
for their stated position on a possible National Football League players' strike next season.
Zorn and Largent, the Seahawks' standout quarterback-wide receiver combination, have said publicly that they would not take part in a strike. Both Zorn and Largent are devout Christians and both have listed religious grounds for their decisions."That would hurt us (the National Football League Players Association)", Kuehn said in a recent interview.
"I don't respect them for their stand. That's hurting the union."