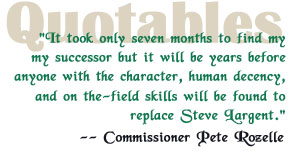 STEVE LARGENT'S HALL OF FAME INDUCTION SPEECH 1995
"Thank you for your kindness to me over the years & thank you for the honor of this moment. I want to share this honor equally with my wife Terry, who has made every good thing in my life possible. I also want to share it with my children: Kyle, Casie, Kelly & Kramer, who make my life wonderful. My most significant accomplishments have always come in victory and defeat, especially Jim Zorn & Dave Krieg. My story, like so many others, is a story of mentors. Of people who challenged me when I questioned myself. Of people who believed in me against all the evidence.
My mother never missed a game or a practice, and kept me from quitting football as a sophomore in high school. My grandfather stepped into the gap after my parents were divorced. My coaches--Jerry Rhome, Steve Moore, Chuck Knox & Jerry Potter-- taught me the game of football and the meaning of leadership. When I close my eyes, I still hear their voices. They still shape my character and direct my life. I was one of those players who was labeled early as: "too small, too slow".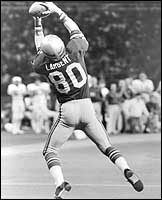 I came to depend on people who actually saw me as bigger and faster than I was. We all need people who believe in us. They expand the boundaries we place upon our lives. In my case, their influence did more than improve my performance in this great game, it filled a hollowness I could not explain, or even understand. When a child grows up without a father, there is an empty place where someone must stand, providing an example of character and confidence. If no one takes that place, a child can live in a shadow all their lives. Their emptiness is often filled by despair, by anger, or even violence. This commonplace tragedy has become the central problem of our society, it has caused an epidemic of secret suffering. But if someone takes that place, a child can escape the shadows. He can find confidence and courage and conscience. And perhaps he can even find his way to the football hall of fame. I have extraordinary respect for men and women who accept that burden and play that role in young lives. They leave an influence more lasting than any law. The really heroic people are not those people who break records, but those who can mend a broken spirit. My accomplishment is a tribute to those people who were willing to do that for me.
Finally, I want to say that whatever favor I have gained is ultimately due to the God I serve. God's grace is particularly clear in life's great challenges and in life's great moments. This is one of those moments for me, and I owe a debt of gratitude that is hopeless to repay. My faith is not a system of belief ... not a code of honor...but a relationship with Jesus Christ, who provided his love in a lonely death. I could explore God's grace to me forever and never reach its depths and never find its limits. His blessing is the ultimate explanation for whatever is praiseworthy in my career and in my life. In football, I found temporary achievements and permanent relationships. It tested my character and discovered my future. I've seen the glory of this game.
To be here in this place, at this moment, for this reason, is an honor beyond all my expectations. I owe you my deepest thanks."
Excerpts from an unnamed newspaper source:
Wednesday, December 22, 1999
When Largent retired, former NFL Commissioner Pete Rozelle said, "It took only seven months to find my successor, but it will be years before anyone with the character, human decency and on-the-field skills will be found to replace Steve Largent."
Largent's farewell reception featured videotaped congratulations from two presidents - Ronald Reagan and George Bush.
Largent told the crowd, "I wish I was as neat as you all think I am, but I'm not."
He was shrewd and tough. He would give defensive backs sportsmanlike "nice-play" taps with a hand as he was getting up after being tackled, a gesture that discouraged cheap shots.
His toughness was never more evident than in 1988. Denver safety Mike Harden threw a right forearm to the left side of Largent's face, shattering the facemask, dislodging teeth and leaving Largent briefly unconscious and with a sprained left knee. Fourteen weeks later, Harden intercepted a pass intended for Brian Blades and headed up the sideline. Largent took off after him like a cruise missile and hit him so hard he fumbled. Largent recovered the ball.
Hall Selection Is Latest Of Largent's `Blessings'
Source: Seattle Times
Sports: Sunday, January 29, 1995
By Craig Smith
Steve Largent was in a car in Tulsa going from one son's basketball game to another game yesterday when he got one of the best telephone calls of his life.
The news: He had just been voted into the Pro Football Hall of Fame by 33 voters convening in Miami during Super Bowl week.
"I have been tremendously blessed in my life over and over again," the freshman congressman from Oklahoma said. "With my family, my faith, my career. The great mystery is, `Why me?' "
The election capped a month in which Largent celebrated his 20th wedding anniversary with his wife, Terry, began the second month of his term in Congress, and voted to change the Constitution (the balanced budget amendment).
As expected, Largent was picked for the Hall in Canton, Ohio, in his first year of eligibility.
Also selected by the panel of pro football writers were defensive end Lee Roy Selmon, the first Tampa Bay player to make it to Canton; tight end Kellen Winslow of the San Diego Chargers; longtime NFL executive Jim Finks; and senior nominee Henry Jordan, a former Green Bay tackle.
Each received 80 percent of the vote from the panel. Two other finalists - offensive lineman Dan Dierdorf and center Dwight Stephenson - did not receive the necessary votes. Eliminated earlier were eight other finalists - defensive ends Carl Eller and L.C. Greenwood, punter Ray Guy, defensive backs Mike Haynes and Mel Renfro, wide receivers Charlie Joiner and Lynn Swann, and guard Tom Mack.
At one time, Largent held six NFL records, including touchdown receptions (100), consecutive games with a catch (177), receptions (819) and yards-gained receiving (13,089). Today, he shares one - most seasons with 50 or more receptions (10, shared by Arizona's Gary Clark).
Largent will be inducted July 29 in Canton in ceremonies preceding the Hall of Fame game between expansion teams Carolina and Jacksonville.
Largent has selected Seahawk vice president Gary Wright to "present" him during the ceremony.
Wright, a Seahawk staffer since the inaugural season of 1976, "has been a great friend and a role model for me, a great adviser," Largent said. "I just have a real special relationship with Gary. I've always considered him a great confidante and friend."
Largent, 40, is considered the first Seahawk elected to the Hall of Fame. Franco Harris played the final eight games of his career as a Hawk in 1984 but earned his ticket to Canton as a Pittsburgh Steeler.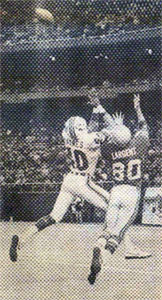 In a telephone interview yesterday, Largent said, "I really feel like this honor is Steve Largent standing on the shoulders of all his coaches, particularly Jerry Potter, my high-school coach; Jerry Rhome, my college (Tulsa) and NFL coach; Steve Moore (former Seahawk offensive coordinator); and my teammates, particularly Jim Zorn and Dave Krieg. . . . And most importantly, my family. My mom (Sue Stewart) who talked me out of quitting football as a sophomore in high school, and my wife, who has been beside me ever since I was a junior in high school."
Largent called the Hall of Fame "hallowed ground" for a football player.
He said he hopes his personal story serves as an "inspiration" to athletes who are told they are "too small or too slow" to succeed. He said he likes to consider himself proof that football ultimately is played "with your head and your heart."
Largent was a fourth-round draft pick of Houston in 1976 and had been cut when the Seahawks inquired about him. The Oilers still had his rights and traded him to Seattle for an eighth-round draft spot.
Largent was praised by ex-coaches and teammates yesterday.
Former Seahawk Coach Jack Patera said in a statement released by the team, "When we got Steve, you could see from the very first practice the concentration he had in catching the ball, the precision used in running his patterns. He reminded me of Raymond Berry (also in the Hall of Fame) in his attention to detail."
"You see receivers today dropping the ball all the time," Patera said. "If Steve had three drops a year, it was an upset. But it all goes back to that first practice. He amazed me more than any player I've been around. You can't help but feel a little bit of pride over a player making the Hall of Fame you thought was great."
Zorn noted that it took three receivers to break Largent's major records (TD catches, yardage and total catches). Flores called him "a perfectionist" and said the Seahawks started the Steve Largent Award as a tribute to him as a person and player.
Of the 180 men in the Hall of Fame, Largent becomes the 10th with ties to this state. The others are: ex-Huskies Hugh McElhenny and Arnie Weinmeister; ex-Cougars Mel Hein and "Turk" Edwards; ex-Gonzaga Bulldogs Tony Canadeo and Ray Flaherty (played and coached in NFL); Morris "Red" Badgro, an end for various New York teams who was born in Orilla outside Renton in 1902; Mike McCormack, former Seahawk interim coach, president and general manager who was a star tackle for Cleveland; and ex-Steeler Harris.