Steve Largent was there!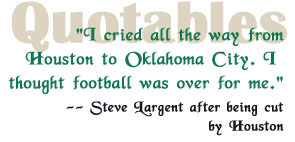 In addition to his athletic ability, he is class act from top to bottom. A gentleman, a role model, a leader, a fan's man, a loyal husband and respected father, a true sports hero, and a former member of the U.S. House of Representatives! I have great respect for this Seattle Seahawks legend!
Inside the Seahawks
Vol. 1, Number 10
October 10,1986 - October 16, 1986
A name, two words that mean so much: excellence, stamina, commitment, integrity, getting the job done, and the list could go on to include all the other adjectives and phrases that have come to stand for the characteristics making up superior achievement and overall quality. Here are just a few of his outstanding accomplishments.
He has played in more games (146) with more starts (144) than any other player in Seattle history. In 1985 he led the NFL in receiving yardage, while breaking his own team records for receptions and yards gained in a single season. He also has led the Seahawks in receptions and yards in each of their first ten seasons.
He has been selected to the AFC/NFC Pro Bowl five times, after the 1978, 1979,1981,1984, and 1985 season. He is the Pro Bowl's career receiving leader with 15 catches and holds the single-game record with eight in the last contest.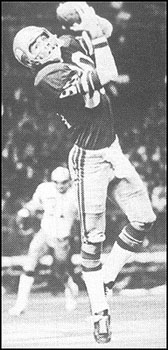 Postcard sent to Leigh from Steve Largent
Dear Friends
As I approach the end of my career I'm often asked "How do you want to be remembered?"
I want to be remembered as a person who possesses the same qualities that I try to instill in my children. They are honesty, humility, responsibility, and perserverance.
How do you want to be remembered?
Steve Largent
I Cor. 9: 24 - 27
Collecting Steve Largent?
1977 Topps #177