Eric Unverzagt | Tyree Davis | Derrick Fenner | Brian Flones | Ken McAlister | Warrick Dunn | Home
Eric Unverzagt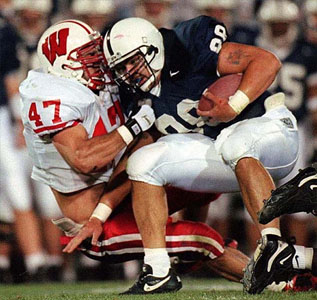 You already know from the previous page that this portion of the site is in honor of Eric Unverzagt. Let's see what others have to say about him.
Source: Seattle Times
Monday, April 22, 1996
Pronounced "UN-verr-zot" and nickname is "Un-vee." . . . Says name has been shortened and that it used to mean "Not a care in the world." . . . Workout fanatic. . . . Was outside linebacker at Wisconsin and played inside linebacker in East-West game. . . . Seahawks will look at him first as inside linebacker, but he may move to strong-side backer. . . . Can deep-snap but isn't up to NFL standards . . . Durable player who started 33 games in a row for the Big Ten school. . . . 4.65 speed. . . . Intense. Seahawk linebacker coach Mike Murphy said Unverzagt "walked back and forth like a caged lion" before running 40-yard dash at workout in Wisconsin. . . . Made 19 tackles against Purdue last season.
From: Raymond Unverzagt
Sent: Monday, August 31, 2009 3:27 PM
Subject: Unverzagt

I believe i am related to Eric Unverzagt, i grew up in College Point, New York...My name is Raymond Unverzagt and everyone used to call me unvo, plus a number of other names too !!!

From: Mike Unverzagt
Sent: Sunday, September 18, 2005 12:08 AM
Subject: Unvy
ya i got a Unvy story my Name is Micheal Conrad Unverzagt and i play for yorktown( in indiana) tigers football and i didnt even know there was a player called Eric Unverzagt and im called Unvy as well!!! i just found out like a min ago that there was Unvy in football that i didnt know about..

But the reason why im called unvy because people said my last name was to complicated and they shorten it so they could remember it easier.

From: Big Dawg
Sent: Thursday, December 27, 2007 7:42 PM
Subject: Unvy
I dont know if this page is still up and running, but I went to high school with him. We actually used to call him Lurch. you know like the butler guy from the Adam's Family. lol. He is a great guy, but i have been out of touch with him since the summer after HS ended. I followed his career for a little bit. I have to admit that I don't know what he is doing now. So if anyone knows, let me know. Thanks. Danny Pisano