Eric Unverzagt | Tyree Davis | Derrick Fenner | Brian Flones | Ken McAlister | Warrick Dunn | Home
Tyree Davis
I loved this guy. I mean to tell you, I loved him! Has anyone EVER played with as much spirit as Tyree Davis?
I first became acquainted with him when he played in the World League with Jon Kitna. Kitna to Davis for a first down! When Jon was signed with the Hawks, I wanted SO much for the Seahawks to sign Tyree too to keep the duo together! They had the rhythm worked out and it was fun to watch! Imagine my surprise when Tyree WAS signed with the Seahawks!! I was ecstatic!! My sister-in-law, a doctor of psychology would surely tell me that I made my own reality! :-)
We got to see a lot of Tyree that first season. We saw him succeed in the pre-season; we saw some incredible plays during the season! Tyree may not have been the most skilled player, but he had the heart and the determination! You NEVER knew what was going to happen when Tyree had the ball but you were guaranteed excitement! For a while he was allowed to return punts. He might run backwards, always a heartstopper (!) and sometimes it worked, sometimes it didn't, but every time he'd jump up after the tackle, ready to go again!
Tyree is from a large family that grew up in poverty, but it didn't seem to hold him back. It's a beautiful story shown below.

She's glad sons are in a fight
by Les Carpenter
Seattle Times staff reporter
She would wake up before the sun, when the stars still shimmered in the morning sky. Betty Davis had 11 children in her rural Arkansas house. There was no one to help. No one to give her money. No one to make sure they stayed out of trouble.
Everything had to come from her. So she got up early, just as little Altheimer, Ark., was beginning to stir, and went to the nursing home to care for the old, the sick and the dying. And when that was done, late in the afternoon, she came back to the house to feed the 11 children because there was no one else who would.
Then she'd go back to the nursing home because there was extra money in sitting with those who were ill. And when she was done, when the sick were asleep, she would go to her last job, cleaning a bank. Many times, she wouldn't get home until almost midnight, only to have to get up with the stars again.
So, yes, today is important to Betty Davis. Today, two of those 11 children will play against each other in an NFL game for the first time. Tennessee's Willie Davis is the Oilers' second leading receiver with 12 catches. Seahawk Tyree Davis is a special-teams regular, sometimes a punt returner and sometimes a receiver, too.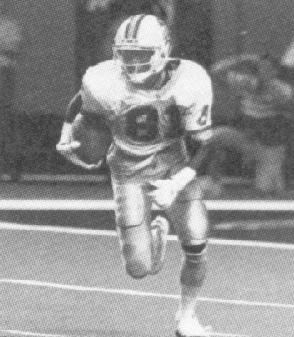 "I sure wish I could be there," she says on the phone from her new home in Pine Bluff, Ark.
The sons do, too, and are trying to fly her here.
"To me, she's the first person in my life," Willie Davis says. "I have a wife and kids but if she calls and says she needs me, it becomes the most important thing to me. I will drop everything and go help her."
He was the one who made it big first, a receiver for the Kansas City Chiefs. In his fourth year in the NFL, he caught 52 passes. The next year he had 51. When the money started coming in, he bought her the new house in Pine Bluff and got her a Cadillac Seville to drive.
But now Tyree is in the NFL, a regular on the Seattle roster, something that hasn't always been so certain in his other years in other cities. He is helping, too. Anything he can send to help. The last thing they want is for her to have to work.
"It was hard but looking back it really wasn't that hard," says Betty, now 59. "Because 11 of them have gone on and done well. They have not forgotten me in their success. That makes it all worthwhile. I feel if maybe I had not done these things for them they wouldn't have turned out the way they did. They didn't get into trouble."
The 11 are all working and doing important things. One is a computer analyst in Chicago, another is a teacher in St. Louis. There's one who's a minister and two who work with troubled children. This is remarkable when you consider few kids ever make it out of Altheimer.
Now, today, two of her sons will play against each other. The last time they were on the same field, it was at tiny Central Arkansas, when Willie was a senior and Tyree a freshman. There were no guarantees of NFL glamour, no big contracts greeting them.
Willie and Tyree had to fight for everything they got.
Maybe this is why you always see them at the end of plays, arguing with opponents. They seem to lead the league in such skirmishes. Tyree, who mostly plays on kickoffs and punts, has been involved in far more of these than any of the other Seahawks.
"In this sport, if anyone finds a weakness in you, they'll exploit it," Tyree says. "If they know they can knock you to the ground and spit in your face, they're going to do it again and again. It's just a lot of card playing and intimidation.
"I won't take it. I guess it comes from growing up poor. When you do that, you don't have a lot. We've been the underdogs everywhere we've been. Nothing's changed now."
Even Willie, who now gets $1.6 million a year from the Oilers, had to struggle. He was released after a mini-camp tryout with the New York Giants in 1990, picked up by the Chiefs in training camp and later released. He worked with Kansas City's practice squad, and went to the World League and played for the Orlando Thunder in 1992. It was there he started to make himself into a star.
This is a connection he has with Tyree. Tyree struggled through three camps with Tampa Bay before being released by the Cincinnati Bengals before last season. Nobody picked him up. He went to the World League of American Football and starred for the Barcelona Dragons. This is finally when the Seahawks noticed. This is finally where he was able to break through.
"I give them a lot of credit," Betty Davis says. "They have fought to get where they are. But it's been tough for Tyree. He's like Willie's younger brother. It's not like he has an identity for himself. He has always had to push harder in everything he does to be better than Willie."
Willie agrees. He and Tyree might be the closest of all the siblings. Tyree calls Willie "my best friend." They have a bond the others don't share, football.
"He's really persevered," Willie says of his younger brother. "I know a lot of guys who would have given up. Someone was going to give him a chance, though. He went to Seattle and showed them what he could do."
Betty Davis is glad, too. She doesn't have to work these days. The last of the children are leaving. Now, another generation of kids, her grandchildren, are spilling in. It seems the house will always be filled.
"I thank God every day that he's entrusted this family with me and that he's helped us from Day 1 to do everything," Betty Davis says."They could have gone the other way. God just helped us get this far."