Terry Wooden


"If this is the best they've got then I'm ending my retirement right now and making a comeback." -- Terry Wooden, April 23, 2003


Source: Seattle Times
No Wooden Nickels In Seahawk Rookie Group
Sports: Sunday, November 04, 1990
Gil Lyons
Linebacker Terry Wooden defies the time-honored concept that NFL rookies are unreliable because they inherently make mistakes.
A second-round draft choice, Wooden has started all seven games for the Seattle Seahawks and has demonstrated that he is a quick learner.
``I'd definitely say he makes fewer mistakes than most rookies,'' defensive coordinator Tom Catlin said. ``He's come a long, long way. You tell him something, he'll remember. And if he doesn't understand something, he'll ask. Some guys won't.''
It would be a gross overstatement, however, to say Wooden plays like a veteran. There simply is too much to learn and nobody can absorb it all in half a season.
``We're trying not to overload Terry,'' Catlin said. ``They (rookies) have an awful lot of adjustments to make. For example, Terry's got to know every dog against every alignment. It's tough.''
Wooden usually understands what needs to be done, Catlin said, but is hesitant to make adjustments.
``Terry still considers himself something of a newcomer,'' Catlin said.
``He's playing beside Jacob Green and he has calls to make, options. But he's reluctant to make them because he's reluctant to control a veteran. He's going to concede to a veteran.''
Wooden has been the most productive Seahawk rookie, ranking fourth on the team in tackles with 33. He is the steadiest newcomer in a promising group - one that includes Cortez Kennedy, Robert Blackmon and Eric Hayes - that has provided muscle and quickness to Catlin's increasingly effective defense.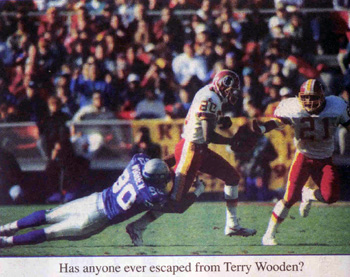 Source: Seattle P-I
NFL linebacker crop lacks usual bulk
Defenses adapting to speed in lieu of size
Wednesday, April 23, 2003
By CLARE FARNSWORTH
SEATTLE POST-INTELLIGENCER REPORTER
KIRKLAND -- Herman Edwards had just emerged from watching linebackers work out at the NFL scouting combine and was wearing the same perplexed look as everyone who had preceded him.
Where have all the linebackers gone?
It has become a fact of life in college football that most of the players who should be outside linebackers are rushing the passer as defensive ends, and the outside linebackers in college too often are players who have too much size and not enough speed to line up at safety in the NFL.
"If this is the best they've got," snorted Terry Wooden, the former Seahawks linebacker hoping to land a front-office job in the league, "then I'm ending my retirement right now and making a comeback."