Rufus Porter


"I'm a nice guy, really. It's just that something clicks every now and then. I just get so pumped up because I love the game. I'm just out there having fun. I'm a team player and I want to do anything I can to help the team win. If coach (Chuck) Knox asked me to play fullback, then I'd have to do it." -- Rufus Porter


Source: Seattle Times
Bengal Bashing -- Seahawk Raises The Rufe, Rufe, Rufe
Sports: Tuesday, October 02, 1990
Steve Kelley
Let's be honest. It was a dumb play. A goat of a play. The kind of play that can cost you a game. The kind of play your coach angrily reminds you about from here to Sunday.
A flag was thrown, but Seahawk linebacker Rufus Porter didn't hear the whistle. He charged into the Cincinnati backfield and lowered the boomer on quarterback Esiason. Boomer climbed off the turf and delivered a right into Porter's face mask.
Porter should have turned the other ear hole and quietly walked away. After all, his 0-3 Seahawks were leading 10-6. They didn't need their Pro Bowl pass rusher thrown out of the game for fighting with Boomer Esiason.
Be cool Rufus. Be cool.
``Boomer was upset with how hard I threw him down,'' Porter said last night after Seattle's 31-16 win. ``He didn't say anything. He just got up pointing and he hit me. And I hit him and they threw the flag at me because, I guess, they thought I should have stopped.
``But I don't think the tackle that I made should have caused all that. That is just the game of football. He didn't have to get up swinging like that. You can't be that nice when a guy hits you in the face. I think Boomer was just frustrated.
``They threw a flag on me. I don't think that was a bad call. But at one point, I thought I was gone. I thought they were going to throw me out. But the official tried to calm me down. Told me we didn't need this. But when a guy hits you in the face. . . .''
In any other game, it would have been a dumb play. But this was Rufus Porter, whose engine is fueled by super unleaded adrenaline. And these were the Seahawks, at home, and in need of some emotional CPR.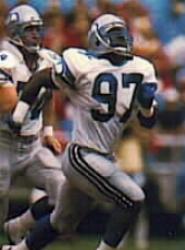 The play wasn't dumb. It was dynamite. It didn't cost the Seahawks a win. It virtually assured them the win.
After the penalty, the Bengals had first down on their 30. Esiason drifted into the pocket. PORT 68,110,216,78,129,212 front of me couldn't block me,'' Porter said. ``I felt like I could out-quick him. And then sometimes I thought I could beat him to the inside.''
``Rufe, Rufe, Rufe.''
``I'm a nice guy, really,'' Porter, 25, said. ``It's just that something clicks every now and then. I just get so pumped up because I love the game. I'm just out there having fun. I'm a team player and I want to do anything I can to help the team win. If coach (Chuck) Knox asked me to play fullback, then I'd have to do it.
``This is something I've always wanted to do. Since eighth grade. I wanted to be like Too Tall Jones. I even wore his number 72, because I wanted to be like him. The way he got around those ends and got those sacks. I try to base my game after him.''
Before last night, the Bengals were averaging 29 points per game. But Seattle made a bust out of Boomer, holding him to 128 yards and 10 completions in 23 attempts.
In this fragmented season, the defense appears to be coming together. Playing against Esiason and Denver's John Elway, it hasn't allowed a touchdown in its last 6 quarters.
``We didn't feel like an 0-3 team,'' Porter said. ``But we needed this game to stay in the hunt. You know, we're not out of it, yet. If we had lost tonight? I don't even want to think about it. It would have been bad. It would have been bad.''
On his final defensive play, Porter found another frustrated quarterback. After Patrick Hunter's fumbled return, backup quarterback Erik Wilhelm took a swing at Porter.
``I don't believe that guy,'' Porter said. ``I think their quarterbacks were trying to go for the knockout punch on me. I think those guys had it out for me. He like, slapped me in the face, but I didn't get to hit him back.''
It might have been the only hit Porter missed all night.
Source: BucPower.com
Profile
Started for most of the 1997 season at outside linebacker until getting hurt late in the season. Started nearly 100 games for the Seahawks and Saints including two Pro Bowl trips as a special teamer during his time in Seattle.
Source: NY Times
Seahawks Stop Bengals, 31-16
AP, Published: October 2, 1990
LEAD: Derrick Fenner scored three touchdowns, Dave Krieg passed for two and Rufus Porter inspired the defense tonight as Seattle beat previously unbeaten Cincinnati, 31-16.
Derrick Fenner scored three touchdowns, Dave Krieg passed for two and Rufus Porter inspired the defense tonight as Seattle beat previously unbeaten Cincinnati, 31-16.
Porter had two of Seattle's three sacks as the Seahawks continually thwarted Boomer Esiason and the Cincinnati offense. The Bengals (3-1) were limited to three field goals by Jim Breech until Mitchell Price returned a punt 66 yards for a score in the fourth quarter.
Krieg, meanwhile, had dinked and dunked the Seahawks (1-3) to a 17-9 lead after three quarters as Fenner, who has six touchdowns in the last two games, scored on runs of 3 and 4 yards.
f not journalists.
"I timed out well, ran well and caught the ball well," the big tight end said. "It was a windy, rotten day for practice, but it might have helped me."