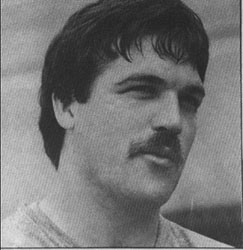 Joe Nash
Source: Inside the Seahawks, Volume 2, Number 1, Sept. 3-Sept. 9, 1987
Nash wants wins and then the glory will come
When Joe Nash responds to questions about football he's a very serious man. His eyes narrow, and he's careful with his answers.
But ask him about his little girl, Alissa, and Joe Nash becomes an animated man.
"She is terrific," Nash said. "She was standing up, holding on to things, when she was three-months-old."
Now the nine-month-old is breaking in some new teeth and readying herself for her first on-her-own steps, and Joe Nash couldn't be prouder.
Nash and his wife Nancy returned to Natick, 10 miles outside of Boston, for the off-season, where he worked for the Robert Marcus Real Estate Company and spent as much time with his family as he could. Parents for the first time, he and Nancy are also homeowners for the first time. The condo they had lived in before just wouldn't have been right with the baby, Nash.
They spent a little time in the off-season in Florida, but most of the time was spent getting settled in Natick.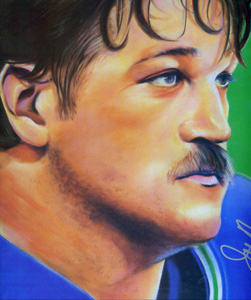 But now, it's back to football for the Boston College alumni.
Nash was a member of the 1984 All-NFL team, and a Pro Bowl starter after that season. He'd like that recognition to return, but is more concerned with team goals.
I'm not looking to he recognized," Nash said. "If we win, everybody gets recognized."
Nash believes that only a lack of emotion kept the Seahawks from winning their first two pre-season matches, but that element returned Friday night against Detroit. Nash promises it will be there for the regular season.
We have to start now, we can't wait to turn it on in Denver," Nash said.
The sixth-year nose tackle is glad that the Seahawks open the regular season at Denver.
"Anytime we play Denver it's exciting; it doesn't matter when," he said. "They have an outstanding team. It's quite a challenge."
Nash says the Broncos offensive line has become a very good one, but it is quarterback John Elway that makes their offense go.
"What makes them a great line is that Elway is their quarterback," said Nash. "I've seen films where Elway should have been tackled 100 times and he's just gotten away and made a big play."
Nash has 293 career tackles entering the 1987 season. Last year he was hampered by injuries, but is at full strength now.
He's ready to add to his 25 career sacks, seven forced fumbles and five fumble recoveries. Nash wouldn't mind scoring another touchdown, something he did in 1984 on a fumble recovery.
Nash also remains a valuable part of Rusty Tillman's special teams. In his Seahawk career, he has blocked three field goals and an extra point.
Give Joe Nash another blocked kick, and he might get as excited talking about football as he is talking about his little girl.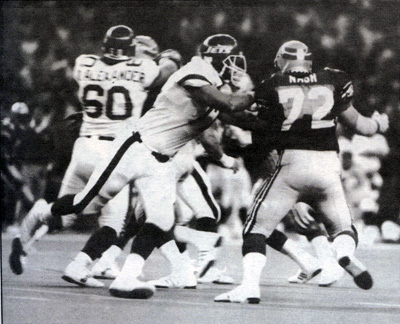 Source: Inside the Seahawks, Vol 1 No. 12, October 24, 1986-October 30, 1986
"Our Best Performance of the Year"
Green had four of Seattle's seven sacks to set a Seahawks game record. He had the previous high of 3 1/2 against the Los Angeles Raiders in 1983. Paul Moyer, linebacker Fredd Young and nose tackle Joe Nash had the other sacks.
"I had help," said the 6-3, 257-pound Green. "It's not just a one-man game. Other guys put the pressure on Simms.
"We had been called "Sad Sacks' and "Sack Ladies," Green said. "That bothered us."
New York linebacker Lawrence Taylor, the NFL 1986 and career leader in sacks, had none against the Seahawks.
Joe Nash: Against the Odds By Stan Farber
IS: Explain your nickname, "Slipper."
JN: "(Assistant Coach) George Dyer gave me the nickname. My stance was kind of relaxed and he said I looked flatfooted at times. He said I looked like should be in a leather recliner with a pipe and my slippers on. So he started calling me 'Slipper'."
IS: You come from a big family. Tell us about it.
JN: "I've got six brothers and six sisters. The oldest is 33, the youngest is 17. I turned 26 on Oct. 11. I was the ninth child. A lot of us played sports during the summer, baseball and basketball. One brother played football in high school and another played soccer in high school and college. A sister was a swimmer in high school and college. My father is a general surgeon and my mother was a nurse, but she had to quit to raise 13 kids. My brothers are an architect, an engineer, a computer worker for a nuclear power station, a repairman for the MBTA Transit in Boston, an IBM worker and a Nike worker. A sister is a stockbroker for Shearson and Lehman, another is a nurse, two are still in school, another is a dental office manager and the other is raising a family. When we played at New England, the whole family was there—about 96 or so. Luckily, I didn't have to buy all the tickets. They bought the seats so they could sit together as a group."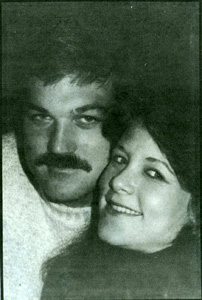 IS: What about your wife, Nancy?
JN: "She didn't go to Boston College, but I met her while I was going to school there. My roommate's girlfriend was a very good friend of hers."
IS: What about children?
JN: "We have one on the way. My wife is due Nov. 18. I really don't care if it's a boy or a girl, just as long as it's healthy.
IS: What do you do during the offseason?
JN: "Last year, I was involved in apartment rentals for a real estate firm in Boston."
IS: What do you plan to do after you retire and where will you live?
JN: "I haven't got anything set up yet. I majored in sociology at Boston College. We probably will live on the East Coast because my wife and I are from back there and our families are there."
IS: Explain the "Boston College Eagle" tattoo on your right hip.
JN: "It was just one of those things we did in college, during my freshman year. A lot of the guys got tattoos. It was a semi-traditional thing. (He laughs).
IS: How do you regard drug problems in the NFL and the efforts to eliminate them?
JN: "I think the drug situation is serious, not only in the National Football League but in the whole country. It's a problem for everybody. The major thing to do is to educate people about the problem. Why haven't drug problems shown up on the Seahawks? It's got a lot to do with the players who are on the team."
IS: Do you have any good-luck charms or superstitions?
JN: "Not really. But I try to do everything the same way each game before the game. I usually go out early with the trainer rather than take the team bus so I can get everything done early."
IS: Why did you pick Boston College?
JN: "I went to Boston College because I wanted to stay in New England and because it was the only big-time school to make me an offer. I wasn't highly recruited. Rutgers and Syracuse were the only other big-time football schools which recruited me, but Boston College is where I really wanted to go. I lived only 15 minutes away from Boston College, anyway my father and one of my brothers and one of my sisters had gone there."
IS: What are the duties of a nose tackle?
JN: "The nose tackle's job is to anchor the middle of the line. He's over the center most of the time. Sometimes, the nose man plays to one side -- that's called the pigeon—but mostly he's center. You've got to hit the center as quickly as you can, but sometimes the center will team up with a guard, a running back or a tight end to block you. That's called a wham block. It gets frustrating at times to have a guard always coming down on you, but at least there's always something happening. Your job is to tie up two blockers. If you do, you've had a good game. Nobody else may know but you do."
IS: What about sacks—luck or skill?
JN: "I dream about sacks. Sometimes the line opens up, and there's the quarterback. But you need a little bit of both luck and skill to sack the quarterback. You need to get pressure upfield and you need a combined effort rushing the quarteback, although only one guy may break through to get the sack."
IS: You're listed on the roster as being 6-2 and 257 pounds. Are you concerned about being smaller than your opponents?
JN: "Not really. If the center is taller, you've got an advantage because he's got to concentrate on staying low on you, or you've got leverage on him. If he's heavier, if you get into the guy quick enough and stay low, it's really difficult for him to keep you out of there."
IS: Is football still fun or is it a job?
JN: "It's still a lot of fun. You get paid for it, but it's a lot easier to play it if it's fun."