Jeff Bryant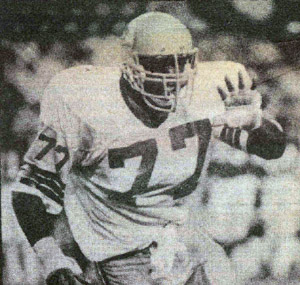 "I like making a play and hearing the fans scream. I like the physical as well as the emotional aspect, especially when you win." -- Jeff Bryant

Source: clemsontigers
Second-team All-American on Clemson's National Championship team...still has tenth best single season tackles for loss mark with 19 in the 1981 season...led the National Championship team in sacks and tackles for loss...first-team All-ACC that year...still ranks in top 10 in Clemson history in career sacks and tackles for loss...will always be remembered for his fumble recovery at North Carolina in 1981 late in the fourth period of Clemson's 10-8 victory that kept the National Championship hopes alive...first-round pick of the Seattle Seahawks in the 1982 draft, he was the number-six pick of the entire draft... First-team All-Rookie in 1982 . . . played 13 years in the NFL …with Seahawks from 1982-93 and is second in Seahawk's history in career sacks...inducted into Clemson Hall of Fame in 1996...named to Clemson's Centennial team in April, 1996.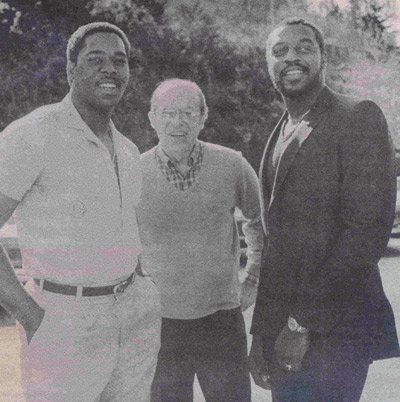 Source: Norm Evans' Seahawk Report, Vol. 4, No. 3, May 3-July 18, 1982
JEFF BRYANT, DE, 6-5, 260, Clemson
First team All-Atlantic Coast Conference.., second team All-America as chosen by Football News helped lead Clemson to national championship.. . selected for East-West Shrine Game and Olympia Gold Bowl.. three-time ACC Player of Week, winning award more times than any other player in the conference. . .Earned ACC Player of Week for his play against Duke (seven tackles, one pass deflected), North Carolina (eight unassisted tackles, one assisted tackle, two tackles for losses, two quarterback sacks, and a fumble recovery), and North Carolina State (eight unassisted tackles, four assists, and four tackles for losses). . .received a coaches grade of 127 percent in North Carolina State game and graded out over 100 percent during the 1981 season... ed Clemson in sacks with eight and tackles for losses with 19.. finished third in total tackles with 87.. finished his career with 13 sacks, five fumble recoveries, four forced fumbles, 27 tackles for losses and 202 total tackles. . . played in a Clemson record 47 straight games, along with teammate Jeff Davis. four-year letterman. . .named to the National Strength and Conditioning Association's All-Strength Team . . .bench presses 425-pounds, parallel. squats 600-pounds, dead lifts 680-pounds and power cleans 309-pounds. - attended Gordon High in Atlanta, Georgia, where he lettered in football and wrestling.., compiled an 18-0 wrestling record.. born May 22, 1960.. Industrial Education major. San Francisco 49er Scouting Report: "He's got it all to play in the NFL.. .He could even start his first year probably at end. He could possibly play inside, but we have him higher at end. . .Has speed and quickness and is an intelligent, tough kid Oakland Raider Head Coach Tom Flores: "I think the big question is whether he would make a top-flight pass rusher. Some people have him rated in the first round. He'll be at least a second..." Consolidated Draft Systems Draft Report: "Massive, well- muscled prospect with good athletic ability. . .long arms, great power in shoulders and chest.. can be virtually immoveable vs. forward, non-deceptive drive blocking. - . Has the big butt and leg strength to dig in and shrug off blows Don Heinrich's Scouting Report: ". . . a computer prospect who appears to be coming on. Should be a fine player in time Frank Lauterbur on
Bryant: "What we saw was a big man who is aggressive with good balance and the strength and the push to give us a first class, all around defensive end. A man who we feel has got the ability to come in and as start for us. . .to keep on his feet, to accelerate off blocks. . .to go around blocks.. and all the things that are required for a defensive end. The things that I saw written on him, most of those things I felt were reports made from his sophomore and junior year. The reports of his senior year showed nothing but high grades all the way though. He looked constantly as a man who was improving in all ways. . the thing that impressed me most was that he was a player who played out all the time. . .comes off a real winning program.., used to winning and wants to be a winner.. .His intensity was there the entire time and he has shown us that he has the ability to react on the move as well..." Clemson Coach Willie Anderson: "I put a lot of stock in what the Dallas Cowboys say, and Walt Jaworsky saw every piece of film we have on him, and told me he knew Bryant would not be around when their turn came. If he was, he was going to be Dallas' first pick...."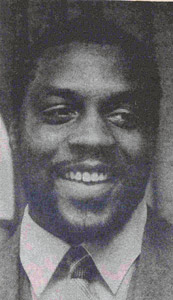 Sports: Wednesday, September 09, 1992
A Fresh Start -- Seahawks' Bryant Leads `Diehards'in 11th Season
Craig Smith
KIRKLAND - Jeff Bryant is the Swiss army knife of the Seahawk defensive line - he can do a lot of things.
Play tackle? No problem. Play end? Sure. Rush the passer? OK. Snuff the run? With pleasure.
"The value of Jeff obviously is that he's so versatile," Coach Tom Flores said. "You put him anywhere and he just lines up and plays hard."
Defensive line coach Tommy Brasher said, "He never gives you any of that, `I'm more comfortable at this spot or that spot.' If you say we need you at that spot, he just lines up and plays. He makes the plays he's supposed to make. And he's not a self-promoter."
Bryant has remained low-profile throughout his 11-year Seahawk career. Fans know him best as one of the "Diehards," the trio of 30-plus defensive linemen Jacob Green, Joe Nash and himself who have become part of the furniture in the Kingdome over the past decade.
Being a "Diehard" is a badge Bryant wears with honor. "The Diehards will be there - we'll get it done," he tells younger players.
Bryant, 32, did his part in Sunday's opener, starting at left end for the injured Green, 35, and making five primary tackles and three assists.
"Jeff has been playing very well," Flores said.
For a long time, Flores might have added. Bryant ranks fourth on the Seahawks' all-time list for games started (137) and is second in sacks (57 1/2). He was in on 14 tackles in a 1985 game against Denver. But his best season was the year before, when he made 80 tackles and registered 14.5 sacks, the fourth highest total in the AFC.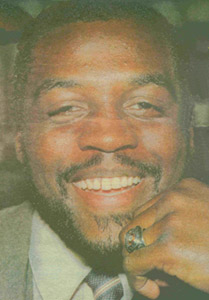 When Bryant arrived from Clemson in 1982 as the sixth player chosen in the draft, he brought with him a national championship ring and his present nickname "Boogie," which he said was bestowed on him by college teammates impressed with his dancing ability.
"I was a good dancer," he said. "I've probably lost a couple moves."
Understandable, because it's the weight room, not the ballroom,
that has been the key to his longevity. For instance, he prepared for this season by working with a personal trainer in Atlanta, concentrating on high-repetition exercises with medium weights.
That Atlanta area is home for Bryant (he lives in a Bellevue condominium during the season). He was a Georgia high-school wrestling champion as a senior and also placed in the state track meet in the discus.
"He was a soft-spoken guy who was really intense about football," recalled Lester Mickens, a teammate at Gordon High School in Decatur.
In that regard he hasn't changed much. Ask Bryant what he likes about football and discover you've punched the right button. He stops fiddling with things in his locker, looks at you, and gives you a longer than normal answer.
"I like the competition, and I like the team camaraderie," he said. "I like the atmosphere. You can't beat it when you're introduced. I like making a play and hearing the fans scream. I like the physical as well as the emotional aspect, especially when you win."
Under Chuck Knox, Bryant had a special job after each victory. Knox would talk to the team briefly then holler, "Boogie!" and Bryant would lead the team in three "Hip, Hip, Hoorays!"
Bryant isn't sure whether Flores will continue the tradition, and he isn't losing sleep about it.
All he wants is a victory, preferably this Sunday in Kansas City.
Source: Inside the Seahawks, Volume 1, Number 17, November 28, 1986 - December 4, 1986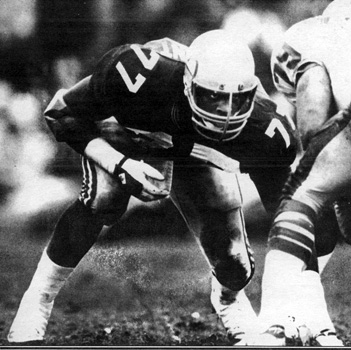 Jeff Bryant: The Gentleman Athlete
By Bill McClement
Bryant, proof that he is an extraordinarily thoughtful gentleman, agreed to the following interview in a projection room at the Seahawks' training camp despite the frustration he had been experiencing due to his injury.
IS: First of all, how's the ankle?
Bryant: After the Kansas City game, it was real sore since I played on it for three quarters. The trainers put it in a cast on Monday, but it swelled up overnight. After the treatment today, though, the swelling is gone and it's feeling a lot better.
IS: What type of treatments have you been doing?
Bryant: Cold whirlpools three times a day for 30 minutes each time and electrical stimulus. Basically, it's a real bad sprain.
IS: You've started in 67 , straight games -the ninth longest starting streak in Seahawk history. What makes Jeff Bryant so consistent?
Bryant: It goes back to my high school and college days where I always had a good attitude about being in condition. That's allowed me to go for a long period of time without any major injuries.
IS: I've heard thatyou're the strongest Seahawk. What do you bench?
Bryant: That's not true. I'm not the strongest Seahawk. I don't know where the rumor got started that I benched 600 pounds. [Laughs] I only benched 415.
IS: Give me your job description.
Bryant: I like to characterize football as a game, but it's more than that. As a defensive end playing out of a 3-4, it's mainly containment. You try to stop the run first and then the pass by putting pressure on the quarterback.
IS: A lot has been written about your style compared to Jacob Green's. What's your assessment?
Bryant: I like to think that I have speed as well as strength. Jacob definitely has speed, and he's a very strong person for his size. I know because we workout together. He's probably a little quicker than I am because he's lighter, but I can use quickness also.
IS: Can you give any advice to high school kids who want to play in the NFL someday?
Bryant: Yes, stay away from drugs, go to class and do your work. It's only a small percentage of players who make it to the pros, and you need to have something to fall back on. Although it's a great achievement to make it to the pros, you can't put all your marbles in one basket. A lot of good guys get turned down every year, and the average number of years played for those who make it is 3.5.
IS: Besides Claude Humphries, who were your other heroes while growing up?
Bryant: I remember Dick Butkus.
IS: You know when we interviewed Keith Butler about a month ago he also said Butkus. How about the players you admire most in the NFL today?
Bryant: I would say Walter Payton because of the way he hung in there when the Bears were losing. During that time, I used to hear how he would always stay after practice and run hills or stairs. It finally paid off for him when he won a world championship, and now all you hear is "Walter Payton."
IS: So what do you think is your greatest asset as a player?
Bryant: My assets are that I have size and mass, and I can be quick. But I also have the desire to get the job done, a no-quit attitude.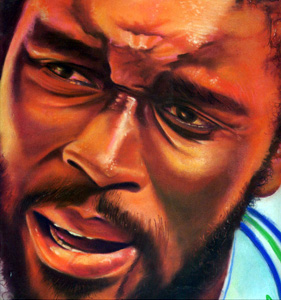 IS: How about weaknesses?
Bryant: [Laughs] That's a hard question. [A long pause, looks around the room] That's a real hard question. Probably the little things like a slant step, or not reacting fast enough to a play-action pass, or not taking a direct angle to the passer on the rush. But these are things we work on from week to week in practice and in watching film.
IS: Some of the so-called "experts," especially an unnamed guy on ESPN, said thatyou shouldn't have been drafted in the first round. What is your response to those guys now?
Bryant: People are entitled to their own opinions. There's free speech in this country. I felt like I was picked in the right spot and a lot of other teams, namely Atlanta, told me they would have picked me if Seattle hadn't. One reason that guy might have said what he did is that I wasn't really publicized coming out of college. But I've always been in there fighting and playing hard. [Leaning back in his chair] And don't think I've done a bad job here, though I haven't made All-Pro yet. They can count on me to be out there giving it my all when the whistle blows. I heard about how I shouldn't have been picked in the first round when I came here, but I didn't let it bother me because I knew that all I needed to do was go out there and play.
IS: So you're not the kind of guy whose searching for media headlines.
Bryant: No, I'm more of a team-oriented player. I'm not out there blowing an assignment to get recognized. I'm going to do what the coaches want me to do within the framework of the team. There's 10 other guys on the field that I've gota responsibility to. I'm a team player. That's what I believe in.
IS: OK. I've got one more question, but I've got to ask you this one first. They sayyour nickname is Boogey?
Bryant: Boogeyman. [Laughs]
IS: How did you get that?
Bryant: It came from back in college. It was from a combination of dancing and rapping. About 20 of us would get together after every game to play some music, and I danced pretty good. William "The Refrigerator" Perry got a big kick out of us when he was recruited by Clemson. He even tried it. I think that's probably why he chose Clemson. [Laughs]
IS: Characterize Jeff Bryant, the person.
Bryant: I'd characterize Jeff Bryant as a split personality. I'm as nice as I can be, but I can change just like that [snaps his fingers]. I guess that goes back to the football field. When the whistle blows, you have to be as mean and as tough as you can be for a couple of seconds. I think I'm easy to get along with, but sometimes I'm not. I also like to have fun. Basically, I'm a down-to-earth person. I treat people with respect, and I like to be treated with respect in return.