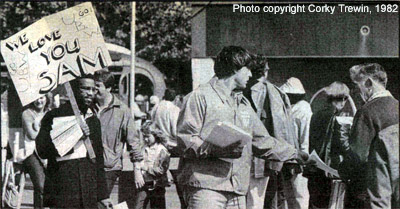 1982 was an unhappy year in the National Football League, and even moreso for the Seattle Seahawks. It was the year of the player strikes when the season was shortened and chaos reigned supreme in the league. It was a difficult year for Sam McCullum, the Seahawks' player representative, and for players who didn't want to picket, they just wanted to play football.
A good deal of information is included in our Spirit of '76 site on Sam McCullum's web page, but I also think it's important to preserve both sides of the struggle, and to once again lend our hearts to the players in this game whose hands were forced. It wasn't fair to anyone, least of all Sam McCullum.
Additional player opinions: Dan Doornink | Jim Zorn | Steve Largent
Source: Norm Evans' Seahawk Report, Vol. 4, No. 11, Sept. 13-19, 1982
Patera blames McCullum
Jack Patera, head coach, Seattle Seahawks, on the release of Sam McCullum (courtesy of KIRO Radio Sportsline):
ďWe all realize that there are two sides to a story. The world champion San Francisco 49ers released two veterans this year and said they werenít justified because they were the champions...We release a few veterans and people get up in arms. Itís a labor situation; if this werenít a re-negotiating year nothing would have happened when I released McCullum. Iím not saying McCullum was a bad football player, he was the MVP one year and that year was our worst record, so he was the best when we were the worst. I think Sam is a very selfish football player, he always wanted a lot of passes thrown to him.
Samís statement that the whole team was up in arms after he got cut was false. We told the team after we made our final cuts that we want things to get back to the days when the playersí attitude was Ďwell, Itís better that he got cut than me.í Sam said all the players went to the meeting last night. Iíve heard varying reports; some say thirty players went, others say forty players went. The petition that went to the NFLPA was signed by an awful lot of players that didnít want to sign It; Iím not saying that they were coerced into signing it, but I think that there was an awful lot of peer pressure.
There is no way Mccullum is coming back to the Seahawks; he had an opportunity to go to the Vikings and he didnít want to go. We have a rule that any player who is released and then has an opportunity to get picked up by another team doesnít go, then he canít come back to the team that released him. Sam opted for free agency. I do rely quite heavily on my assistants for decisions because obviously I canít watch all of the players and if there is a disagreement on a player then the staff will sit down and make a decision, but the final decision is always mine. Iím very fortunate in that I donít have any interference with the management or owners on who we keep or cut.
Samís firing was strictly a coaching decision and Iíve tried to emphasize this, but unfortunately when a coach or management says something It is completely disregarded; but when a player says something it is taken as gospel. There has been an awful lot of talk about the Seahawksí inability to develop a deep threat; people seem to disregard Largentís ability to do that. We were talking to the Colts from the day that Roger Carr started to have disputes with their new coach Frank Kush.Ē
Patera on the firing of Herrera and hiring of Norm Johnson:
ďNorm has a much stronger leg. He has indicated to us that he has overcome the major flaw of most college kickers, that being the ability to get the bail up high In the air on the kickoff. We tried tilting the ball back a little bit for Norm on his kickoffs and it helped. His trajectory is excellent now. Norm was such a talent that we knew we would never be able to sign him again.Ē
Patera on the acquisition of Roger Carr:
ďWe have a very sophisticated scouting department and it Is very seldom that a team can come up with a player the caliber of Roger Carr. He is a much better wide receiver than Sam McCullum. There was quite a bidding war for Carrís services, mostly with the Raiders and the Rams, and six or seven other teams that were also interested in Roger. When we started shopping McCullum around the league we didnít have any takers, except one and then they said last Tuesday that they werenít Interested. Sam was limited. He said ĎIím fast, I can go deep,í but he just doesnít adjust in his routes very well. If this hadnít been a year when the players were re-negotiating a contract then nothing would have been made of this. The fact remains that Sam had the second lowest average of any receiver in the league last year and the lowest of any wide receiver. He is good on short routes, but now all of our wide receivers can come up with the big plays and thatís what we need.Ē
Sam McCullum
ďI want to thank the press for coming and hope that my word will be carried out to the people and let them know that I was treated unfairly. Second, I want to thank the labor community...Larry Kenney, Marvin Miller and Don Hofer and people from the machinistís union and the meat packers who are all here in the background. Itís too bad they canít be up here to be seen, I want to thank them for their support. Also, I want to thank the people in the street who have recognized me from the pictures in the paper and on TV and have stopped me and told me Ďdonít quit yet.í And, believe me, Iím not quitting yet. Bob Newton, Art Keuhn, Jim Jodat, Doug Sutherland... Itís a real shame these veterans arenít going to be with the team anymore.
ďIíve been here since the start in 1976 and was one of the original Seahawks. I came here from Minnesota so I have been around long enough to know the patterns of this team, and to understand the workings of this team. And when I reported to camp this year in July the patterns toward me all changed. But in comparison, I would like to respond a little bit to what Jack Patera and John Thompson said. They say that one of the reasons I was released was because when they acquired Roger Carr I became the fourth wide receiver. Well, my question was that if I had become the fourth receiver and Paul Johns had beat me out, why did I start the pre-season games? Why did all the depth charts that were released as early as yesterday (Sept 6) have me listed as the No. 1 receiver. Iíd like to see them respond to that question. And Patera made a big deal on the radio saying that my catches were down and averaged only 12.2 yards per catch, as compared to Byron Walker who averaged 25 yards. Well, never in the past have they made such a big deal about pre-season catches and never in the past have they made such a big deal about comparing me to a rookie. Iíve had eight years experience in pro football and you canít compare me to a rookie. Heís untested out there right now. And Iíd like to ask them why such a big deal about catches in pre-season. Never before has that been the case.
ďAlso thereís been a comment made about my ability to get deep, because of my speed. The coaches will tell you that this year I was timed at 4.5. The fastest guy on the team is Paul Johns at 4.4 and I donít think 1/10th of a second is that much. I donít think that hinders anyoneís ability to get deep. So thatís another thingóyou can just erase that myth as well, that I donít have the ability to get deep. Another thing I heard this morning was about my inability to run after catching the bail. Your ability there is dictated by the patterns you catch, if Iím catching a lot of down-and-out patterns you get cornered on the sidelines and canít go too many places. I canít see where they think Paul Johns is better at turning up the field than I am. Fact is, he hasnít run with the ball this year at all. I donít remember seeing Steve Largent run with the ball during pre-season, or anybody else run with the ball during pre-season. ďSo, itís nothing more than just a smoke screen to cover up the actual reason I was released, and thatís my union activities. I firmly believe that they are Inconsistent in all areas about why I was released. They told me yesterday that I was released because my career is on the way down and Byron Walker is on the way up. Well, Iím sure the players would disagree with that, because of my respect around the league. I got countless calls from people around the league who offered their support. Players who are defensive backs are in total disbelief theyíd let me go, not to mention the outrage from a lot of people. They (Seahawk management) said theyíd try to trade me, which was the reason I was not put on waivers Ďtill yesterday afternoon, later than all the other players around the league. So they said they tried to trade me. When I asked who they tried to trade me to theyíd only come up with two teams: St. Louis and Houston. I called a team on the West Coast and they had no idea that the Seahawks were trying to trade me at all. So my question Is how sincerely were they trying to trade me, or were they just trying to get me out of the organization? I have to think that the latter was the case. If you try to trade a player with my value and merit you try to go through all avenues and exhaust all channels you have to try to get something for the player. Iíve averaged over 50 catches a year for the last four years and that rates me very high among wide receivers in the league. I think my worth is more than just letting me go in the streets. And to say they put me on non-recall waivers, which means they canít call me back off waivers, is like a slap in my face in the sense that they did not expect me to be traded. The normal procedure is that they put a player on waivers, if a team claims him they can pull him off waivers and try to work a deal for him as in the case of most players they have got here in the past. And so this time just putting me on waivers, saying Ďhey, we donít want you,í is really saying Ďhey, we donít want you here, weíre through with you.í Or by telling the rest of the league that this guy is just finished up and therefore he is just out the door.
ďWell, that definitely is not the case. I plan on pursuing my career in pro football and am just sad that Itís not here in Seattle where Iíve made my home. I plan on staying In the Seattle area even if I do go play someplace else; Iíll make this my home because Iíve come to like Seattle very much. Itís a sad case that I donít get to finish my career here in Seattle. Patera made a point last night on the radio that they are not in the practice of keeping players that arenít starters, which is kind of a blow to me to hear him say that. So now I have to ask him, why keep Jim Zorn if heís not starting? So whatever he says heís being terribly inconsistent. Itís all a big smoke screen to cover up the actual facts.
ďWeíre seeking action with the NLRB (National Labor Relations Board) at this time. A case was filed in Washington and New York yesterday as well as one being filed herein Seattle on my behalf, seeking reinstatement by the Seahawks and seeking damages filed against the management council and the NFL and the Seahawks and Jack Patera. So weíre pursuing that right now and trying to push it through as last as possible and get results as fast as possible. As I said before, thereís been a tremendous amount of support from around the league. Thereís also been support of players in different teams thinking of work stoppages or selective walk-outs this week in some of the games. Thereís a possibility of that at this time If action isnít taken by NFL management, the NLRB and the management council. Thereís a possibility that some of the games wonít be played this weekend (Sept. 12). Weíve also heard talk that managementís going to put an offer on the table at our collective bargaining session scheduled today in Washington D.C., simultaneously giving an offer to all players in all the individual cities. In other words, theyíre by-passing our collective bargaining wing to go directly to the players, which is an unfair labor practice in itself. The same thing happened in 1974. What theyíre hoping is to get some of the teams to vote on this proposal and have some of the teams say Ďhey, itís okay,í to weaken our position at the bargaining table... But weíve gotten wind of it and weíve alerted the players to what can possibly happen.
ďThe last thing, I think, is that my public image in this community has been one of honesty. Iíve been very honest with people and Iíve worked hard. Theyíve seen my position off the field as well as on the field and I think that contributes to the people that are here today. I think that my image is such that I will not ruin it by getting in a pitching match. So Iím going to leave it at that. But Iím hoping to go on with my career and pursue it a little bit farther. I think I can play football a few more years. I feel good being 29 years of age and think I can go on. I still wish that the comparison would stop between myseif and a rookie because that is an insult to me. Just compare me to Roger Carr, who is an established veteran and the same age as I am.Ē
Sam, would you want to go back to play for the Seahawks under the circumstances?
ďUnder some circumstances, yes. To show them that itís not right to cut a player representative because of his union activity; judge him by his ability on the field. So Iíd like to go back for that reason because even though I know Iím not wanted there, Iíd still like to go back and finish my career here in Seattle. But Iíd still like to go back even though I know that they really donít care to have me back just to show them that they canít do that. Go back and give them the chance that you should be there. Itís like having an employer fire an employee because he might say something to someone else in a normal job. He should get reinstated at his job and itís the same case here.Ē
Do you have any precedent for your establishing this thing through the NLRB to get your job back through legal methods? Getting Your job back that way?
ďThatís what weíre hoping for right now. We went to the NLRB asking for reinstatement for the fact that being an established player, being a starter for the entire time, six years here, etc.óplus what they would let me go after averaging over 50 catches a year for the last four years which has rated me in the top 10 in the league. So, therefore, my statistics show that I should be in pro football right now because Iíve given them no reason not to be. Weíve asked the NLRB for reinstatement on those grounds.Ē Dave Meggysey. NFLPA regional spokesman: ďItís clear that whatís going on here is that Samís credentials as a football player and as a person in this community certainly has done a tremendous amount for the City of Seattle. His credentials are impeccable. Without doubt, without the shadow of a doubt, Samís being cut is the result of his very active role as a player rep. Sam is probably the best player rep. that we have out of the 26 teams In the NFL. It is clear also that management council with its connections to John Thompson, its connections to Vince Lombardi Jr. has decided to make Seattle, the Seattle Seahawks, the test case for teams around the league. Ladies and gentlemen, we are in a battle with the NFL. They are intending to break our union. Seattle has been the testing ground for that. They tried it in the handshake. In fact, Lombardi and Donian (Jack, NFL negotiator) were up here for the game with St. Louis. The most severe fines that were coming down were coming down against Seattle, which were half a game check We went to the NLRB. The NLRB saw the outrageous act of Thompson and Patera. We got action immediately from them and were able to rescind the fine. We are going the same route this time. We have met with the chief counsel in Washington the has been filed with Silverman in New York. We are now taking affidavits; Sam is giving affidavits today in Seattle. Weíre hoping to get Injunctive relief from the NLRB to fully reinstate Sam McCullum as a member of the Seahawks. If that does not go down, believe me, the players around the league have notifled Sam, have notified the union that there is a very strong potential of a wildcat strike going on in the lieague. And the only way that we can prevent that from happening is to reinstate Sam McCullum, sit down at the bargaining table and start negotiating with us so we are going to have a football season this year. That is where it is right now.Ē