And the 2004 winner of the GRAFFY is ...
... MACK STRONG!!!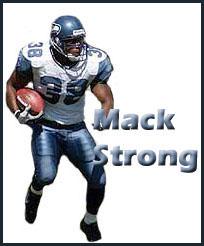 You might ask why Mack Strong has won this award twice. Surely if he's won the Graffy once he's no longer underappreciated. He's even won the Largent Award twice, and he is a Pro-Bowl alternate! So why, oh why, is he eligible for a Graffy?
Easy. Because he wasn't selected to the Pro-Bowl, he was only selected as an alternate. Because he's been one of the most dependable players on the squad year after year. Because he's been one of the most durable players. And because he's been a team player.
And now there's talk about him retiring before the 2005 season. I'd love to send him out in a blaze of glory, but his would be a huge loss to our beloved Seahawks. In fact, if I were Shaun Alexander and I received a contract with Seattle for 2005, I'd be on my knees begging Mack Strong to throw those blocks one more year. Shaun didn't come one yard shy from the NFL rushing record all by himself.
Congrats to Mack Strong for 44% of the vote in this year's Graffy competition.
Mack Strong - 44%
Ken Hamlin - 19%
Ryan Hannam and Bobby Engram tied with 11%
Chris Gray - 7%
Darrell Jackson and Maurice Morris tied with 4%

[Web Author's Note: Mack Strong went on to win the Steve Largent Award five times before he retired! Notariety caught up with him, deservedly so!]