And the 2002 winner of the GRAFFY is ...
... BOBBY ENGRAM!!!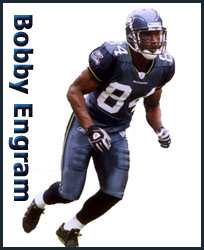 Congratulations Bobby Engram for being the 2nd winner of the annual Neil Graff Award.
What makes Mr. Engram this year's standout? Easy. His consistency. His determination. His ability to get the crucial yardage, particularly on 3rd down.
In an excerpt from the Seattle-Pi, Clare Farnsworth said:
Despite playing a much lower percentage of snaps than Robinson and Jackson, Engram caught 50 passes. No other third wide-out in franchise history has caught more. In fact, 17 times in the previous 26 seasons, the Seahawks' No. 2 wide receiver didn't catch as many passes as Engram.
Totaling his receptions tells only part of Engram's story. A closer look reveals:
Forty-three of his receptions produced first downs, a league-high 86 percent.
Twenty-five of his receptions came on third down, which trailed only the Pro Bowl trio of Terrell Owens (30), Randy Moss (29) and Joe Horn (26) in the NFC.
He failed to produce the needed yardage on third down only three times.
Two of his catches came on fourth down, with each producing the yardage needed for a first down.
Twenty of his receptions came during scoring drives (13 touchdowns, seven field goals).
"It's uncanny what Bobby has been able to do this season," said Hasselbeck.

Congratulations, Bobby! Your hard work and dedication have not gone unnoticed!
This award is presented to the Seahawk player who exemplifies the spirit of Neil Graff, that is, the most under-appreciated player on the team. The award is voted on by fans; all players are eligible for consideration.