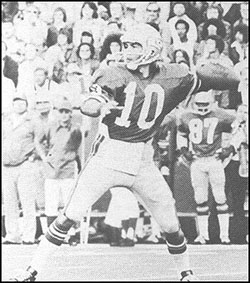 1976 Season Summary
Team Captains:
T Norm Evans (Offense), LB Mike Curtis (Defense), LB Ed Bradley (Special Teams)
Team MVP:
QB Jim Zorn
National Honors:
QB Jim Zorn, NFC Offensive Rookie of the Year; DT Steve Niehaus, NFC Defensive Rookie of the Year
1978 Season Summary
Team Captains:
T Norm Evans and WR Steve Largent (Offense), DT Dennis Boyd (Defense), S Autry Beamon (Special Teams)
Team MVP:
QB Jim Zorn
Pro Bowl Selections:
WR Steve Largent (1)
National Honors:
Jack Patera (Coach of the Year), GM John Thompson (Executive of the Year)
All-NFL Selections:
QB Jim Zorn (NEA)
Aug 3, 1991
Quarterback Jim Zorn (1976-84) becomes the second person inducted into the Seahawks Ring of Honor.
You won't believe the finishes to these games!

August 1, 1976 - Seahawks play their very first game. Defeated 27-20 as Jim Zorn is tackled on the 49er's 2 yard line just as the gun sounds.

August 29, 1976 - Seahawks capture their first victory in a 17-16 preseason win over the Chargers, as Jim Zorn throws the game winning pass with 13 seconds left in the game!

October 30, 1976 - After missing four games with an injury, Jim Zorn returns to lead Seattle to a 56-17 victory over Buffalo, setting 15 club records (!) including Jim's four touchdown passes!

November 21, 1982 - Seahawks capture a 17-10 victory over the Broncos with a 34 yard touchdown pass from Jim Zorn to Steve Largent with only 49 seconds left in the game!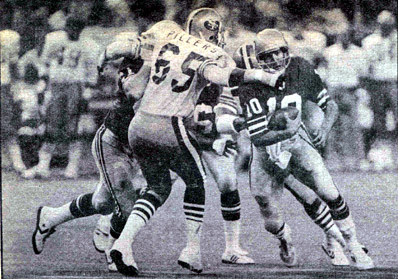 Six Seattle icons join hall of fame
Northwest Sports Briefing
By Seattle Times news services
Six Seattle area sports icons make up the class of 2003 for the Puget Sound Sports Hall of Fame: Chip Hanauer, Marv Harshman, Dave Niehaus, Jack Sikma, Frosty Westering and Jim Zorn.
Hanauer raced hydroplanes from 1976 to 1999, retiring one short of Bill Muncey's record 62 victories.
Harshman coached the men's basketball teams at Pacific Lutheran (1945-58), Washington State (1958-71) and Washington (1971-85). With the Huskies, he went 246-146.
Niehaus has been the play-by-play broadcaster for the Mariners since the team was formed in 1977.
Sikma played for the Sonics for nine seasons, beginning in 1977, and was a member of the 1979 NBA championship team.
Westering retired this year after 31 seasons as coach of the Pacific Lutheran football team.
Zorn played quarterback for the Seahawks from 1976 to 1984.
The six men join Hall members Don James, former UW football coach; Steve Largent, former Seahawks receiver; Ed Pepple, Mercer Island High School boys basketball coach; the 2001 Mariners; Edo Vanni, former Seattle Rainier; and Gary Payton, former Sonic.
The six men will be inducted Jan. 23 at a luncheon in Seattle.