Where do they play this game?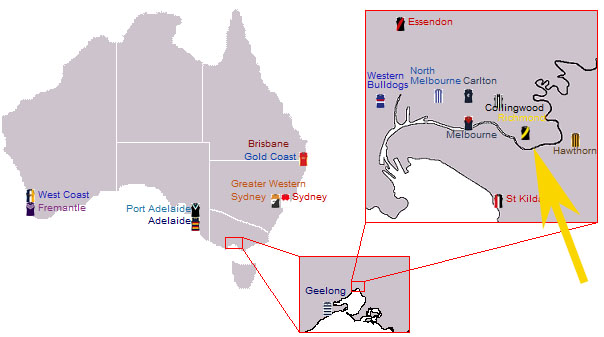 This was a hard one for me to grasp when I started following AFL football, partly because of my limited geographical knowledge of Australia (You're rolling your eyes, aren't you? I told you, I'm American!) and partly because, come on, how many footy teams can Melbourne support?! By the way, credit to Wiki for this map. I took the liberty of adding the yellow arrow to show us where to find the Tigers.
So what's this stuff about Punt Road?
Punt Road is home to the Richmond Tigers. Though their games are played at the MCG (Melbourne Cricket Ground, and no, we're not going to get into the silliness of cricket!), their training is done at the Punt Road Oval, also known as the Richmond Cricket Ground. I've never been there; I've never been to Australia actually, but when I go you will see more photos of this hallowed ground than you ever wanted to see! Punt Road and the MCG are high on my bucket list!