The Beginning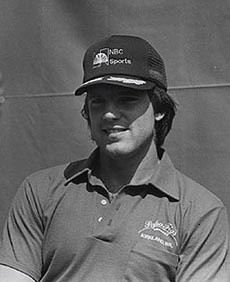 "I think when I was 5 years old, I got my first Bart Starr uniform and all that," Krieg said, recalling his early days in Wausau, Wisconsin.
After Dave Krieg had been named Player of the Year in 1979 in the Illini-Badger Conference, he caught the eye of several professional football scouts. Dave said, "When I started getting letters from pro football teams I even kept the envelopes where it said Green Bay Packers or the Dallas Cowboys. That kind of really gave me the incentive to keep going."
When he was invited to a mini camp in 1980 and then called back for spring camp, Dave said, "The first time I flew on a plane was to come over here. I brought my camera and I was taking pictures of everything. I didn't know if I'd ever come back."

1980...
Source: Seahawks 10 Year Anniversary book
1980...that was the training camp when Jim Zorn chipped a kneecap. Steve Myer, his backup, suffered a career-ending back injury.
In the annual public scrimmage, Myer was hit by Robert Hardy, knocked into Bill Gregory and was removed by ambulance to a Spokane hospital.
Myer never played again, but his injury served to introduce to the public the name of a free agent rookie from obscure Milton College in Wisconsin, Dave Krieg. Replaying Myer in the scrimmage, Krieg conducted a 65-yard scoring drive in six plays.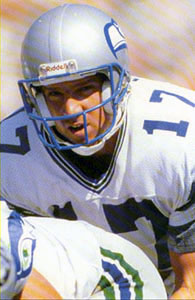 Unknown Is a Big Plus In Seahawks' Equation
By Paul Attner, Washington Post Staff Writer
December 23, 1983
SEATTLE, Dec. 22, 1983 -- Meet the least-publicized, lowest-paid starting quarterback in the National Football League. His name is Dave Krieg, and he is a former free agent who is overshadowed even on his own team by a running back and a square-jawed, steely-eyed coach.
Krieg is so little known outside Seattle that the Seahawks' publicity people routinely have to help out on the pronounciation of his last name (Craig). He replaced a minilegend (Jim Zorn), which didn't make him the most popular figure in town. His alma mater, Milton College in Wisconsin, went out of business in 1981. And even while he was leading the Seahawks this season to their first playoff appearance (they play host to the Denver Broncos in an AFC wild-card game Saturday at 4 p.m.), he continued to read how the team was courting a replacement for 1984, Canadian Football League star Warren Moon.
"I'm also negotiating a new contract with the team," Krieg said. "Other than that, there haven't been any distractions.
"I think I'm on the threshold of proving myself in this league," he went on. "The playoffs represent another step. Maybe if I do well enough, they'll decide they don't need anyone else next year."
Krieg finished the regular season as the AFC's second-rated passer, behind Miami's Dan Marino. He'd love to be close to Marino in salary, too. Krieg is making $85,000 this season, although the Seahawks reportedly have offered him $350,000 as an initial salary if he signs a new contract.
That raise would at least reflect his value to his team. Running back Curt Warner (1,449 yards) is the key to Seattle's ball-control offense designed by Coach Chuck Knox. But Krieg is the glue.
On his good days, the Seahawks are competitive with almost anyone in the league (they've beaten the Raiders twice). His bad days are another story.
"The worst day I've had was against Denver earlier this season," he said today. "Steve DeBerg was hurt and John Elway calls in sick and they have to start Gary Kubiak, who had never played. They win the toss and they kick off, so Kubiak won't make any early mistakes. Instead, he plays great and I throw four interceptions and lose three fumbles and we lose (38-27)."
Krieg tied the Seahawks' records for yards (418) and completions (31) in that game while throwing for three touchdowns.
But the fact is Seattle wins when he passes less.
Krieg's totals for the season (147 passes completed of 243 attempts, for 2,139 yards, 18 touchdowns and 11 interceptions) are more normally seen in a player with far greater experience. He's only had 10 NFL starts, eight this year.
Krieg wound up in Seattle in 1980 because his college coach knew the Seahawks' personnel director. Krieg had been a highly rated NAIA passer at a school with a good football tradition. If nothing else, his confidence impressed the Seahawks that rookie year.
Last season, he became entangled in controversy. Coach Jack Patera decided to start the season with Krieg, not Zorn. It was a shocking choice, and lasted only until the players' strike. Krieg hurt his thumb before the walkout, then Patera was fired and new Coach Mike McCormack (now the general manager) went back to Zorn.
"When we came into camp last summer, I already had read that Chuck Knox was going to go with Zorn," Krieg said. "I knew I had to deliver a knockout blow to dislodge the champ and I didn't." Zorn eventually knocked himself out with two dreadful efforts midway through the season. Knox, like Patera, turned to Krieg, who led Seattle to a 5-3 record the last half of the season.
It would have been a wonderful starting matchup Saturday: the little-known Krieg against Golden Boy John Elway. But Denver Coach Dan Reeves will start DeBerg, his sore shoulder having healed enough for his reactivation from the injured-reserve list.
"I've thought about what it must be like for Elway," Krieg said. "Whatever he does will never be enough. That's a tough burden. But whatever I do will be more than anyone ever expected."

Source: Football Stars 1985 by Kevin Lamb
Dave Krieg: Milton's Paradise Found
The name was pronounced Craig. That was something the Seattle Seahawks had to keep pointing out. Even after Dave Krieg was the NFL's fourth-rated passer in 1983, a starting quarterback in the AFC championship game, he was no better known than a lacrosse star. Usually, quarterbacks follow their reputations into the NFL. Krieg followed only his dream.
Even now, Krieg is known more for where he has played than how well he has played. He's that guy from the little school that folded. His alma mater, Milton College, went out of business in 1981, the year after Krieg graduated.
The NFL is only beginning to take Krieg more seriously than he does. It's hard to ignore his results, even if it's obvious he doesn't have the nightly news-clip passing style of Dan Fouts, Joe Montana, or Dan Marino. All Krieg does is throw touchdown passes and win games.
Since he became the starting quarterback in mid-1983, the Seahawks have gone 17-7, plus 3-2 in playoff games. He has thrown touchdown passes in 24 of 25 games, including the last 18. He had the NFL's highest touchdown percentage in 1983 and trailed only Marino in 1984, when his total of 32 was the fifth highest ever against NFL defensive backs. And he doesn't just heave the ball downfield, come what may. His completion percentage for the last two years is .585, and he has blemished his 50 touchdowns with only 35 interceptions.
Milton had 237 students, 175 of them males. Seven of them were trying out for quarterback. Krieg won the job in his fifth game. As a senior, he was the seventh-ranked passer in the NAIA. Gaddini had another good friend, Seattle personnel director Dick Mansperger, so he wrote a letter that fall. "If it wasn't for that," Krieg says, "I'd probably be working at the Weyerhauser paper mill back home. Or Roto-Rooter maybe."
After the 1983 season, Krieg was able to trade in his old Pinto for a BMW. His salary rose from $85,000 to more than $250,000, still a bargain. But his feet stayed on the ground. It was no time to stop making him better. "Whatever I do will be more than anyone expected."

Source: Tacoma News Tribune
Houston win teaches Hawks about the agony of Victory
December 13, 1994
By Bart Wright
Watching Dave Krieg lead the Detroit Lions toward the playoffs reminded somebody in the Cafe that without former Seahawks personnel director Dick Mansperger and coach Jack Patera, Krieg probably would have never been given a shot in the NFL.
Somebody else mentioned that the greatest accumulation of talent in the history of the franchise was collected in the Mansperger-Patera years.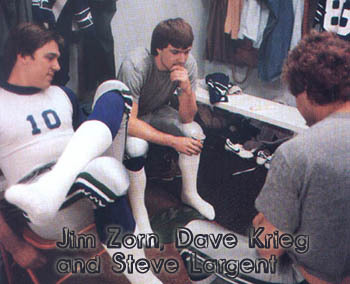 Source: Seattle Post-Intelligencer
Krieg exemplifies spirit of Seahawks' first quarter-century
Friday, September 1, 2000
By CLARE FARNSWORTH
SEATTLE POST-INTELLIGENCER REPORTER
He came from nowhere. And when Dave Krieg arrived for his first training camp at Eastern Washington University in the dreadfully hot summer of 1980, no one really cared.
The kid from Milton College was a seventh-string quarterback who had neither ideal size nor an NFL-caliber arm. He had been signed only as a favor to his college coach. He had never been on an airplane before flying from Wisconsin to Seattle for his first minicamp in what was expected to be a mini-career.
But in this silver anniversary season for the Seahawks, who better exemplifies what this franchise has endured during the past 25 years?
The Seahawks have gone from expansion rags to playoff riches, to the soiled and tattered team they became under the ownership of the Behrings, to the unlimited potential of dot.com-ness under billionaire owner Paul Allen.
Krieg was not the best player in franchise history -- an honor that goes to Hall of Fame receiver-turned-U.S. Congressman Steve Largent. Krieg was not the best athlete to ever play for the Seahawks -- a debatable title that starts, and ends, with former strong safety Kenny Easley, who used to play a round of golf before the grueling training-camp practices and then hop the 4-foot fence that circles the fields at EWU after practice.
But no one had, or has, a better story than Krieg.
That's why Krieg is the unofficial captain, and symbol, of the P-I's 25th anniversary team.
Asked the secret to his unexpected success, Krieg shrugs, offering, "I didn't know that I wasn't supposed to be."
Krieg, who played 12 seasons for the Seahawks and was the starting quarterback during the franchise's glory years (1983-91), is joined on the silver anniversary team by many former teammates, as well as a few players who arrived after he was released and had left for Kansas City. And Detroit. And Arizona. And Chicago. And Tennessee.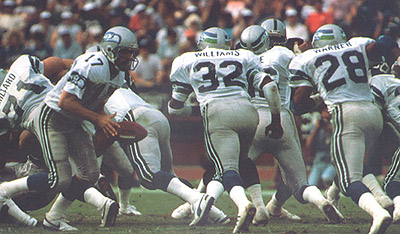 Krieg, who did not play last season, did not announce his retirement until this summer -- back in Cheney, where it all started.
Some will never forgive Krieg for replacing Jim Zorn midway through the 1983 season. Some will never forget how Krieg carried the offense on his shoulders after Curt Warner went down with a season-ending knee injury in the '84 opener, passing for 3,671 yards and 32 touchdowns as the Seahawks posted a franchise-best 12-4 record. Some won't let Krieg forget that he also ranks among the NFL's all-time leaders in sacks and fumbles. Who can forget his soap-dish passes, where his arm would start forward, only to have the ball squirt backward?
"Warren Moon has the fumble record and John Elway has the sack record. That's all I know," Krieg says. "Go ask Warren if he's got small hands, and go ask John how it feels to get sacked that many times."
When it comes to unforgettable characters, the Seahawks have had their share -- Brian Bosworth, a.k.a. The Boz; Daryl Turner; Efren Herrera; Michael McCrary; Bob Lurtsema; Mike Curtis; Randall "Too Hard To Handle" Morris; Patrick Hunter; Rufus Porter; Cortez Kennedy; Bryan Millard; Greg Gaines; Trey Junkin; Ronnie Lee; Christian Fauria; the odd assortment of stockbrokers and bouncers who comprised the '87 replacement team; Jack Patera; and Chuck Knox.
The Seahawks also have had a lot of players with character -- including Largent; Jacob Green; Dave Brown; Sherman Smith; Howard Ballard; Charle Young; Nesby Glasgow; Joe Nash; Paul Skansi; Todd Peterson; John Kasay; Andy Heck; Pete Metzelaars; and Manu Tuiasosopo.
Krieg was a little of one and had quite a bit of the other. It explains how he did more with less than any player in franchise history, and produced greater numbers and success than anyone could have imagined.
"That's a tough word: Overachiever," Krieg says. "I don't know, I achieved as much as I possibly could. I always tried as hard as I could, and I worked as hard as I could. ...
"I don't know if I overachieved, or what. I know I didn't underachieve."
Krieg's numbers support his assessment. He left the club after the '91 season as the franchise's all-time leader in pass attempts (3,576), completions (2,096), passing yards (26,132), touchdown passes (195), quarterback rating (82.3), and yes, sacks (341) and fumbles (108).
More important, Krieg quarterbacked the only three playoff victories in club history -- over the Broncos and Dolphins after the '83 season; and over the defending champion Raiders after the '84 season.
Historical stuff. Hysterical stuff, when you consider just how far Krieg came during his career that never was supposed to be.
"I always thought that I wanted to play in the NFL," Krieg says, "but never had any aspirations that I would last this long, or even get the opportunity to."
Several people no longer with the organization provided those opportunities -- from Ralph Goldstein, the scout who "discovered" Krieg; to Jerry Rhome, the offensive coordinator who saw in Krieg something no one else did; to Chuck Knox, the coach who turned over the offense to Krieg midway through the '83 season.
"I think now I realize even more how big a deal that was," Krieg says of leading the Seahawks to their only appearance in the AFC Championship game that first season as the starter, and passing himself into the Pro Bowl the next year.
"To come from a school that small, and have the career I've had, it's just astonishing."
It definitely is the best story in the Seahawks' first quarter-century.