What You Say about Dave Krieg!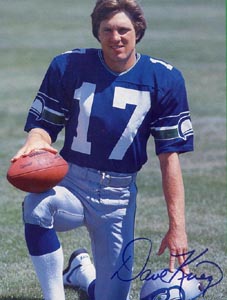 Don Christensen, a freelance writer, has written a beautiful tribute to Dave Krieg. You won't want to miss it. From Pinto to BMW Ė A Tribute to Dave Krieg
You can join Don and many other fans who want to celebrate the career of Dave Krieg. Write to us and share your memories of #17! We'll post them right here!
From: CHARLES GORDON
Sent: Tuesday, October 17, 2006 3:36 PM
Subject: My Dave Krieg experience
Hi Becky!
I wanted to share this story with you and your readers. Thanks again for such a great web site for Dave!
Just arrived at Qwest field for the Sept 24th game against the Giants and this gentleman said "excuse me sir" and thought for a moment I was in trouble. He said his name is Donnie and a good friend of Dave's. I, of course, was wearing my #17 Krieg jersey and he is telling me that he and Dave jokingly argued about whether there would be anyone wearing his number. While he is telling me this story he is punching in numbers on his cell and says, "would you like to talk to Dave?" Now I have been a huge fan of Dave's for years and even recently drove up to the Boeing golf tournament "shootout at the ridge" just to see him. He might even remember me, I was the guy wearing his jersey who got his autograph, when he was talking to Steve Largent, before the start of the tournament. Dave even said, "hey I like your shirt". So now I'm standing there with Donnie who is about to hand me his cell, and I'm completely dumbfounded! After all these years following his career, Dave being my all-time favorite, have absolutely no idea what to say. Didn't get thru, so left a message and had to ask my friend what in the world came out of my mouth, because I couldn't remember a thing.
When Dave took over for Jim Zorn (who was a great QB) and then became the starter under Chuck Knox, I have been a huge fan ever since. In '83 those boys shocked the world of football when they beat the Dolphins at the Orange bowl in the playoffs, while not one football expert gave them a chance! Remember losing my voice after that game. When Dave shook out of a potential sack to hit Paul Skansi in the end zone for the game winning touchdown to beat Kansas City, what a game!
I wish to thank Dave for all the great games and memories. His consistent professionalism, tenacity and pure guts, made this Seahawk fan proud to have him as our quarterback! He truly is the Best!
Friend and Fan...Chuck Gordon
From: Tammy Tokas
Sent: Thursday, February 02, 2006 2:31 PM
Subject: Dave Krieg
OH MY GOD! I was his biggest fan in 1984! I was only 14 and I cried and whined that my precious Dave Krieg had lost to that Damn Dan Marino! I was so upset...I cried myself to sleep. But over the years, I still love Dave...and I have that picture...that I cut out of the back a cereal box...I even framed it! My most precious picture.
When I ran for Jr. Miss (I have the tape to prove it) I said that I loved Dave Krieg...and hope to see him play in the Kingdome some Day...but I never did!
He is still my favorite quarterback...and still love him and think he is so cute!
Tammy Tokas
Milton-Freewater, OR
From: Savannah Daydreamin.Com
Sent: Thursday, December 01, 2005 12:22 PM
Subject: Dave Krieg
Saw your website, it's great! Thought I'd throw in my .02 cents - I caddied for Dave at the Elway Celebrity Classic a few years ago in Denver and I just have to say that he is, by far, the nicest guy I've ever met in the tourney, along with Jim McMahon. Always stopping to sign autographs for kids and a kind word for everyone he met. A lot of the other players are real phoneys out there and spending the weekend caddying for him was such a breath of fresh air - he's truly a class act and a geninuely nice person.
- Jim Mangin
Dunedin, Florida
P.S. Tell him I'm still sorry for not bringing the extra golf balls for Sunday's round.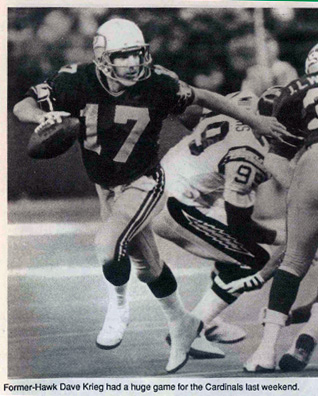 From: Ebanks, Matica
Sent: Friday, July 08, 2005 1:31 PM
Subject: Dave Krieg
Dave is a personal friend and even though I didn't know him at the height of his career, I can still say he is a great and down to earth guy. Though he is of celebrity status, he does not flaunt his fame and fortune. Dave is a genuine and real person that will put his arm around you and help in anyway he can. Coming from a small humble town, he has made the town and people proud to have someone like him represent them. He is a phenomenal person and an awesome friend. Dave you are one of the chosen best. God smiles at you.

Love,
Matica & Chantel

From: KEVIN KIENDLE
Sent: Tuesday, June 07, 2005 3:19 PM
Subject: Dave Krieg
I met Dave while coaching his sons at a hockey camp in Wisconsin almost 3 years ago. He is without question the most humble person that I have ever met. He was more impressed that my friend and I were running this camp (we live in New York); all of today's players no matter what sport could learn a valueable lesson from him. A total class act,he spent time with us after our day was over and never failed to thank us for what we were doing for the kids. Congratulations on his honor, could not happen to a better person. Do you know how to reach him? I would like to see how his children are doing. Thank you.
Kevin Kiendle

From: Emilio Casellas
Sent: Thursday, June 02, 2005 4:07 AM
Subject: Dave Krieg
Dave Krieg is the best...He should be in the NFL hall of fame.

Official Seahawk Embassy in Australia
Emilio Casellas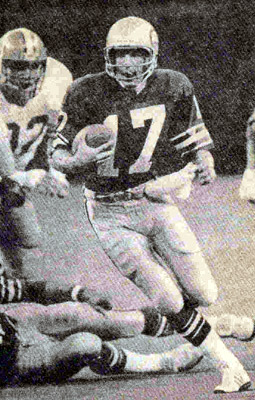 From: Anuci
Sent: Tuesday, January 04, 2005 12:16 AM
Subject: Dave Krieg
I have two very distinct memories of Dave. One was the day he was sacked an unbelievable amount of times by Derrick Thomas, but on what would have been a record breaking sack, Dave Krieg broke the sack and threw the winning touchdown pass. The other one was a Monday night game against the Rams when he fumbled the snap in the shotgun formation. The ball bounced around all over the place, eventually landing back in Dave's hands. He then calmly threw a touchdown pass. He never once gave up in any game. You always knew there was a chance to win when he was in the game.

Sincerely
Tony Anuci

From: Griff Ziegler
Sent: Sunday, December 12, 2004 8:03 PM
Becky,
Like you I also am thrilled about Dave Kreig and the ring of honor in Seattle. I once had dinner in a Kirkland restaurant and sat next to Dave and had a nice conversation with him. I remember it well and he was as nice as I always thought he was. When you compare his stats to Hall of Famers like Bradshaw, or Roger Staubauch, or others, he is far and away ahead of them. His overall QB ranking in the history of QB's is still #7. Not bad! Considering he is behind Marino, and Montana and Elway. I'll vote for him into Hall of Fame in a heartbeat.
From: Stathis Tsogas
Sent: Monday, September 20, 2004 5:49 AM
My name is Seahawk Stath........
Dave krieg....wow.............i basically have watched every game he has played in......
This was the guy i watched growing up.......the guy....who replaced zorn!!!!!
the 80,s were great........
now his time has come........this sunday.......dave will be on the seahawk ring of honour!!!!
and i will be there........finally his time in seahawks history has come!!!
From: DCScharf@aol.com
Sent: Thursday, August 12, 2004 11:30 PM
To Dave Krieg
I've been a Seahawk season ticket holder from Day 1 and you've always been my favorite quarterback and favorite player. You were an exciting player as gracious in defeat as in victory and when you were playing it was truly the best years of the Seahawks. I think you took too much of the blame on your shoulders and people started believing it. I liked it better when you started kicking "b" more and taking names. I sat (still do) behind the Seahawk bench, 35 yard line, now in Club Section 237. In the dome it was in the 100 level, just above the rail. You may have heard me yell for you and the team. I know my parents did and they were in Burien at the time. I followed your career the best I could. I wished you were with the Seahawks as a coach, broadcaster, or in the main office. Whatever you do, you seem to enjoy it and that's a gift. I wish you and your family my best. Congratulations on the Ring of Honor....too late in coming but wonderful to see. Go Seahawks!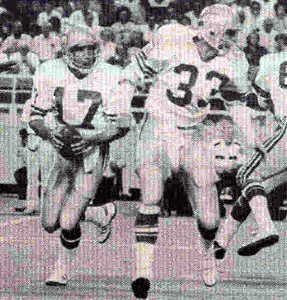 From: Griff Ziegler
Sent: Thursday, April 29, 2004 10:36 PM
Subject: Dave Kreig

I once lived in Kirkland, Washington, home to the Seahawks training camp during regular season. Every Tuesday was the teams day off and on that day we all were spotting various players in movie theatres, shopping centers, supermarkets etc. It was always a thrill. Although I met and spoke with Steve Largent, and have spotted Rufus Porter and Jacob Green in shopping centers, it was my chance encounter with Dave Kreig at a local restaurant which looms high in my memory bank. I was and will always be a Dave Kreig fan. When people would lament that Dave was too streaky, I would comment that we were so accustomed to seeing Dave perform at a super human level, that when he would be act like an ordinary QB, a step down from his superman heroics and "in the zone" accuracy, he was labeled streaky. Even so he ranks #7 all time in QB rankings. Behind such greats as Elway, Montana and Marino.
It was Tuesday and I remember Dave and another older man (not a player...maybe a coach or an agent or just a friend) came to a favorite Italian restaurant in Kirkland for lunch. As luck would have it he was seated at the table adjacent to mine and sat not 3 feet away from me. I remember this as if it happened yesterday since the previous Sunday, Dave became the "first Seahawk QB" to throw for more than 400 yards. He lined up toe to toe with the great John Elway and the Denver Broncos and threw 418 yards to establish another Dave Kreig record. I usually leave celebrities to themselves when I see them in public, but sitting next to Dave Kreig at lunch was just too much. I introduced myself and apologized for the interruption. Dave was not put off but engaged in a small bit of conversation. I mentioned his record setting Sunday and then was amazed at how humble he was. He was quiet and low key about the whole episode . Never took credit for an individual accomplishment, but for a team accomplishment. I shook his hand and wished he well for the remainder of the season. I asked for an autograph for my daughter. She was an intense Seahawk fan and always delighted whenever she could see one in a store in town. Dave signed the menu Dave Kreig #17 and I still have that menu.
When the Seahawks have a player and role model like Dave Kreig and Steve Largent, who needed the biggest jerk of all, "The Boz". Only Ryan Leaf has been a bigger disappointment to the NFL. Since we have retired Steve Largent's jersey, when will the Seahawks wake up and retire Dave Kreig's #17? They were a formidable pair in their day! Let's put Dave up on the ring at the new Seahawks stadium where he belongs. He needs to join Steve Largent as one of the greatest players ever to wear a Seahawks uniform. Then why not hall of fame for Dave. His numbers surpass, Hall of Famers: Bradshaw, Staubach, Namath, Baugh, Tittle, Starr, and Jurgensen. When will it be Dave's turn? Why not now!
Griffith Ziegler
formerly of Kirkland, Washington
now in Hauser Lake, Idaho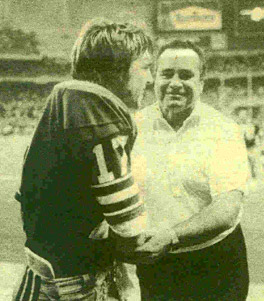 From: kimmeudt@comcast.net
Sent: Sunday, January 11, 2004 2:42 PM
Dave, I just want to thank you for all the great time's on and off the field and the great time's to come, in our fortune retirement years.
Deer hunting not in Jersey too small of deer look like small dogs. But if you want too hunt don't forget about Tony Gonsatino he as a farm in Swesboro N.J.
Your always a inspiration to all the people that your around and that know you as a friend and teammate.
R.M.Meudt
From: "Brian Damage"
Sent: Sunday, January 04, 2004 4:14 PM
Subject: The ring of honour
So cool that I found your page and read your petition to get Dave inducted into the ring of honor. It was just two days ago that I e-mailed the Seahawks front office. I just sent off my own rather loud suggestion to the office boys, along with a couple of my own experiences with D.K. that if they don't put him in the ring and retire his number they were out of thier minds. D.K. is also my favorite player, Seeya later
From: BRIAN HART
Sent: Monday, May 20, 2002 4:26 PM
Subject: new stadium
I agree with the Dave Krieg idea and I have sent in a letter. In fact, I spend once a month working just outside of Milton, WI. You would be surprised at how much attention I get wearing my Seahawks cap and having personalized Indiana license plate "LARGENT". One thing that I would like to see, is adding a touch of class to the stadium name. With this day and age of corporate sponsors, adding the words Pete Gross Memorial Stadium behind the corporate sponsors name (I.E. Microsoft's Pete Gross Memorial Stadium) would very fitting. I have e-mailed Paul Allen's web site (if it will do any good), I thought if you liked the idea you could mention it in your site.
Brian T. Hart
Indianapolis, IN

Russell Miller, August 2003
In 1990 I was a misplaced Seahawks fan. Having grown up in Washington state, and being in high school when the franchise began, I missed my Seahawks dearly when I moved to Chicago for five years. I traveled quite a bit, all over the country. Anyway, in 1990 I was in Wisconsin, I think, and stopped at a bar for a beer. It was a Dave Kreig memorabilia bar! He had played college football at the college nearby. But anyway, I can't remember the bar, the town or the college. But that's my memory.
Chris Ballschmieder-Adams Wausau, WI , April 2003
In reading this about Dave - I remember him from D.C. Everest High School - he sure hasn't changed much in looks or in attitude - he was a great person then & even though I haven't seen him in some 26 years, I'm sure he still is a great person. He was never arrogant or self-centered about anything. I guess having someone that you once knew become so popular & still stay the same great person brings out the pride in what a small hometown really is about as well as the up-bringing of those in that hometown. I will say that still living in the city of Wausau; it has changed a great deal since we were both in high school. No, I didn't go to D.C. Everest; however, I knew more people there than at my own high school. I just want to say that I couldn't have seen better things come to someone who really deserved the limelight.

James Edwards, 9/02
I grew up in Oregon, and was a Packer's fan as a kid, because of Bart Starr. I moved to Southern California in 1970, and went to high school there. At that time I was a Raiders fan until John Madden retired, and they traded Kenny Stabler for Dan Pastorini.
About that time I discovered the Seahawks, when Jack Patera made the games fun to watch! I remember the early games with Jim Zorn throwing to Steve Largent. Then when Dave Kreig walked on and took over the starting job under Chuck Knox, I was a fan for life.
I remember the great playoff runs they made; beating Denver & Oakland, only to lose to Miami. Then the next year beating Miami to lose to the Raiders. And I was in a Kirkland bar watching when Dave brought the Seahawks back from a 14 point deficit; only to lose to the Oilers on a Bad Call after Fredd Young intercepted the ball. That year the 'Hawks would have beaten the 49'ers in the Super Bowl!
I followed Dave's walk-ons at each team he joined. He took Detroit & KC to the play-offs, and if not for a couple of dropped passes in games against KC & Cincinnati he might have gotten Chicago there as well! I watched the Oilers/Titans' progress of Steve McNair, and could see Dave's influence on him, as well. And I was mighty pissed off when they cut him just before the play-offs. It would have been great to have gone to the Super Bowl, even if he didn't get to start; after all he was always a great holder for the kickers as well!
Now here I am in Arizona, a fan of the Seahawks & Titans, and for College; Oregon & Oregon State!. And of course a Huge D'backs Fan!
Keep up the great work on your site

D. Keatting, 5/01
It was the Dave Krieg to Paul Skansi touchdown at Arrowhead Stadium in 1990 that made me a football fan. Iím not trying to be dramatic. Iím just being truthful. I never watched football before, and it was just a fluke that I watched that game. I have been a diehard Seahawks fan ever since. While were at it lets put Paul Skansi in the ring of honor too. Just kidding.

Gary Wright, 11/99
I came across a radio sports talk show on Saturday where Dave Krieg is the co host. I think it's called "Sports Fan Game day". They do college football from 10 a.m. to approx 2 p.m.
Dave does the technical analysis and sounds very knowledgeble. Frank Andrews is the other host and can be reached at frankandrews@aol.com I live in Tri Cities Wa. and hear the program on KFLF 870. Frank relates that Dave is still interested in playing. Hope this is some info that you might enjoy. Keep up the good work.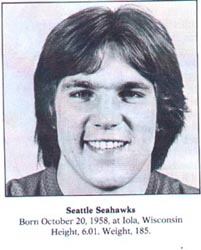 Yee Fong
I always thought Dave Krieg was underrated and took too much of the blame when the Seahawks lost. I thought it must have been tough on his family life and wondered if his family travelled around with him as he went from Seattle to Kansas to Arizona (?) to Houston to Tennessee. Does he still hold the fumble record? We only get the Sunday night game and MNF in New Zealand.
Cheers

Galen Kicking Woman
Dave Krieg, what a quarterback he was. When I think back to all my 14 yrs as a Seahawk fan, my strongest memories are of Dave Krieg and Company. I believe the Seahawks could have gone to the Superbowl if Dave Krieg and Steve Largent had more help offensively. Especially an Offensive line.
Anyway, When I think of the Seahawks of the 80's I think of Dave. Because all the memories I have of the Sports highlights on ESPN would show Dave throwing a bomb down field, and getting the touchdown. Awesome stuff!! Seatlle would beat teams by scores like 42- 10. And that's because of the Underrated Q.B Dave Krieg.
He will always be one of my favorites. And it looks as though Jon Kitna will soon be our first ever Superbowl QB. Go Seahawks.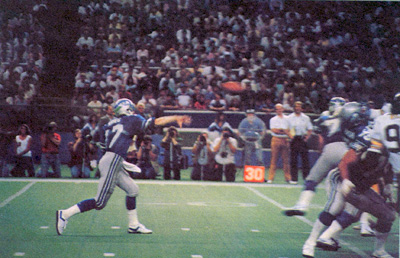 Jacob Tabb
Hi. My name is Jacob. I am only 15 and never saw Dave Krieg play here in Seattle, but I got hooked on "Fumble Fever". Anyway, the last two years when the Oilers came back Seattle to play, a crowd would gather behind the stadium at the players entrance, waiting for Dave to come around and sign. The first year he was mobbed, but everybody got their autograph. The second year, he had a Seattle staple, Starbucks in one hand and a freshly cleaned suit in the other, and wasn't going to stop. He smiled and waved, acknowledging everybody, but he didn't stop. Then, out of the blue, he put down the coffee and stayed for close to 15 minutes. He once again signed everything there. He started to leave three different times, but always stopped and signed a few more. Along the same line, the first time he came back with the Oilers was the same day that the Seahawks retired Joe Nash at halftime. There was Dave, full gear. Somehow, it was just funny. Seahawk executive in a suit here, former teammate of Joe in a suit there, Dave Krieg, #17, Oilers uniform over there.

Michelle Williams
Please dedicate a whole web site to the wonderful Dave Krieg! I miss him so much! I can't believe he's not even a starter anymore. I have lived in Denver throughout the whole John Elway era but have always favored the adorable Dave Krieg to any other football player out there. The Krieg - Largent combo was the best in the league! Please put lots of Dave Krieg pictures out on your web site so I can get a Dave Krieg fix.

SunWolf9
Hello,
You have a very nice sight. I'm emailing you from a friend's computer about Dave Krieg. I wasn't into football when he started and I completely missed Largent's career, even though he became my favorite WR. I live in Ohio and I remember the only way I knew how to keep up with the Seahawks games was with a newspaper. I wasn't familiar with any of the players of the game at the time. But in stats one name I noticed and that is Krieg's. Since then he became my favorite QB and I'm glad he is still playing. Sept. 6 is my birthday so what a present during the first game of the season. I get to see the Bengals here where I live. Well they were going against the Oilers and Mcnair got hurt. So I got to watch Krieg play in that game and he was hot. Each time I look at his stats watching his yards go up and rating moving, hoping for improvement and record books when he retires! Good thing about 2nd string is he might be around more, but kind of like to see him play also at times. Well just wanted to say hi.
PS I really don't know the Krieg - Skansi story even though I do know who Skansi is.

djangodogg
Yeah, remember the Monday Night Football game against the Chargers when Dave Krieg fumbled and then picked it up and ran around and then threw the touchdown pass, that was the greatest play in NFL history. Also when he got sacked by Derrick Thomas 8 times in a game and then threw the winning Touchdown pass to Paul Skansi on the last play. Do you remember Daryl Turner, he was raw.

dbuofan
Dave is my favorite football player of all time for one reason. He played at the highest possible level that his talent would allow and then he squeezed out even more by working hard. I remember coming home from high school football practice in 1980 and watching an exhibition game and telling my Dad that #17 would lead the Hawks to the Super Bowl. Dave damned near did it too! I hope Dave Krieg will coach in the NFL because he has a superior football mind and would add a lot to an NFL team. I see a lot of Dave Krieg in Jon Kitna too, although Jon has more arm strength. Both of them have the one intangible you cannot teach and that is the heart of a champion. Thanks for the wonderful years Dave Krieg.

J.D. Gaddini, 9/99
The old man wants you to sign with another team so you can reach the twenty year mark. He still thinks you have some zip in the arm. Anyway you brought a lot of good memories to my family and the community of Milton, Wisconsin. Good luck on your future endeavors.

Paul D., Kansas City, 11/3/99
One of the first football memories I enjoy was the Chiefs/Seahawks game that Dave Krieg won while eluding his eighth sack of the day. Watching that game made me a fan of the Chiefs (to my dying day) and a huge fan of THE MAN (I still wear my official Krieg jersey to the Chiefs game). The more I learned about Dave the more impressed I became. His college history and his success in the NFL represent his desire and ability to overcome his obvious obstacles. I consider him one of the physically toughest QBs to have ever played and I hope one day to visit the Football Hall of Fame to see his rightful place in it (I expect full support on this from Steve Largent). I met him once when he and Montana were Chiefs. I was watching Dave and Montana shoot pool in a bar (Dave won, of course). Shortly afterwards I met Dave and found him friendly and humble (Any present athletes reading this?). A classy man!