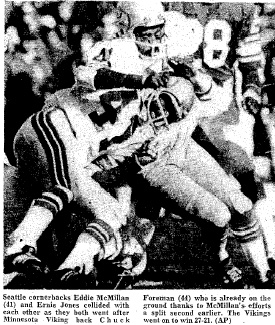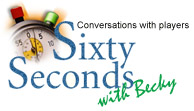 How did you feel about being sent to an expansion team in the draft?
I didn't mind at all being drafted by Seattle. I knew that I didn't have a choice so I had not made one. It's just that it was so far away from home to me.
Who impressed you most on the team in that first season (you can name yourself!)?
I'm not sure. Of course it was exciting to be on the same field as some of the guys that you had heard of and seen on TV in the league.
Who was the funniest member of the team?
Maybe it was a guy named Eddie McMillan. He was from Florida State and had been in Los Angeles.
Do you have a favorite game or memory from the season?
I can remember the first game that I started at cornerback. It was against the Philadelphia Eagles and I was covering Harold Carmichael and did a decent job all day I might add. I almost intercepted a Jaworski's pass and had I caught the ball it would have been about a 90 yard return for a TD. I think it was a close game. We didn't win, but I think they had to recover an on side kick at the end for us to not have a chance to score the go ahead points.
If you could summarize Jack Patera in one sentence, what would it be?
As with some NFL head coaches, he attempted to be overly anti-social.
From the players' point of view, who were the inspirational team leaders in those years?
I feel it was Norm Evans, a player who I had seen play for years with the Miami Dolphins.
On the personal level, if you could pick the one team-mate you wanted next to you in a crunch because he inspired you, who would it be?
Maybe a player by the name of Sammy Green from the University Of Florida. It was mainly because we were both rookies from the state of Florida and had played against each other in college. We developed a good friendship and started to hang around together.
It's a cruel business, with players coming and going by the week. Is there anyone who sticks in your mind as someone who could have made it as a player but was unlucky enough to miss out?
Billy Hardee a free agent from VPI (Virginia Tech).
Do you keep in touch with former players?
Just a few guys that I played with in New York.
What are you doing these days?
I am a Police Sergeant with the Miami-Dade Police Department in Miami-Dade County, Florida. I am assigned to the Personnel Management Bureau's Recruitment and Selection Section. I've been with the Department for 20 years and it is my intentions of being here six more years. If you are aware of any ex-players that are in search of a career in Law Enforcement and would like to re-locate to the Sunshine State, please have them contact me.
Web Author's Note: If any former players would like to get in touch with Sergeant Jones, please email me and I will forward your message to Mr. Jones.

We invite you to read more about Ernie Jones!