The Beginning:
"He's been there, he's been to the mountaintop. All the things I've been preaching, he'll do it now." -- Ricky Watters
Continue reading
The Middle: I know there are a lot of you who won't join me but I'm jumping off the Mike Holmgren bandwagon. That's right. I'm bailing. -- Web Author
Continue reading
The End in Sight: There's no mistaking his success in Seattle. At the time of this writing, he has just surpassed Chuck Knox as the winningest coach in Seahawks history. -- Web Author
Continue reading
The Final Year: "They're a fun group of guys and they're very unselfish. That's one of the reasons I came back another year." -- Mike Holmgren
Continue reading
Relationships: "Everybody on the team knew he wasn't being fair with me..." -- Quarterback Jon Kitna
Continue reading
Home: We love him, we hate him, we don't know if we can live without him. -- Web Author
Continue reading
My Thoughts ... on the hiring of Mike Holmgren
Archived from 1999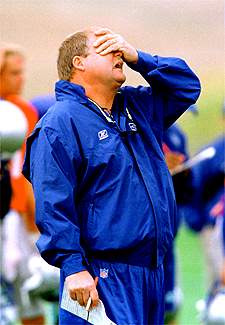 My thoughts? On the appointment of Mike Holmgren as Coach of our beloved Seattle Seahawks? Mike Holmgren, Executive Vice-President of Operations/General Manager?

Doesn't my smug smile say it all???!!!



Screeeeeeeeeeeech STOP!!!!!

That's what I said two years ago when the Seahawks hired Mike Holmgren to wear all those fancy hats. That's what I said after the influence of the media and fans. That's what I believed because that's what I thought I was supposed to believe.

I've had a change of heart since all the hype. Or, I mean, since the mass exodus of players I've come to love.

I know there are a lot of you who won't join me but I'm jumping off the Mike Holmgren bandwagon. That's right. I'm bailing. Not abandoning hope, but stepping forward to say I don't like what he's done to our Seahawks. I know he's got a great record, I know he's proven himself in Green Bay, I know he's highly respected in NFL circles but it doesn't change the fact that he's done nothing in Seattle that impresses me. Want to know why I'm upset? Want to hear more? Brave enough to keep reading?

Let's start with an article from ESPN stating, "Allen has watched Mike Holmgren, the $32 million savior turned naked emperor, run the Seahawks straight into irrelevance. He paid Holmgren handsomely to be the GM and coach, and he has been a spectacular failure, signing old, washed-up players (John Randle) to ridiculous free-agent contracts, an offensive guru signing his old Green Bay backup (Matt Hasselbeck) who's a fine quarterback when the the games are meaningless."


And then let's go to another from ESPN: "Four years later, frustrated Seahawks fans say "When." After an 8-2 start in his first season with mostly starters left over from Dennis Erickson, the Holmgren-coached Seahawks are 20-31, including this year's nightmarish 4-9 season. Despite one of the nicest new stadiums in sports, the Seahawks struggle to sellout home games. Overestimating the market for club seats, the team had to slash prices and are still left with big areas of unfilled prime seats behind the opponent's bench."


Source: Wednesday, December 11, Holmgren's future with the Seahawks uncertain, By John Clayton, ESPN.com

"We're going to work very hard. We're going to do things my way,
and we're going to get it done. Come along for the ride."


-- Coach Mike Holmgren, Seattle Seahawks

The quote is from Mike Holmgren when he first came to Seattle. At the time he said it, I was impressed by his confidence. What he said I believed, he's that kind of man. When I saw him (momentarily) in Charlotte in the fall of 2000, I nearly swooned! He does have a presence, some magically powerful greatness that seems to encircle him.

So why am I feeling disappointed in what he's done with the Seahawks in two short years? (Webauthor's note: Make that three...and then four.)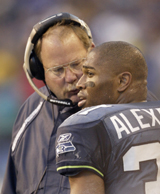 My feelings of resentment (Resentment? Isn't that a bit strong? I don't think so!) have been building for quite some time with a lot of little things snowballing into something big. One of the little things that you may have already read about in my game summary occurred in the Raider game on December 16, 2000. Most of you got to see that game because it was televised nationally so I hope this will be familiar to you. Just before half time the Raiders were attempting to score, wanting to take momentum with them into the locker room and back on to the field for the second half of the game. Instead, with a minute or so left in the game, the Hawks rallied to get us into field position for a 50+ yard field goal attempt! It was an impossibility. We were playing outdoors in Husky Stadium with the wind swirling, rain falling, miserably cold conditions. All of us were hoping Lindell could pull off a miracle, after all, it was the Raiders we were up against and nothing is sweeter than beating the Raiders. (Except maybe beating the Chiefs. Or the Broncos!) The kick was good!!!! Lindell was a hero as we all jumped around, fists raised, proud as we could possibly be of our Seahawks!!! And then the cameras panned to Mike Holmgren, who couldn't even muster a tiny grin.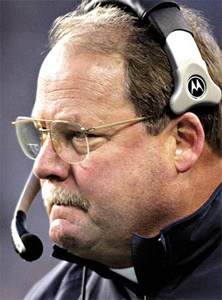 Not even the smallest of small smiles. Maaaaaaaaaaybe the corners of his mouth curled upwards just a teeny bit, or was that just my wishful thinking?

Let's jump to the 2001 season. We started the season with Matt Hasselbeck as our #1 QB. That's great, I think Hasselbeck has a lot of potential. But why would Holmgren insist on playing Matt early in the season with a groin injury that caused him to whince on every play? And why, later in the season, would he insist on playing Matt when he had a separated shoulder? As much as I want Hasselbeck to succeed, those decisions were not in the best interest of the Seahawks.

Why, when we need a touchdown to win the game, would we go for a field goal with a handful of seconds left on the clock? Why don't we run a 2-minute offense?

That aside, how many times this season [referring to 2000] did the Hawks do something terrific, only to have Mike Holmgren say it was, well, it was alright but we should have done this or that differently? I'm SO tired of the negativity that enshrines the Seahawks. Why can't Mike Holmgren come out and say YES!! for a change? Why can't he talk up the good plays and just once overlook the negatives, at least for the sake of the press?

Joey Galloway. Does anyone else feel that Holmgren botched that royally? I agree with his decision not to give in to Joey's demands, but why in the world would he put Joey Galloway back into the game plan after missing most of the season, disrupting the rhythm of Kitna and the other receivers? And after putting Joey back into the game, why did he blame the downfall of the team (and season) on Kitna? Our season was rolling along beautifully right up to the time that Joey returned. My heart is still broken for all the receivers who had played brilliantly and were suddenly cast in the shadow of a player who didn't live up to his expectations.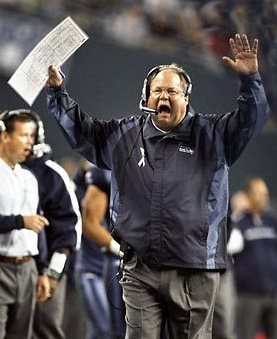 Jon Kitna. If you want to read all my beefs with Kitna and Holmgren, you'll have to go here. I don't know how a quarterback can be expected to give his all when the coach does not embrace him. I don't believe for a moment that Kitna's been treated fairly these past two years. Some of you are saying you're tired of hearing Jon whine but I don't think that's what's happened. I think he has been in a no win situation. More on that on a separate page...

Cortez Kennedy. The man who said he always wanted to play for Seattle; he didn't want to play for any other team. Now his season has ended on a sad note, having played his last game for the Seahawks and knowing he hasn't belonged all year. HOW could we have done that to Tez, a man who has given so much to this team through the years, a man who's heart and soul have been with the Seahawks? Loyalty like that, team spirit like that, it's not something that can be bought. If we let him go, we are losing something so monumentally big, and I'm not talking about a body! I'm talking about a person. I know football is big business and no one cares about loyalty anymore but this is TEZ! Surely there is a place for the Great Cortez Kennedy on Mike Holmgren's Seahawks roster. How we could have alienated him to the point that he'd say he's willing to go elsewhere for a shot at a Super Bowl ring is beyond me.

Sam Adams. Cut. Going to the Pro Bowl for another team. Phillip Daniels. Big man. Loads of talent. Gone. Darryl Williams. They said he was losing a step. Signed Reggie Tongue to replace him. Reggie was benched part way through the season. Ahman Green. Mr. Fumble. Found a home in Green Bay and broke records in 2000, went to the Pro Bowl in 2001. Sean Dawkins. Goes public with his desire to play. Makes clutch receptions. His opportunities were rare. Warren Moon. WHY did we cut him when he clearly wanted to stay in Seattle? The knowledge that man can share with our QBs knows no end! How about Ricky Proehl? He says the low spot of his career was in Seattle. Ouch. Brian Blades. First declared a warrior, then cut.

I'm just having a lot of trouble with the decisions Holmgren has made since he came on board. I know, I know, a lot of you don't agree with me. That's fine, I want to hear your opinions.

And I promise, I'm not trying to be negative. You all know I love the Hawks and I'm behind them 100% of the way.

But I'm very uncomfortable with the changes that are being made. And in my mind, Mike Holmgren still has a LOT to prove.

Oh, and if you don't want to take my word for it, check out this article I found on-line!

Six coaches ... and counting
Updated 1-19-08
Years
Coach
Reg Season W/L
Avg.
Post Season
1976-82
Jack Patera
35-59
.372
Didn't make playoffs
1982
Mike McCormick
4-3
.571
Didn't make playoffs
1983-91
Chuck Knox
80-63
.559
3-4 in playoffs
1992-94
Tom Flores
14-34
.291
Didn't make playoffs
1995-98
Dennis Erickson
31-33
.484
Didn't make playoffs
1999-07
Mike Holmgren
82-62
.569
4-6 in playoffs
Click here for a rebuttal to my comments!