The Beginning:
"He's been there, he's been to the mountaintop. All the things I've been preaching, he'll do it now." -- Ricky Watters
Continue reading
The Middle: I know there are a lot of you who won't join me but I'm jumping off the Mike Holmgren bandwagon. That's right. I'm bailing. -- Web Author
Continue reading
The End in Sight: There's no mistaking his success in Seattle. At the time of this writing, he has just surpassed Chuck Knox as the winningest coach in Seahawks history. -- Web Author
Continue reading
The Final Year: "They're a fun group of guys and they're very unselfish. That's one of the reasons I came back another year." -- Mike Holmgren
Continue reading
Relationships: "Everybody on the team knew he wasn't being fair with me..." -- Quarterback Jon Kitna
Continue reading
Home: We love him, we hate him, we don't know if we can live without him. -- Web Author
Continue reading
My Thoughts ... on the hiring of Mike Holmgren
Archived from 1999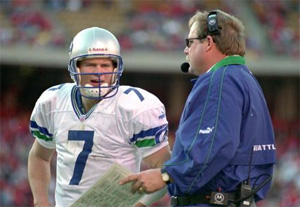 My thoughts? On the appointment of Mike Holmgren as Coach of our beloved Seattle Seahawks? Mike Holmgren, Executive Vice-President of Operations/General Manager?

Doesn't my smug smile say it all???!!!

Listen to the optimistic players! Watch the soaring ticket sales! Hear the excited buzz in your local city, wherever that may be, of fans from other teams starting to say, "Yeah, I like the Seahawks..."

This is the start of something big! We already have the players. Now we have the leadership. Get the bandwagon rollin'!!!!

I don't know how long this story will be on-line but there is an outstanding article in the Milwaukee Journal Sentinal about what Mike Holmgren brought to the Green Bay Packers. I urge you to read the article to see what we have in store as Seahawk fans! The excuses are gone. The time is now. And Holmgren is the man to get us where we want to go!

I could go on and on about how excited I am, and much I look forward to the benefits of discipline, structure and respect, but there are others who can do the job much better than I can. Let's listen to what they say...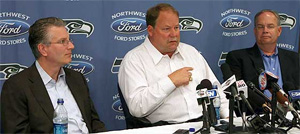 "I think coach Holmgren definitely comes in with a level of expectations for himself and his team. I've heard that he's a perfectionist and likes for things to be done right. Maybe that will help us." -- Jon Kitna

"Being a receiver and having a chance to play in a West Coast-style of offense, of course I'm excited about that. He's a winner and with the talent we have on this team we should be one of the best teams in the league." -- Joey Galloway

"Life is going to be easier in a lot of ways for all of us. He's been there, he's been to the mountaintop. All the things I've been preaching, he'll do it now. I think it's great having a guy who's been there, who knows what it takes to get there...I heard about him being a disciplinarian. I know that. He'll get on you but he praises you, too. It's kind of like a parent. You want fear, but if it's only fear, that's not good. You've got to have fear with respect and a lot of love. I think it will be like that." -- Ricky Watters

"I'm excited because Mike Holmgren, he's been there. He has the experience of going to the playoffs and Super Bowls." -- Willie Williams

"We could have easily gone in a different direction and not made such a commitment. But I think this commitment shows this organization is about winning and about winning soon." -- Jon Kitna

"I think we have a lot of great talent on the team. For whatever reason we didn't play to our potential last year, so if it takes a new coach then I would say it's a springboard." -- Matt LaBounty



BUY TICKETS - SUPPORT THE HAWKS - BUY TICKETS - SUPPORT PAUL ALLEN - BUY TICKETS - BUY TICKETS - BUY TICKETS - LOVE HOLMGREM - BUY TICKETS
--Brian Miller

Just had to let you know it was announced 30 minutes ago!!! We have a new coach!!! WE GOT HOLMGREN!!!! I am so excited! My prayers were answered. I really believe good things are going to finally happen for our team. And with him in charge I do believe they will start showing us fans that we are important. I had a feeling yesterday that this was done deal when I received a call from Seahawk Headquarters yesterday telling me how much they appreciate me being a season ticket holder and a fan. And they hope I will continue to support the team. Finally, we are getting some recognition. It feels GREAT! SUPER BOWL here we come!!!
--Marolyn

I found out at 6 pm today about the new coach. At 6:05, my good friend (and DIE HARD Bronco fan) called me up. He was VERY upset. "Man, this stinks...THIS STINKS! I CAN'T BELIEVE THIS!!!" He said it over and over. Why? He doesn't want us to have a new coach. Especially a GREAT ONE like the one we landed.
--Denis

It is believed that Holmgren automatically takes the Hawks to extreme heights like bringing his assistants with him which are perhaps the best in the league, much more media attention, Monday night Hawk games, and, of course, more prime time players. Remember, Brett Favre covets Holmgren and credits him for his success. Kitna will love what Holmgren can do for him.

My bet: If Holmgren is not signed or at least agree to terms now, I will give up watching Professional Football for a whole year. : ) Can you believe that?
--Greg

Becky,
I am sure you have heard...We won the offseason SuperBowl 3 years running!!! WHOOOOOOOOO HOOOOOOOOOOOOOOOOOOOOOOOO!!!!! We are in in 99'! We just have to be...Kitna to Galloway with some great plays to the goal line!!! & you can bet that Seattle @ Green Bay next year will be Monday Night!!! OH YEA!!! We are on the Map!!!! GO HAWKS GO!!!
-- Glenn

Its OFFICIAL
Mike Holmgren is the new GM/Head Coach of the Seattle Seahawks. Press Conference at 11AM Pacific time.
--Scott

Becky,
It is now confirmed as I thought, Holmgren is hired as ESPN reports. News conference scheduled for 2 pm est today.
--Greg

THAT'S IT....I am now a full-fledged Seahawk fan.
--Red (Note to readers: Red's a Buffalo Bills fan!)

For those of us who have supported the Seahawks through thick and thin (a lot more thin than thick through the Behring years), our time has come! As everyone else jumps on the bandwagon we can say we have been there from the start. GO HAWKS!!!
--Puypd241@aol.com

I think this is a great pick up for the Hawks. I think Holmgren will lead this team to the big one. I also feel that John Kitna will now be able to have great guidance. Kitna will be developed by the same guy who made the NFL aware of Young, Montana, Farve, And if I must say Detmer. Mike will bring discipline and toughness to a loaded hawk team.
--CSalsb1017@aol.com

Becky,
I haven't written you with my thoughts for about a week now. The only for that is my nerves were too jumpy and excited to even type properly! We are going places! I honestly believe Coach Holmgren is the missing piece that will make OUR Seahawks the DOMINANT force in the NFL!

Someone must've made the proper sacrifice to the God of football, 'cause it appears the "Behring" curse has been lifted!!!! Thank you Mr. Allen for being committed to this little rag-tag team and its loyal fans!

Bring The Noise!!!!!!

************************************************
* Our teams owner can BUY your teams owner!!! *
* All Hail Paul Allen, Go SEAHAWKS !!! *
************************************************
* Pat Hickey Certified Seahawks Fanatic *


Continue to 2001 -- my change of heart!!!