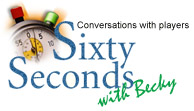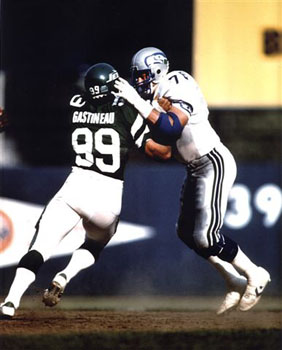 Once again I was honored to be contacted by a former player of the Seattle Seahawks. I'd like to thank Steve August for the time he spent visiting with me about his career in Seattle. It's been a thrill for me and I'm so happy to know he looks back over his football years fondly.
Mr. August is featured in our Almost Hall of Fame, our web pages honoring players who aren't in the Ring of Honor but remain our favorites for the memories they've given us through the years. He's shared some great memories of his years in Seattle -- I hope you enjoy them as much as I have!
How did you feel about being sent to a new team that was only one year out of being an expansion team?

I was excited and didn't know much about the Pacific Northwest but was really happy to be going to Seattle where my good friend and Tulsa Univ teammate Steve Largent was playing and also my former Tulsa Off coord. Jerry Rhome was coaching.
Was it exciting to go to the Seahawks or was it disappointing?

Who impressed you most on the team in the early seasons (you can name yourself!) ?

Of course Steve Largent has always impressed me having played with him for 4 years in Tulsa, but the others that were impressive were Jim Zorn, Sherman Smith, David Sims.But I was really impressed by Norm Evans who was playing Right Tackle when I came to Seattle, I was drafted in the 1st round in 77 and Norm was playing the position they put me in. I backed him up for my rookie season in 77 and he was the most helpful, giving person I ever met. He had no fear of helping me take his job, which is what happened in 78. I don't know of many people who would go out of their way to help mentor someone who would help bring their career to an end. Norm was a great leader and very good player that taught me a lot in the 2 years we played together. I tried to follow his example and help the younger guys over the years I played in Seattle.
Who was the funniest member of the team? The person who lifted spirits? The practical joker of the bunch? The serious one?

The funniest guy in the early years was Bob Lurtsema, him and Nick Bebout were classic veterans who joked around quite a bit and kept us loose during the 2 a days and long season. Steve Largent was also a practical joker who liked to lift our spirits and make it fun to be around him. Jim Zorn was one of the more serious ones but was also a very good leader. There was another guy who was around for a short time as a linebacker, his name was Mike Jones (I believe) I never laughed so hard at some of the things he did. He liked to do impersonations and he always kept us laughing, unfortunately he wasn't around that long.
Do you have a favorite game or memory in your time as a Seahawk?

It would have to be the game against Miami in the playoffs in 1983, we had just beat Denver in the Seahawks first ever playoff game and we went down to Miami the next week to meet a great Dolphin team led by rookie Dan Marino. The press was saying that it would be Miami and Oakland in the next weeks AFC championship game and Miami was a shoo in over the Seahawks in Miami. Well we controlled the line of scrimmage that game and our rookie running back Curt Warner(AFC offensive player of the year) ran through the big bad Dolphin Killer B's defense, while Kenny Easley(AFC defensive player of the year) and our defense shut down Marino and the Dolphin offense. What an exciting game, we were physically and emotionally spent after that game. Unfortunately we couldn't beat the Raiders for a 3rd straight time that year and lost to them in the AFC championship game in the LA Coliseum in front of 90,000 mostly Raider fans.
If you could summarize Jack Patera in one sentence, what would it be?

I can't do it in one sentence. Jack was a players coach from the old school who evolved and changed over the 7 years he was in Seattle. In the beginning when we were still considered an expansion team we had great success winning more games than any expansion team those first few years and Jack was great. When we start losing in 80 and 81 with a lot of changes in personnel it got very difficult and we saw the tough side of Jack that most players didn't like, especially if you were one of the casualties of the changes. Overall I liked Jack and thought he was a good coach.
From the players' point of view, who were the inspirational team leaders in those years?

Steve Largent would have to be the most inspirational and he had such a long career. Since I was an offensive lineman I will probably just give you offensive players like Sherman Smith, Norm Evans, Dan Doornink from my early years. Then we started bringing in some great defensive players and Kenny Easley was a great team leader and inspired you with his fierce hitting and toughness. Donnie Dufek comes to mind as a special teams player that lead a great group on special teams coached by crazy Rusty Tillman. During the best year ever for the Seahawks 1983(I say best year because no Seahawk team has ever gone further in the playoffs) Steve Largent was still up their in my book as the most inspirational but one guy I believe made a big difference was Charle Young, day in and day out he inspired me and our team.
On the personal level, if you could pick the one team-mate you wanted next to you in a crunch because he inspired you, who would it be?

It's a cruel business, with players coming and going by the week. Is there anyone who sticks in your mind as someone who could have made it as a player but was unlucky enough to miss out?

That's a tough one, the only person that comes to mind is a guy that played for a few years and then had a neck injury to end his career and that is Paul Johns he had the highest avg yards per punt return for career and I believe that still stands. He was also developing into a great wide receiver in his 4 years as an NFL player.
Do you keep in touch with former players?

Yes, just talked to Dennis Boyd today as I am going up to Seattle in a couple weeks on a business trip. I will probably play golf with him and Sam Adkins. I talk to Steve Largent frequently along w/ some others. I try to make it back to Seattle at least every other year for the Alumni weekend.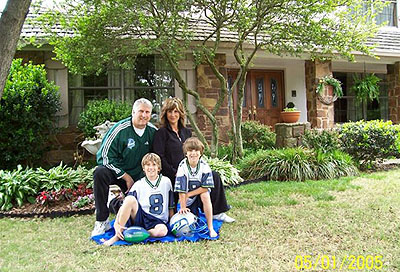 What are you doing these days?

I am part owner of Vineyard Financial Group in Tulsa, OK. We do investment management, retirement planning, life and health insurance for individuals and small businesses not only in Tulsa but all over the country. I am a Certified Financial Planner and came back to Tulsa in 1990 to get my masters' at the University of Tulsa and then decided to stay here after marrying Kellie in 1992.

I have 2 boys Matthew 11 and Seth 7. I coach a lot of their sports teams and am now coaching Matthew's football team and loving every minute of it.
How has football affected your career after your playing days?

Football has been very good for me in many ways and has opened many doors for me. I still get to do things that are NFL related such as golf in Charity tournaments, speak to youth through the Fellowship of Christian Athletes, and now be with the Midwest Seahawkers in St. Louis to cheer on our Seahawks.
From: Steve August
Sent: Thursday, July 14, 2005 7:53 AM
To: beckys@beckys-place.com
Subject: Seahawks
Becky,
I was sent a picture that showed me on an old Seahawk recipe book and asked the person where she got it. She got it off your website.

After looking over your site I was impressed and wanted to send a note and say thanks for including me in the Almost Hall of Fame.

Are you in the Midwest Seahawkers? I am planning on coming to the St. Louis game as a guest of the club.

I would be glad to try and give you any information you might want.

Go Seahawks!

Steve August