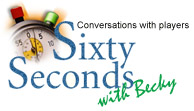 Source: Email from Larry Shipp
March 2005
Q1: Jack Patera: tough coach who seemed to make cuts fairly easily. He had to be intimidating. How would you describe Patera?
I found Jack to be very fair. I strongly believe he made cuts in the best interest of the Seahawks and relied on his coaches for insight. I didn't find Jack intimidating at all. I could run faster than him. I found Jack very approachable. The night before I got cut, I felt comfortable to go to him and ask him what was going to happen to me. He sat me down and explained to me what was going to happen and had asked me to stay around for the practice squad.
As far as workouts are concerned, my track works outs were much harder than the football workouts. In track, you are constantly running all out. For example, in track, I would run a warm up quarter under 50 seconds, eight 200s meters with a 200 meter walk under 24 seconds and then go over 100 hurdles and end practice with a warm down quarter under 50 seconds every moring at 6 a.m. In the weight room at noon and work out again with the rest of the track team at 4. In football, there is a lot of time between plays to rest and you only run 8 yards to 40 yards at a time.
Q2: Who were the early leaders who took risks and dominated rather than sitting back and waiting to be noticed?
Nobody sat back. We all understood that you had to give your all to make the team. The day you slacked was the day you were going to get cut. I saw too many players come into camp and leave the next day. Our motto was not to be the typical expansion team, we wanted to win from the very beginning. You did have to promote yourself during films, and during films you knew who were the coaches favorite. For example, if a quarterback threw a pass ten feet over your head, the commitment would be, your receivers have to get those balls. Or, if the receiver was stretched out for a ball and made the catch, you would hear, great pass. Therefore, you had to loudly critic the play.
Jim Zorn was exceptional but Mike Curtis is a leader beyond compare.
Q3: Who was the most inspirational leader on the team?
While, I was in camp, it was Mike Curtis. I couldn't believe the things that he could do. Every play he gave it his all. He could look at an offensive formation and 85% of the time he would know the play.
Q4: Who was the funniest?
There wasn't much time for comedy.
Q5: Is there anyone you felt should have made the team that wasn't lucky enough to make the cut?
There were a lot of players that should have made the team but I'd rather not say. But, I will say there were several players that made the team mainly because their college coach was on staff.
Q6: On a personal level, if you could pick one team mate you wanted next to you in a crunch, who would it have been?
There was not one player. I felt in crunch they all would be there. A team is all for one and one for all.
Q7: With all the ownership issues of the Seahawks today -- the falling out between Coach Holmgren and former President Whitsitt, and Paul Allen being inaccessible -- how important were the Nordstrom family to the players? Does it make a difference who owns the team?
First of all, let me go on the record and say, there was nothing like getting paid with a Nordstrom check. Those first months, nothing had Seahawks name on it.
Now about the team, who is the owner, who is coach and who are players makes a huge difference in whether you win or lose. The successful teams have outstanding owners, coaches and players -- those teams have won multiple Super Bowls. Owners, Coaches and players come and go, but the only constant are the fans and the fans want a winner.
First of all, you have to have an owner that wants to win the Super Bowl and who understands what it takes to win. Being successful in business doesn't mean that you are going be successful owning a team. The owner has to give full authority to his head coach and his general manager to run his business. The head coach and general manager, as well as player must put their egos aside for the bigger picture -- getting the Super Bowl ring. In the process, they all have to have fun and enjoy what they are doing or they will never win. It's a game playing and being paid to play. Playing football is one of the greatest opportunities a player can have and they should never lose sight of that. Winning begins in the off season and in training camp. Winning is hard, but very enjoyable and losing is easy and not rewarding.
Q8: What is your best memory of being in Seattle?
I have worked for Nordstrom (Seahawks) and for SAFECO (you must wear a white shirt) in Seattle. I have some very dear friends in Seattle. The best thing about Seattle are its people. They have warmth of the deep south hospitality and the intelligence of scholars. And, there is no better seafood in the world.
Q9: What is your best memory in athletics on any level?
This question is extremely hard. I have witnessed many great sporting events. I have seen many a championship games: Super Bowl, NBA finals, baseball and, etc., and I have seen the fastest runners in the world compete. I have always enjoyed the individual events over team events: track and field and golf. In a team event you can always blame someone else for losing or not give credit to others when you win, but in an individual event, you have no one else to blame for losing, but you can give credit to coaches for winning.
My best memory was watching Bob Beamon jump 25 feet by using his left leg instead of his right; watching Willie Davenport at 40 make the 76 Olympic team after having knee surgery the year before, and watching Tiger Woods win his first Masters. But, none of these replace playing tennis with my father. My father and I were both extremely competive and we would never give up on a point.
Q10: What are you doing these days?
I live in Tampa, FL and for the last 17 years have been working for TIAA-CREF (Financial Service Company). I have a wonderful wife and 22 year old daughter. I enjoy reading and playing golf. When I left Seattle, I returned to LSU and finished my last three hours. Different jobs took me to Boston, DC, Los Angeles, San Francisco, DC, and my last stop Tampa. My favorite city has always been the city I was living in.
Read more about Larry Shipp!