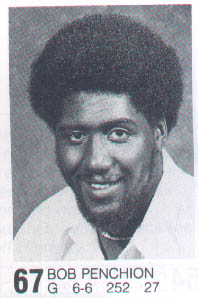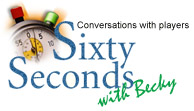 Source: Bob Penchion by way of Bobby Woody, Jr.
December 2004
You were part of the veterans allocation. How did you feel about being sent to an expansion team?
Being part of an expansion team was not a very good feeling at all, because there was no reason for that to happen. I was the starting left guard for the S.F. 49ers and did an outstanding job for them the 2 years I was there. Some teammates did not like the praises I received from coaches and newspapers, so they saw to it that I was put in the expansion draft. Later on the team realized they made a mistake, but Seattle refused to send me back to the San Francisco 49ers.
Who impressed you most on the team in that first season?
Myself and Richard Harris.
Who was the funniest member of the team?
Eddie McMillian.
Do you have a favorite game or memory from the season?
When we beat the Atlanta Falcons for our first win and I should have been the most valuable player of the game but wasn't. (A running back was the M.V.P.--only played (?) plays for a minus 2 yds.)
If you could summarize Jack Patera in one sentence, what would it be?
You could not trust Jack Patera.
From the players' point of view, who were the inspirational team leaders in those years?
Ken Hutcherson.
On the personal level, if you could pick the one team-mate you wanted next to you in a crunch because he inspired you, who would it be?
Richard Harris.
It's a cruel business, with players coming and going by the week. Is there anyone who sticks in your mind as someone who could have made it as a player but was unlucky enough to miss out?
Solomon Freelon.
Do you keep in touch with former players?
Not with the Seattle Seahawks, but I do with the other teams that I first played with.
What are you doing these days?
I work for Delphi Automotive (in Alabama) for the last 20 yrs. (part of that time as a General Motors employee), and am doing very well in life and good health. I have two daughters and one son, and three grandkids.
Note: We would like to thank Bobby Woody, Jr. for his contribution to this website. We acknowledge and appreciate his efforts. Thanks, Bobby!

Read more about Bob Penchion!