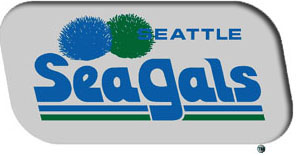 "If it's something that you really want to do, just put everything into it and be yourself. Don't get caught up in comparing yourself to other girls — just believe in yourself."
-- Amie Harrell, 2006

"When I was trying out I was so scared. ... But I made it."
-- Chantale Farino, 2006
If you're looking for the hottest ... the steamiest ... the sexiest ... behind-the-scenes, never-before-seen ... shots of the Seattle Seahawks cheerleaders affectionately known as the Sea Gals, uh, sorry, you've come to the wrong place!

If, however, you'd like to see a respectful tribute to the Sea Gals, come on in!! Have we got a treat for you! As with the rest of this site, this is a celebration of the multi-faceted realm of the Seattle Seahawks including the spirited Sea Gals of yesterday and today!!

As we are able to unearth stories of former Sea Gals, we'll put them on-line! If YOU have photos or stories of Sea Gals, please submit them to us (with proper credits if possible!) and we'll add your contribution to the collection!

This is a site for fans -- your contribution is always welcome!