Want to see a slide show of training camp?
Please say yes, it was so much fun to put together for you!
(64 images)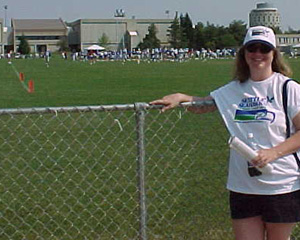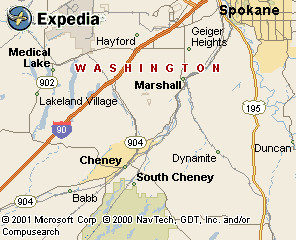 So how was training camp? INCREDIBLE!!! I loved every sweaty moment of it. (When they say it's hot in Cheney, they mean it!)
My friend, Karyn, and I headed out at 8am on Tuesday. The players were already practicing when we arrived. I've seen photos of camp from Karyn and Marolyn before, but they don't do it justice. Until you HEAR the guys practicing you can't really understand what it's like. The sound, specifically the grunting, is incredible. You sort of, uh, want to stand on the sidelines and grunt along with them! Well, it's true!!! (Surely I wasn't the only one doing that!)
The drills were either totally captivating or slightly boring, depending on how much you could see. When the action was in front of us near the fence, it was SO exciting!!! When the team was in the center of the huge field, camp lost a small bit of its appeal. Fortunately for fans they move around a lot so you nearly always had a few players close to where you were standing.
Personally I thought Mike Holmgren should come closer to the fence so we could more easily assess his coaching ability but for some reason he chose to stand dead center in the middle of the football field. :-) (Yes, yes, I'm teasing!!) He didn't speak all that often, but when he spoke, the team listened.
I don't care what the papers say, Koren Robinson was not ready for a game when I saw him on Tuesday. He was NOT running full speed, he wasn't even running half speed. He did eventually catch a pass but it took a lot of warming up to get there. I have two photographs, taken at different times on Tuesday, when he was on the ground so trainers could attend to his injury. [Note: I changed my mind entirely about how ready he is when he ran with confidence and ease the following day!]
Shaun Alexander looked AWESOME!! Just incredible!! He burst through holes so quickly. I don't know if that's a good statement for him or a bad statement for our defense but he was making yards!
One of the really cool parts of camp was when the kicker would kick the ball over the net that was in place to catch the ball. Kids would gather around the perimeter (outside the fence in the spectator area) to rescue the loose footballs. It was adorable to watch the little tykes go after the ball. BIG stuff!! WAY big stuff!!
As players dripped off the field (it was SO hot, my face is red with sunburn) we were able to get autographs. There wasn't much question about who wanted to sign and who didn't, and the didn'ts were plentiful. Kacyvenski was signing on the opposite side of the fence and we managed to lure him over to our side. He's a doll, so full of fun! I like him and hope he does well.
Ricky Watters signed for every last fan. He signed and signed and signed and signed, just like Zorn. I hope the players know how much we appreciate their patience with fans.
After the players had left the field, we went shopping in the little training camp gift shop. Since it's the next to the last day of training camp, all the merchandise was 40% off!!! WA HOOO!!!
Following our shopping trip, we headed over to the area where the players exit the locker room to head to the dorms. We got a lot more autographs there. It was funny because there were 4 Seahawks walking together who crossed to the other side of the sidewalk, obviously not intending to sign autographs. Someone in the crowd said that Pork Chop was one of them, so everyone started hollering Pork Chop, Pork Chop. One of the players headed over to sign autographs, but the other 3 didn't. More hollering, Pork Chop, please come sign for us!!! The three players laughed and shook their heads and just kept walking. WELL...eventually the fourth player made it down the line to us and one of the girls asked him if he would ask Pork Chop to come back and sign for us. That player told us that Pork Chop was still in the locker room!!! OOPS!!!!! No wonder those 3 players were laughing! Stupid fans!!! Eventually the Real Pork Chop Womack arrived and was very happy to sign. We shared the story with him and he laughed.
We met some really nice players as they exited. You've GOT to wish for their success because they were so good to the fans.
One quirky thing to see was how many players left with ice bags. We're talking crushed ice inside a Ziploc baggie taped with first aid tape around their elbow or knee or whatever.
Next Day:
We started at 8:00 this morning when Karyn came to the hotel to go to training camp again. I think today was even more fun than yesterday if you can believe that. The players had told us they weren't going to sign autographs today, so without that "burden" (not that it is, but it is one less thing to be concerned about) of trying to be positioned at the right place at the right time, I focused more on getting photographs. The drills today were more fun that yesterday's even though the players were positioned on the field further away. If you want to see a master at work, look for Ricky Watters. I have new respect for him. He's incredible. Without knowing his number, you can watch his footwork and pick him out of the crowd. He's miles above the other running backs as they do their drills. He truly is something special.
Koren Robinson was much improved today. Yesterday I would have told you that he wasn't fit for the season; today I have to take that back. He took some awesome dives to catch balls without flinching.
Oh, by the way, the QBs NEVER throw bad passes. It's always the receiver's lack of desire. At least that's how it sounded based on what I heard!
Believe it, believe it, believe it. See it, believe it!
That's the cry we heard from the receiver's coaches. Apparently if you believe the ball will be there, it WILL be there! COOL!!!!
At one point in time Holmgren stopped practice to chomp on the guys, yelling that none of them were trying. He didn't see any effort on the field at all. I thought that was interesting.
I heard a lot of praise and criticism from assistant coaches. When a play was good, they pointed it out. When a play was horrid, they pointed it out. On other plays, they brought a specific trait out, good or bad, but it was always said in a respectful manner. (Great positioning of hands, good presence on the field, don't let him get ahead of you, etc.) I was very impressed with this form of constructive criticism and enthusiastic praise.
The QBs looked good. Really I thought all of them looked good except Huard. I feel very optimistic about our QB situation this season.
I scoped out Willie Williams closely and once again admired the man. He's full of spirit and vigor, and very enthusiastic with other teammates. I saw him get beat on a few plays, and oh how that breaks my heart 'cause I love Willie. [Note: Of course now we know that he's out for a few weeks with an injury.]
After practice, contrary to what they'd said yesterday, several players signed autographs. MANY players gave their gloves or wristbands to little kids, and they seemed amused that the little guys were asking if they could have their SHOES!!! Silly, silly! The players seemed to take it in good stride. Sometimes I thought it was a little rude to be asking for so many gimmes, but I guess it works.
One of the highlights of this trip was when we got permission to tour the Seahawks locker room! It was the last day of training camp and the players had showered and left the building. Staff were cleaning the lockers and packing up the items that had been left behind. It was REALLY cool, mostly I suppose because it's a novelty to get to go inside, especially for a couple of girls! There wasn't a lot to see but it was a huge thrill, and they gave us a couple of nameplates from the lockers as a keepsake!
Final thoughts: INCREDIBLE! If you have a chance to go to camp, GO!! If you like football, you'll like camp. If you want bargains, go on the last couple of days when the items in the store are marked down. If you have young children, TAKE THEM! There are activities available at no charge to keep the little ones busy. If you don't want to stand, I recommend taking a sports chair. Bleachers are available but the view isn't so good. Dress for the weather in light colored clothing because it really does get hot out there, and remember that bottled water and soft drinks are available in the store. Most of all, HAVE FUN! Not every NFL team allows open training camps; enjoy the privilege while you can!!
On a personal note, THANK YOU Karyn and Craig for a great time at camp and in Spokane! It was awesome and you guys are terrific!!!
The following reports were brought to you by Seahawk fan Karyn, who attended camp long before I was able to get there myself! I hope you enjoy her reports!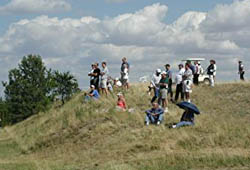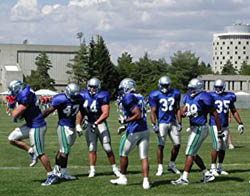 Training Camp was great! It's not that hot and it was a bit overcast and very windy so it was quite comfortable. (I just shudder every time I think of Corey Stringer! It gets SO hot in Cheney! It could have happened there so easily!!)
We watched them stretch ... I wish I was half that limber!! Which is all I could really hope for since I'm twice their age!! They did some drills ... carrying the ball while running a gauntlet of other players trying to knock it out of your hand. Or kicking soccer balls and you have to stop it. Course a lot of throwing and catching.
It's wonderful to have Jim Zorn back on the field. I like that he's come home.
We didn't get to stay for the end and the autographs. It was the day Craig was leaving and we had to get home. We're going out Sunday for the big Scrimmage/BBQ. We went last year and it was big fun!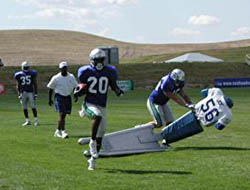 ------------
Note to readers: See that dummy in the picture? #56. Joe.
Hmmmm! That gives me ideas!!!
Want to have some fun?! Send me the name of a player, past or present, whose name you think should be on the back of the jersey! We'll take a poll to see who the real dummy is!!!
Tally as of August 8, 2001:
1 vote for Mike Holmgren, 1 vote for Brian Bosworth, 1 vote for Joey Galloway, 1 vote for Tom Flores
------------
Hey! The second report from camp is in! This time we're hearing from Craig!
------------
Karyn just had me go mail you a disk of photos from yesterdays scrimmage game out at training camp. Real fun. Sorry you missed the game, we thought of you. Any Seahawk fan would have loved it. They just played well coached football and Hasselback was right on the money all day. I think there was only one flag the whole game. None of that usual pre season off sides, 12 men on the field nonsense. Dilfer didn't play at all. Huard was lousy and Watters had an off day.
------------
From my in-box:
Husband took son and friend to camp this a.m. They had a great time and really appreciated the autographs. :-)
Hope the "Hawks continue to have camp in Cheney...
------------
The first highlight: We were walking on to campus and there's this guy on a bike coming straight at us. Jim Zorn! Craig and I must have been just starring at him because he said "Hi" before we could figure out what to do or say. I was going to be happy with just a nod like I got from Pete Rodriguez about 2 years ago, so I was thrilled when he said Hi first!
This years bbq was set up much better than last year. Just more organized and a better traffic flow ... and $5 for either a hamburger or german sausage, cookies, chips, watermelon and a soda is a pretty good deal. We got there too late to hear Holmgren speak. Too late, really for anything but the food ... well, and the scrimmage.
They did their stretches and then they would go off in their own groups and work on things they work on ... running backwards or cutting and dancing down the field. The actual scrimmage was always 1st team against 2nd team ... and, as is to be expected, the first string always won ... but not always easily.
They set up these scenarios ... 1:40 on the clock and they have to score a td to win, starting on the 30. When Hasslebeck had the controls he got them down to about the 20 or 25 and then time ran out ... but he didn't stop and he kept scrambling and finally hit Cook for the td. It was actually pretty exciting. Huard had the same scenario but only had to score a fg ... didn't happen. He seems to throw down and it seems to be harder to catch his throws. And I think Craig told you Ricky Watters had an off day. And Dilfer didn't play at all, altho he was out there doing the warmups and all. All in all tho, they seemed to be a team that was well-coached. No penalties or offsides or any of that mindless penalties. That was nice to see.
And I can't wait for the game Saturday! Finally!! I wanted to go back out to camp today (not going to happen) or tomorrow, but there isn't practice tomorrow because of the game the next day ... We probably won't get out there again until you get here! I can't believe it's NEXT WEEK!!