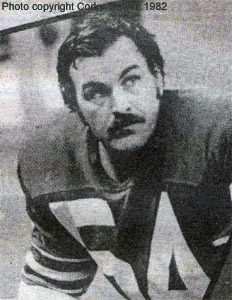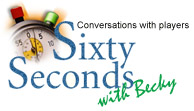 I recently received a very kind e-mail message from Mr. Art Kuehn as shown below.
From: Kuehn, Art B
Sent: Thursday, June 23, 2005 10:34 AM
Subject: old times.
Becky,
I was introduced to your site a couple of years ago and it brought back many memories of the good old days. I am currently an athletic director at a High School in Bellevue Wa. I have the picture of me, Nick Bebout, Gordon Jolley, John DeMarie and Bob Newton as my wall paper on my computer here at work. It reminds me of all the good times we had and that was a special time in my life. Thanks for keeping the memories alive.
In a follow-up message, we asked Mr. Kuehn a few questions about the 1976 season. We gave him a different list than we've given to some players because we thought his current coaching experience might give us a different perspective as well as some answers to questions we haven't been able to answer through newspaper articles.
I want to extend my appreciation to Art Kuehn for taking time to answer our questions! This is fantastic stuff, and we're proud to put it on our site!
More than 100 recruits came through the Seahawks' doors in 1976, and the first decisions about cuts were made in the first week of official training (which looks pretty quick to us). We think it must have been hard for the squad to develop its cohesion and bonding knowing that so many cuts had to be made; and the spirit you managed to build under that pressure is one of the unsung achievements of 1976. Was this something that players even felt or talked about from the inside?
As far as Jack Patera is concerned I believe he did as well as he could have done given the situation. I remember that first year seemed like a revolving door. The week before our first regular season game in 1976 I think there were 12 or 13 guys cut and about 7 or 8 new guys came in. John Demarie went around and put tape on everyone's helmet like we were back in training camp for people to write their names on so that others would be able to at least call you by name. Jack was always good to me and we have a good relationship today. He gave me an opportunity to play the game I love for a lot more years than I ever thought I would. In fact after our last game my rookie year I took my helmet and game jersey home with me because I thought it might be the last time I had an opportunity to play. Training camps were hard and hot but I immagine they were that way everywhere. I enjoyed the early years, Jack did some things that were well calculated on the field that I think other coaches were not willing to try such as our many fake field goals and punts. It was a lot of fun and I have built some great relationships from having participated in those years.
Who became the leaders of the group — and was "leadership" actually an important issue to the squad in the early days? We know that the future history of the team would emphasise unknown names like Jim Zorn and Steve Largent — but they were a junior and a rookie among players with 10 and more seasons behind them. They weren't going to take charge on the first day, but who did?
During those first days there were some players that had some previous experience and some had a lot of experience. No one really stepped up right away but I think there was some mutual respect for some older veterans like Mike Curtis on defense, but there was not a real person on offense that took a leadership role right away. When quarterbacks walked into the huddle they commanded respect but all of them did and the players listened to them. Off the field was another story. In the early days it was hard to get to know anyone because of the amount of turnover there was. As time went along Jim Zorn earned the respect of the players because of his athletic ability and play making ability. Mike Curtis was quite vocal on defense and was the leader the first year but I think that was to be expected and that is what Jack wanted. I think there were others that were influential in their different areas. I know that Nick Bebout had a great impact on me, getting me through my first training camp and helping me out. He was great on the field and kept it loose off the field. He was the glue that held the offensive line together. Sherman Smith was another guy that was a great example to all with his great work ethic.
The 1976 Media Guide and the newspapers of the time were full of quotes from players who spoke of Seattle as an opportunity to make a career, or (for veterans) to break out from being under-used at their old team. It's an understandable reaction, but was it really that optimistic all around? An expansion team is an opportunity, but it was also reasonable to suspect that the players would be starting with hard work and losing seasons. Without naming names, surely not everyone thought and acted as if going to Seattle was their golden opportunity?
I think some people knew that Seattle was there last stop while others saw it as an opportunity to make a career. For me it was my second rookie season, having been in the WFL the year before and it was an opportunity for me to make a career. I think that everyone knew we would struggle in the first couple of years but I think we competed well and did better than most thought we would. There was no sense in the club house of just riding the season out and collecting a pay check. I believe that everyone went out for every game thinking we could win it. The attitude was great even through the tough years.
After the veterans' allocation and the draft, Jack Patera was quoted as feeling that he had more talent on defense than on offense. That could be a coach's tactic to fire up the incoming players, or it could be a pretty risky amount of honesty about people he had yet to meet. Did you have any issues with the reservations Jack Patera expressed? Did his opinion have any effect on training and morale, personally or as a group?
When Jack talked you listened. He had a way of making his point clear. I think he was quite honest when he spoke. He let you know how things were and what to expect. Jack was always good to me and I thank him for the opportunity he gave me to play the game at that level. I didn't always like the things he did but different coaches have different ways of motivating their players to get the most out of them.
Training camp started on July 9 1976, with the first pre-season game 3 weeks away. The first cuts among the kickers and punters were on July 15, and the first cuts on offense and defense were on July 16. That's not a lot of time for players to show the coaches what they had! How was the assessment process carried out? Were you given any clear ideas during practices that you were or weren't meeting expectations?
And now that you've been a coach (in very different circumstances to Jack Patera, we know), do you think that a week or two is enough time to evaluate talent you've never seen before?
I think a lot of the evaluation process was done early on and probably even before training camp about most players. In those days you could bring in as many people as you wanted to camp and we had a lot but I think the coaching staff had an idea of who they wanted in most positions to start and would try to upgrade as they went along. Jack left most of the decisions up to the position coaches. They had the real job of keeping or releasing players. Jack of course would give the final ok but the position coaches had a lot of say in who stayed and who left.
1976 is now remembered for the Jim Zorn story, but quarterback was a problem all through the pre-season. The squad went into training camp with only 2 pro-experience quarterbacks (Neil Graff and Gary Keithley), and Gary Keithley was cut after 3 weeks (he was also the only quarterback who'd come from a winning team, though he hadn't thrown a pass for St Louis since 1973). And the quarterbacks were also working with Jerry Rhome in his first NFL coaching job. The offense obviously needed to work with the quarterbacks to show the coaches what they could do, but how easy was it to get things done when you didn't know each other and were working out with such inexperienced quarterbacks? What did you think about the quarterback issue, or are we (again) over-dramatizing the situation?
I think the quarterback situation was pretty well set early on. Jim came in and did a good job and stuck is head up above everyone else early on and I think Jerry Rhome really liked what he saw. The person who really didn't get to play as much as I thought he should was Steve Myer. Steve had a great arm and was a tough individual. It was a lot easier to block for him because you knew exactly where Steve was going to be, in the pocket. With Jim you never knew where he was going to be. It is too bad that Steve's career ended prematurely with a back injury. I think in the right situation he would have been a real good one.
According to Ahmad Rashad's book, he really didn't want to be in Seattle in 1976, despite his star billing and the effort made to sign him. If he acted the way he describes in the book, he didn't really contribute much. As a offensive player yourself, was the whole thing as simple as a player finding himself in the wrong place and the wrong time? Was it badly handled? Did Rashad's attitude really show, and did it have an effect on the team?
Ahmad Rashad was a non factor. He was there for such a short period of time that he had no impact at all. Everyone has different personalities and yes we talked about it but no one really made a huge issue about it. After he was gone we just went to work and never thought about it much.
At the end of the pre-season games, 14 players were released and 12 were signed. Some of those players had been heavily involved in those pre-season games (for example, Bob Picard and Gary Hayman). Again from the outside, the changes seem a little rushed. And a number of the new signings started in the first regular season games ahead of players who had been there since training camp. Do you remember that last week before the regular season as a feeling that Jack Patera didn't have enough confidence in the existing squad? Did you sense that big changes were coming? What was it like having so many new faces right before the season?
I think the final cut of the first preseason sent a huge message to everyone. The message was if you aren't cutting it we will make a change at any time so it kept people on there toes. But as I found out that is the NFL. You have no security so you better do the best you can all the time and hope that is good enough. I think the coaches did what they thought would give us the best chance to win early on. If that meant cutting a bunch of guys and bringing new ones in then that is what they had to do. I'm sure there were a lot of people the scouting and coaching staff were looking at on the waiver wires and had some knowledge of and that is why they did what they did.
Do you remember any particular player whom you thought could have made it through the season, but was unlucky to be released? And who were the players you personally looked to as inspirations?
I always liked Rocky Rasley. He was a machine. He kept going and was a great influence on my career. Also Nick Bebout and Gordon Jolley, we kind of hung around together and made camp tolerable. Over all it was a great experience that tested you both physically but most of all mentally. Those were great years spent with great people. Most of which I will never forget. I think you will hear that from most of the players of that first year.

We invite you to read more about Art Kuehn!