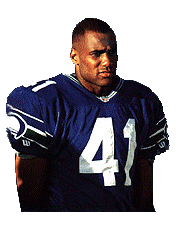 Mr. Robinson will be back someday to take his rightful place in our Ring of Honor along with other Seahawk Greats! We miss you, Eugene!
A Superbowl 1997 Tribute to Eugene Robinson
OUR Eugene Robinson got his Superbowl Ring in 1997! Way to go, Eugene! We are proud of you and your accomplishments!!!
Fighting back tears, with his wife and two kids by his side at the podium, Eugene Robinson said after the game: "I may cry when I get back in the locker room. I can't believe it happened to a guy from Colgate University; who went to Weber High School and wasn't even supposed to be drafted. I've been waiting a long time (12 years) to get to this point."
CONGRATULATIONS, EUGENE!!! And.....
THANK YOU, SIR!!!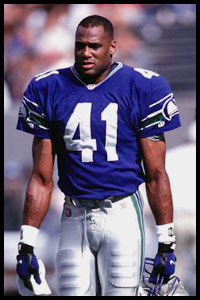 Source: Playing Hurt by Pierce E. Scranton Jr., MD
[Web author's note: This is an excellent book! I highly recommend it!]
Showtime was just around the corner. "Bring it up! Let's bring it on up!" I can still hear Chuck Knox's booming voice. The entire organization would congregate amidst deafening whoops and yells. This was the moment we'd all been waiting for -- the equipment people, ball boys, scouts, coaches, players, trainers, security people, and even the doctors. We'd crowd the center of the main locker room, shoulder to shoulder, ready to begin the hunt.
It was usually Eugene Robinson whose husky voice cried out with authority. "Take a knee." The entire squad and organization knelt together, heads bowed in silence, each of us grasping a hand on each side. The circle of the team was unbroken. I could hear my heart beating in my ears. After a moment of silence, Eugene would begin. "Our father, who art in heaven..." Together we would recite the Lord's Prayer.
This prayer transcended religion. It was a team moment. We prayed with the knowledge that injury or even death could await someone out there on the field. It had happened before, and it would happen again. And so we joined together in an unbroken circle of strength and unity.

Source: Diary of a Super Bowl Season by Eugene Robinson
Coming from a city like Seattle that is really eclectic and busy, Green Bay is slower, and I kind of like that. The people are a little bit more patient, and they're genuinely nice. When I arrived in Green Bay, they had the George Teague trade in the making, and I was watching his trade announcement on TV in one of the pubs. I looked at the screen and they flashed Teague's picture, and the lady next to me said, "George Teague got traded? Who is the bonehead that is replacing him?" I'm standing next to her. "I don't believe it. George was a pillar of the community." Then they flashed my picture because I was really the one that made him expendable, and she looked at me and without cracking a smile asked me, "Are you any good?"

Source: Inside the Seahawks, Volume 1, Number 25, April 17, 1987 – May 7, 1987
Eugene Robinson: The Polished Professional
A Christian first. A dedicated husband. A Seahawks safety. And a computer software professional with a degree from Colgate.
Eugene Robinson keeps things in perspective.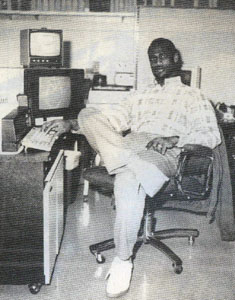 "I'm a Christian before I'm a football player or a computer programmer or anything else," said the 23-year-old Robinson from his Bellevue office at Tecon, Inc. where he works in the off-season as a software consultant. Robinson a 1985 free agent, stresses the importance of his faith.
"It's good for me, it gives me a direction and helps me keep everything in its perspective."
Robinson agrees with others who think that this has been a very productive off-season for the Seahawks.
"We're a team and we're doing things together."
He reports that team members are enthusiastic and working on specifics in preparation for the 1987 season.
"My mentor, Dave Brown, suggested that I should make a list this year of my football goals, to see where I am and where I should be."
Expecting their first child in August, Robinson and his wife, Gia, are planning on staying in the Seattle area for the remainder of the off-season.
Eugene is comfortable at work in a cotton madras shirt ($65) and cotton pants ($47.50) by Ralph Lauren. He's wearing matching polo socks ($8.50) and Reebok Work Out shoes ($55.00).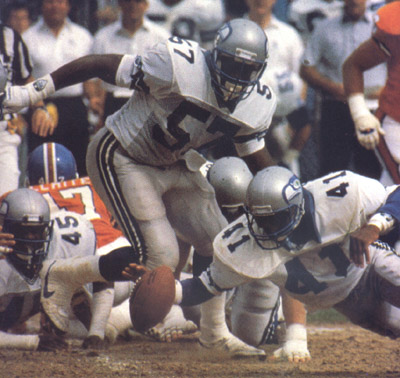 Thanks to Jen for sharing her story about Eugene Robinson!

Hey there! My name is Jen, and I'm from Green Bay, WI ... gotta say, I'm not really a football fan, but I do have one story about your Eugene Robinson... He's a really great guy!

He attended my band director's church.... One Saturday evening I went with her... ended up sitting right next to Eugene and his family. (I had no idea who he was, because of my not being a football fan....) I carried on a very extensive conversation with Eugene about various things, from music to God, and everything in between (except football!). Only after we were back at my band director's house, did she say, "You know who that was, right?"

"No..."

"It was Eugene Robinson..."

"Who?"

"The Packer..."

I was truly amazed by Eugene, and really miss having him around! Keep up your wonderful job living for our Father, Eugene... I'll be keeping you in my prayers. God bless you always,

Jen

Source: Football Digest, Nov, 2003
Eugene Robinson: on a classic muddy and blustery day at Lambeau in the 1996 divisional playoffs, the safety's Packers outlasted the 49ers - The Game I'll Never Forget
by Chuck O'Donell

OUR GREEN BAY PACKERS WERE en route to beating the San Francisco 49ers in the 1996 divisional playoffs when I picked off a pass along our sideline to pretty much clinch the game for us. Our other safety, LeRoy Buffer, came over to me and was encouraging me to spike the ball. He was yelling, "Spike it, Gene! Spike the ball! Exclamation point!" So I spiked it, and he said, "Oh man, that wasn't a good spike!" The ball just kind of went plop in the mud.

That just shows you the weather conditions for that game: Lambeau Field was a pile of mud--it was cold and rainy and muddy and miserable. Traction was terrible, and everyone was slipping and sliding, but we had to put it out of our minds. We knew the Niners were a good team. We had a good rivalry with them, and if we could beat them, we had a great chance of going to the Super Bowl.

I think the biggest thing for a football player in that kind of weather is to try to keep your hands as warm as possible. But when it gets to a point where it's so cold that your feet and hands freeze, they just become numb. So there's not too much you can do. They have heaters on the sidelines, but as a player, you find out that you can't keep your helmet too close to the heaters. The air cushion inside the helmet will expand and contract so quickly that it will blow out.

You kind of get used to the conditions and focus on the game. You're not preoccupied with the weather--unless you're losing, in which case you notice the cold and the rain much more. But if you're winning, you're in such an elated state that the weather isn't really a factor.

And thanks to Desmond Howard, we got a big lead early in the game. Desmond took the first punt and brought it all the way back for a touchdown, giving us a 7-0 lead. And then he had another one in which he almost had a touchdown but was tripped up inside the five-yard line. So we punched that one in and were up by two touchdowns.

We had a great offense: Brett Favre, Edgar Bennett, Mark Chmura, Antonio Freeman, and on and on. Our team was in a zone for that game. I remember this one play very vividly: Bennett got hit hard by one of the linebackers but somehow stayed on his feet. With the mud, Edgar slid off the guy and just kept running. I don't know how he did it. It was just one of those games, one of those deals where you say, "Man, we just may be destined to win this thing."

The Niners started with Steve Young at quarterback, but he had been playing with some injured ribs and had to leave the game. Elvis Grbac came in, and we just ate him up. I think they ended up with five turnovers, many of which had to do with the mud.

I finished with two interceptions, both late in the game. Actually, I had three interceptions that day, but the first one didn't count because one of our guys was penalized. The first interception that counted came on Doug Evans' side. Grbac was trying to throw a go route, which meant there was a man wide to the left side--their left, my right. I read the quarterback and got into the throwing lane. Once they clear that side to throw the ball, they just look to that spot. The ball hung up in the air too long, and I was able to cut between Doug and the receiver.

The other one, I don't even remember how I caught it. The receiver was coming across the middle, and I somehow jumped over the top of him. The ball was in the air, and I was getting ready to hit him. But at the last second, I decided to go for the ball. We ended up fighting for the ball. In the air coming down, I just took it. Then I made my ill-fated spike.

The other thing I remember about that game is how the fans didn't let the weather affect them. The fans at Lambeau are great. I looked up in the stands from the sideline, and there were a bunch of guys with their shirts off, partying it up, having a good time. I remember this one guy--everyone on the sidelines was like, "Look at that guy there." He had his shirt off the entire time, and his whole body was red. All he had on were some ear muffs, and he was dancing to "YMCA."

We went on to beat the Carolina Panthers in the NFC Championship Game and then the New England Patriots in the Super Bowl. It was a good thing the Super Bowl was played inside the Louisiana Superdome. There was no mud or rain.

Source: Football Digest
Staying close to home
Author: Unknown

EUGENE ROBINSON'S PHILOSOPHY IN the Carolina Panthers' radio broadcast booth is simple: "I want minimize what the other team does and tell you how good we are even though we messed up. So I'm always going to put a Panthers spin on it. The listener knows I'm pulling for the Panthers just as if I played for the Panthers. I want to keep it as positive as possible. I'll call you out, but in a type of way."

Like last season, the former Pro Bowl safety's first on the air as the Panthers' color commentator, He had taken free safety Deon Grant aside and warned him that one particular team liked to run a little play-action pass in the red zone and slip the tight end up the seam. However, after Grant failed to take the advice and got sucked into the fake and was burned for a touchdown, Robinson let him have it.

"So that's the kind of passion I bring to the table as a color guy," he says. "I'll say it, and I'll say it with a passion: 'Oh, man! Deon Grant has to get back!'"

Robinson didn't get caught out of position often in his 16 seasons in the NFL. He studied film and dissected plays and approached his craft with diligence and intelligence. He imagined the gridiron was a chessboard and that he was playing against the other team's coaching staff. He wanted to counter its every move.

Robinson wasn't drafted out of Colgate in 1985, but he signed as a rookie free agent with the Seattle Seahawks. It was then that he received some great mentoring from All-Pro safeties John Harris and Kenny Easley. Eventually, Robinson would become an All-Pro himself. In 11 seasons in Seattle, he played in 170 games, made 152 starts, was named defensive captain four times, was selected for two Pro Bowls, and tied a franchise record by starting 92 consecutive games.

Robinson was traded to the Green Bay Packers in 1996. He led the Packers with six interceptions that year and was a pivotal figure in the team's 35-21 victory over the New England Patriots in the Super Bowl.

In 1998, he signed with the Atlanta Falcons and played in his third straight Super Bowl. However, on the eve of the game, Robinson was arrested for soliciting an undercover police officer. This man who had one of the most sterling reputations in the league knows that "the biggest mistake" of his life will follow him wherever he goes, but he "learned a lesson about staying close to the Lord and my family."

Robinson played one more season in Atlanta and one in Carolina before retiring following the 2000 season. His 57 interceptions put him among the all-time leaders.

Robinson, his wife Gia, and their two children have settled down in the Charlotte area. The 40-year-old keeps a busy schedule, coaching football, wrestling, and track at Charlotte Christian High School. He also is part of a Bible study group with Reggie White and other former NFL players. But on a crisp October day, you'll probably find Robinson breaking down Panthers game film as if he were going to play that Sunday.

"The Lord has really blessed me, allowed me to go ahead and stay part of the game," Robinson says. "A buddy of mine that I played with in Seattle, Kelly Stouffer, called me the other day. We were talking about being involved in football, be it radio or television. It really fulfills a need some football players have. One of the needs is you still want to feel like part of the game. You still want to feel close."

COPYRIGHT 2003 Century Publishing

Source: Packers.com
Eugene Robinson Live Chat Transcript: 11-5-97

Now with a healthy Gilbert Brown do you think the defense will return to form, if it hasn't already? - Posted by Dors of parts unknown

Yes, he's a great run stopper and he's desperately needed.


I have tickets to the game on Sunday, but I don't have a place to stay yet. Can I bunk at your place ?

- Posted by Kyle Martin of Yorkville, Illinois

Sorry, I have a house full of guests already.


How long have you been a musician?

- Posted by Rick Mackie of Fond du Lac, Wisconsin

I started playing the saxophone in 1986 to give me something to do other than football.


What was your major at Colgate?

- Posted by Kelly Grady of Paxton, Illinois

Computer science.


Are you single????

- Posted by Jennifer McAllister of Stoughton, Wisconsin

My wife wouldn't like that question.


Any significance to wearing #41?

- Posted by Dors of parts unknown

No, that was the jersey I wore in college and that was the number they gave me when I went to the Seahawks. I'm trying to make it famous.


Has Brett played any pranks on you? If so, have you ever gotten him back?

- Posted by Lily Wei of Baton Rouge

Brett threw a cold, wet towel on me while I was "covering my shoes" in the bathroom. I got him back, though. I waited for him to relieve himself and threw cups of cold water on him.:)


Do you have any superstitions for before a game?

- Posted by Lily Wei of Baton Rouge

No. No. No. No. And no.


What are some of your favorite restuarants in Seattle? - Posted by Ann of Shawano, WI

My favorite restaurant in Seattle is Cucina Cucina.


What's the best part of being a safety?

- Posted by Matt Dulak of Kenosha

Big hits and interceptions.


What do you plan on doing after football?

- Posted by Karen Paal of Franksville, WI

One, computer science. Two, broadcasting. Three, preacher. Four, lawyer. And, finally, five, coming back and playing professional football.:)


Did you get to watch "Real Monsters" on Sunday of the bye week? That's my personal favorite!!

- Posted by Jane of Green Bay

Is that the Nick Classic cartoon where the guy has his eyes in his hands above his head?


Eugene

, is the tundra frozen at Green Bay yet?

- Posted by Eric of Palos Verdes

Doesn't a tundra remind you of an animal like a big, prehistoric elephant? And, no, the elephant is not frozen yet.


Will you do the LEAP when you pick one this Sunday ?

- Posted by Kyle Martin of Yorkville, Illinois

I would love to jump in the stands when I pick one off. Keep watching.


hi eugene! i just want to say first of all that you're my favorite player and i admire you tons! i would like to know how close you and darren sharper are. i know you help him out on the field. are you his spiritaul"mentor" off the field too?

- Posted by jennie z. of madison, wi

He's a good kid, and his Mom told me to watch out for him.


I love your positive attitude! Before the season began, I remember reading that this might be your last year playing football. Do you have any plans to retire after this season? You'll surely be missed if you do.

- Posted by Kay of Appleton

I haven't made a decision yet, so keep watching.


I went by your house on Halloween night and some teenagers were going to egg it. I told them that if they did I was going to sick the Packers Defense one them. They went running like a bunch of babies!

- Posted by Sheryl of Bothell, WA (originally Eau Claire, WI)

Thanks, Sheryl, for taking care of me. And, if you get their address, let me know cuz I'll pay them a visit.


Eugene

, what does your wife do all day when you are working? - Posted by Sara Dietzen of Kaukauna, WI

My wife does a great job of taking care of the home. One day she went out of town and I had to do it. When she got back, the house was a wreck, the kids looked crazy, and boy was I glad to see here. How she does it all day is beyond me. I'm glad I'm married to her.


What was your favorite football team when you were growing up?

- Posted by Sara Dietzen of Kaukauna, WI

I say this with caution -- the Vikings. But I don't like them now.


Do you think the strong christian beliefs the team has has helped the team as a whole?

- Posted by Karen Paal of Franksville, WI

Yes. Yes. Yes. And yes.


eugene

! dude- help me out here. i am a 24-year old female packer fan and i can't find any guys (except one) who loves football as much as me! what can i do! give me some advice!

- Posted by jennie z. of madison, wi

Sound like to me you have a date already. Do other things besides Packer stuff. Romantic stuff. Pretty stuff. No football stuff. Get to know each other. And that will be $95 for the counseling session.:)


What is the most important skill that a safety must have??

- Posted by Matt Dulak of Kenosha

Anticipation. Good feet. Good hands. And discipline.


Do you prefer to play on artificial turf or natural grass?

- Posted by Rick Mackie of Fond du Lac, Wisconsin

And God said on the fourth day let there be grass.


Do you have any pets?

- Posted by Sara Dietzen of Kaukauna, WI

My cat, cocoa, a himalayan, who only likes my daughter.


In your opinion, who is the most talented non-starting d-back

- Posted by Nate of Whitewater

Jay Bellamy, Seattle Seahawks.


Eugene

, what is your favorite TV show? - Posted by Sara Dietzen of Kaukauna, WI

Gilligan's Island. Wonder Years. In Living Color. And ESPN.


Do you guys miss Andre Rison?

- Posted by HARRY of CHARLESTON, SC

Yes.


What's your most favorite thing to do in Green Bay? - Posted by Shannon M. Zutz of Collins WI (near Manitowoc)

Golf.


would you like to do another super bowl page again, like last year

- Posted by bill z of algonquin

Hi, Bill Z. Good to hear from you. And, hopefully, yes.


Do you think if you went to Brett Favre's Steakhouse in Milwaukee that he'd foot the bill? - Posted by Stephanie of Milwaukee

I hope so. He'll take care of me.


Who is your best friend on the team?

- Posted by Jeri of Spring Valley WI

Reggie. Beebe.


who is the hardest wr in the league to cover

- Posted by danny parks of franklin

Cris Carter of the Vikings.


You are pretty talented musically. Have you and Robert Brooks ever thought of getting together and producing a CD?

- Posted by Maureen of Phoenix, AZ

Yes. And make sure you tell your friends to pick up a copy of "Eugene Robinson Presents Titletown."


Gotta go. Gotta take my mother to the movies. Thanks.

- Posted by Eugene Robinson of the Packers

No gloating: Robinson keeps homecoming emotions in check
By Michael Bauman
of the Journal Sentinel staff
Sept. 29, 1996

Seattle -- As homecomings go, this one was somewhere between triumphant and glorious.

"I will refuse to gloat, I will refuse to do that," Eugene Robinson said. If he had gloated, nobody would have blamed him.

Robinson spent 11 seasons playing for the Seattle Seahawks. His new employers, the Green Bay Packers, visited his old professional home, the Kingdome, on Sunday.

The Packers won, Robinson starred and everybody but the Seahawks seemed ready to live happily ever after.

"I'm just happy that we won because we needed desperately to get back on track," Robinson said. "It just so happened that we were playing Seattle to get back on track."

Robinson made an interception in the first quarter that blew open what had been an early defensive stalemate. He read a slant-and-go pattern, which Seattle coach Dennis Erickson later said was the intended pattern. But no Seattle receiver ran the pattern beyond the slant phase, leaving Robinson alone in center field to track down Rick Mirer's pass.

Robinson returned the interception 39 yards to set up Green Bay's first touchdown.

"It was a slant-and-go," Robinson said. "They were going to slant real hard on both sides and then throw the go. I just read Rick on the slant and then went to the go part. I'm free back there as a free safety, so once I read the route, I was just hoping he was going to throw it to that side."

Robinson had been more than simply a player with the Seahawks. He had been a leader on the field and a respected member of the Seattle community. His return was given large play in the Seattle media and even the veteran Robinson acknowledged that there was considerable emotion involved, with the real potential for too much emotion.

"Coach Holmgren did this right before I was about to step out on the field, going out for the coin toss," Robinson said. "He looked at me and said: 'OK, Don't play so emotional. Don't let the emotion get to you.'

"Because I'm looking at their side of the ball and I know almost every one of those guys. And so, I had to kind of say, 'Thanks for the reminder.' And it helped me stay in my focus."

"You know he was very excited," Holmgren said. "I talked to him before the game and I just cautioned him about probably how his emotions would be, but he's a veteran and he knew that.

"But he was very excited. He's wired strong, anyway, you know. So coming back here was a very special thing for him, and he wanted to play well and he did."

Still, Robinson did not come close to gloating. In fact, he went out of his way to praise the potential of Mirer, who had been booed repeatedly.

"There is a human side to football," Robinson said. "I know it's a business and those things. But I felt bad for Rick."

And while Robinson was coming back to his original pro football home, the thousands of Green Bay fans in the Kingdome made this seem like home away from his second home.

"These Packer-backers ain't no joke, man," he said. "This is the craziest fan base I've ever seen. Of course, I've only seen two fan bases. But this is incredible. It was the same scenario in Tampa Bay and the same scenario in Minnesota.

"You tell me; guys traveling all over the world to support their Packers. That is incredible. They are much-needed and thank you. They've welcomed me in the community, the whole deal and the team has welcomed me, and once again, thank you."

After 11 years in Seattle and one return trip to the Kingdome, Robinson is finding that home seems to be wherever the Green Bay Packers play.