Game Day:
Jeff Bryant, Jacob Green and Tony Woods -- had credit for a sack against Elway.
Continue reading
Statistics: Season Summaries and Statistics
Continue reading
What We've Overheard: "The crowd was probably responsible for 50 sacks while I played." -- Jacob Green
Continue reading
Post Game: No trio of defensive linemen stayed together longer than Green, Nash and Bryant.
Continue reading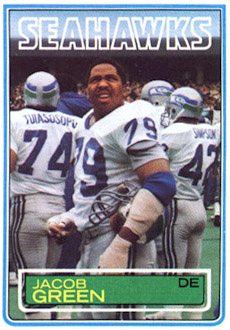 How good is Jacob Green?
Well, in more recent standards let's compare him with Michael Sinclair!
Source: Seattle P-I
Sinclair said that he would consider retirement if released by the Seahawks. (Note: He was released in March 2002.)

Sinclair will go down as one of the best to ever play for the franchise, finishing his career No. 2 all-time in sacks (73 1/2) and forced fumbles (24) behind defensive end Jacob Green (116 and 28). Sinclair had four sacks in a 1996 game against the Denver Broncos, tying Green's club record.
We know Sinclair is awesome, but look how much more productive Jacob Green was!! That says it all!!

Source: Norm Evans' Seahawk Report, Vol. 4, No. 13, Sept.27 – October 3, 1982
Don't Mess with Jacob Green

Seahawk defensive end Jacob Green, credited with knocking down two of Gifford Nielsen's passes in the Houston game, has no love for Oiler offensive lineman Morris Towns. Green and Towns engaged in several shoving matches and afterwards Green said he doesn't like his Oiler rival. "I don't like him," said Jacob. "I lost all respect for him last year. He kept slamming his hands in my facemask, so I did some things to him that he will probably remember. I just don't like him and he probably doesn't like me."