The Neil Graff Mystery
We knew that Neil Graff had been released early in the 1976 Seahawks season. We were pretty sure that he'd been favored as the starting QB of the expansion Seahawks because he seemed to get the majority of the publicity as the team came together. We knew that Jim Zorn got the nod as the starter, although there weren't many details available as to why, and we knew that there was a very brief blurb in
The Spokesman-Review
on Thursday, September 23, 1976 under the column heading Short Cuts which read:
NEIL GRAFF, veteran quarterback of the Seattle Seahawks, was released Wednesday, trimming the club's roster to 44 players -- one under the limit. The Seahawks already have three quarterbacks and decided to keep rookie Steve Myer over Graff for future use.
That's it. That's what we knew.
We spent hours (and hours and hours and hours!) researching on-line newspaper archives and websites for the story of Neil Graff. I spent part of my vacation in Spokane at the library going through microfilm newspaper stories trying to solve the mystery of what happened to the Seahawks' first quarterback. We were starting to think it was a story that didn't want to be told.
And then Neil Graff called. Wooooo Hooooo!!
Everything became crystal clear and ooooohhh, what a story it is!
Before I share the story, I would like to thank Mr. Graff for the time he spent visiting with me by phone. The conversation was interesting and fun -- I can't believe how the time flew by! Mr. Graff, it was a pleasure to meet you and talk with you. Thank you for making it so easy! (You probably have no idea how nervous and excited I was!)
I would also like to thank Mid West Sea Hawker Lance Larson for pointing me in the right direction to make this happen! Without Lance's help I don't think the events leading to the phone call would have happened! I owe you one, Lance!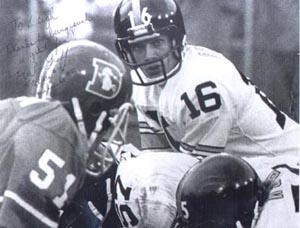 So ... want to know what happened?!?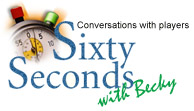 The Neil Graff Mystery: Solved!
Neil Graff began the story at the beginning.
He grew up in Sioux Falls and enjoyed sports as a boy. He preferred basketball to football, but he played football because all his friends did! His Junior year, the high school football team made it to the state football championship game and won.
He was offered college scholarships in both football and basketball. He opted for football because there are more players on a team, thus he felt he had a better chance of making a squad. He went to the University of Wisconsin where he enjoyed success in the Big 10. That led to being drafted by the Vikings. Mr. Graff was open about admitting that the odds were good that he wouldn't make it as a QB in the NFL.
But he wanted to make it!
(Isn't this a great story already?!)
So he worked. And he worked. And he worked. And his work paid off! He was signed by the Vikings in 1976 as the quarterback behind Fran Tarkenton! He said it was a great experience! He spent two years there and was traded to the Patriots, where he worked behind Jim Plunkett! He had nothing but praise for Plunkett, saying there's no doubt he'll be a Hall-of-Famer one day. Again, great experience for Neil Graff, but how could he have a chance to play when he was always behind successful quarterbacks?!?
THAT is why he was excited when the expansion teams were formed. He'd hoped either Tampa Bay or Seattle would pick him up, thinking this could be the break he'd been waiting for!
Jack Patera, then coach of the expansion Seattle Seahawks, had been an assistant coach at Minnesota and knew Graff. He picked up Neil in the veteran's allocation.
Seattle brought 4 quarterbacks into camp. Jim Zorn was relatively unkown, coming from a small school, so no one knew for sure what to expect. Neil Graff knew Zorn would be competetive, and he knew when Zorn got the start that unless Zorn was injured, it would be another season on the sidelines for Neil Graff. He said he wasn't devastated, but he was disappointed.
(I had to smile when he told me that! I can well imagine the disappointment, which for me would have no doubt been devastation! I found Mr. Graff to be humble and oh so likable; his determination and optimism inspiring!)
In the second game of the '76 season, Terry Bradshaw of the Steelers was injured. They needed a QB behind Bradshaw and they called Seattle to see if they'd consider releasing Graff.
WHAT A COMPLIMENT!!! (Neil didn't say that, that's my own opinion!)
Seattle released him and he went to Pittsburgh to back-up Terry Bradshaw! Now at that time, Pittsburgh was arguably one of the best football teams to play the game. Neil said it was a thrill to play with a team that was so highly skilled. He admitted that the '76 Seahawk team didn't have a lot of talent, as is understandable for a first year team. But the Pittsburgh team -- they had it all together, and he got to play a few games for them. That surely is the highlight of his career. He said it was an awesome time!
Sometime after 1977 he was traded to Green Bay. That was, once again, a thrill for him because his boyhood idol was Bart Starr!! He played half a season when he had a fairly severe knee injury that ended his career.
Summary
I am pleased to say that Neil Graff was upbeat and positive about his experiences in the NFL! There was excitement in his voice the whole time, and he made the phone conversation so easy! Talking with him about his career and then about his family was awesome! I was hanging on every word! Neil doesn't know this, but when he called I was just about to leave the office to go to a banquet at which George Bush (41) was speaking. Given the choice between visiting longer by phone with Neil Graff or seeing former President George Bush in person -- sorry, Mr. Bush!
That
is how much I enjoyed visiting with Neil Graff! (Incidentally, I was able to make it to the banquet on time after all!)
So not only is the mystery solved, but I've met a gentleman, a devoted father, and a great former NFL quarterback! God Bless Neil Graff!