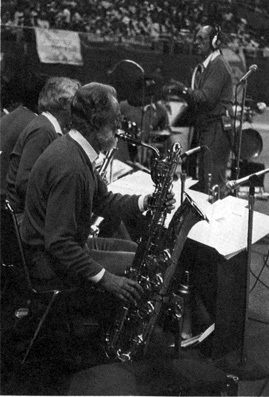 Source: Inside the Seahawks, Vol. 1, Number 10, October 10,1986 - October 16, 1986

Jazzing it up in the Kingdome

Recently Roy Cummings, the Seahawk band's trumpet-playing director, said the band was paid a compliment by a visiting spectator attending the Seahawk-Indianapolis Colts preseason game.

The visitor, who's attended several NFL games around the country, said the band was the best he's heard. If the Seahawks are responsible for coming up with the touchdowns and ultimately winning the game, then the Seahawk's band is responsible for leading them and the fans with a cavalry charge, as well as playing contemporary music that fits the highly charged Kingdome-atmosphere created by excited fans. "The Seahawks are the only team in Seattle that has consistently kept a full-time band," said Cummings. The band, now 25 members strong, was formed by Cummings 11 years ago right as the Seahawks were starting out. It plays at every home game. In late July, the band regroups and prepares for the start of preseason play. When the band's ephemeral members are not playing, they work full-time in other occupations, which range from accounting to teaching. Cummings is a professor of trumpet at the University of Washington. Other band members are Seattle studio musicians or play for shows, musicals or television. "They can't make a living playing in the Seahawks' band," explained Cummings. "It's one of the things you do as a musician." Band members come and go and Cummings makes adjustments to fit new musicians in. "There are a number of fine musicians in town who can come in," he said. "I juggle around members with someone new."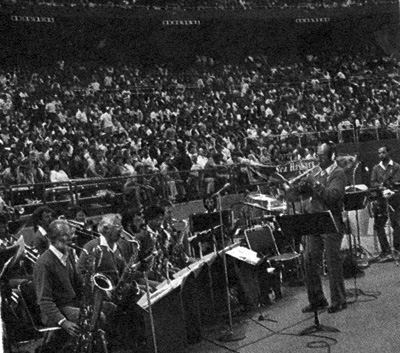 When the Broadway hit La Cage Aux Folles and the Minnesota Vikings were in Seattle on the same night, six band members were playing for the show at the Paramount Theater.

Said Cummings. "If a guy has a week's work, won't have him interrupt it." The band not only plays for the Seahawks, but also for the Sea Gals. Cummings or other band members write arrangements to fit the cheerleaders' routines. The band's music covers the spectrum from country-western, movie or television themes, to the Top 40, but all the selected music has one thing in common: energy. When the Seahawks score a touchdown, the band follows up with a song Cummings wrote for the team about six years ago called "Loyal Seahawks." It is similar to the University of Southern California's collegiate fight song, high on energy, spirit and excitement, said Cummings. Note to readers: If you were in this band, we want to hear from you! Please email us with your story!