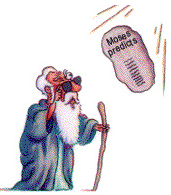 HAIL TO THEE, O SEAHAWK FANS!!!!! IT IS I, MOSES, HERE TO PREDICT THE SEAHAWK DRAFT!!!!!
The draft last year: Trufant "The Quiet Storm", Hamlin "The Hammer", not to mention a fine place kicker and a Taco on the side…. NOT BAD!
(ring…..ring…..Taco Bell Chihuahua??? Taco Bell Chihuahua??? Please pick up the white courtesy phone….)
So, following a free agency period in which our beloved Seahawks improved the defense (se Taylor, Wistrom) and kept the offense in tact (see Jackson), Seattle now stands poised for a run at the championship.
BUT……..
There are holes to fill (or should I say FIRM UP). Everyone remembers with great AGONY the last time the Seahawks put an unproven middle linebacker out to man the middle. And after losing three defensive tackles (Hand, Randle, Eaton), the Seahawks seem to be softer in the middle than an Aunt Millie's Freshly Baked Pretzel right out of the oven…
Mmmmmmmmmmmm……….. pretzels…….
(ring…..ring…..Homer Simpson??? Homer Simpson??? Please pick up the white courtesy phone….)
BUT……..
Who is to say that we are so bad off? Remember, Kaz as a middle linebacker was flanked by two veterans (Brown and Simmons) that missed OVER HALF A SEASON EACH in 2002. Add to that the fact that Ray Rhodes JUST MIGHT BE A TEENY BIT BETTER COACH that Steve "Hot knife through butter" Sidwell.
Mmmmmmmmmmmm……….. butter…….
(ring…..ring…..Homer Simpson??? Homer Simpson??? Please pick up the white courtesy phone….)
As far as the DT's go, if Rocky Bernard is capable of returning to his rookie form, and if Rashad Moore continues to impress in his second season… Maybe… JUST MAYBE…. Our middle of the defense is not so ugly…
(ring…..ring…..Phyllis Diller??? Phyllis Diller??? Please pick up the white courtesy phone….)
BUT…… I digress…
Ugly, pretty, I am off the track here. IT IS DRAFT TIME IN THE NFL!!! A time of great joy AND sadness for NFL fans everywhere. A way for bad teams to get good, and good teams to get better, and a way for agents to get more face time than they should ever HAVE on television!!
It's the NFL equivalent to Christmas. Only with THESE presents, some may break immediately after being opened, some may never play as good OUT OF THE BOX as they looked INSIDE it, and some cheap ones wind up being your most valued treasures….
The best part is that it will take AT LEAST a couple of years before you REALLY KNOW WHAT YOU HAVE. Of course, there are little subtle hints that the player drafted by your favorite team just won't pan out. As usual, I am here to give you a little free advice on how you can tell if a player is going to be an instant BUST….. In fact, it is this episode's version of:
"TAKE A CRACK AT THIS PHRASE!!!!"
This week, I take my cracks at this phrase:
"YOU KNOW A PLAYER IS GOING TO BE A DRAFT BUST" …here we go!!!
YOU KNOW A PLAYER IS GOING TO BE A DRAFT BUST…if the player has more "family" around him to congratulate him than the enrollment of his entire college.
YOU KNOW A PLAYER IS GOING TO BE A DRAFT BUST…if his first words after being drafted is: "GUARANTEED CONTRACT"
YOU KNOW A PLAYER IS GOING TO BE A DRAFT BUST…if his cell phone actually IS IN A REAL PRISON CELL!
YOU KNOW A PLAYER IS GOING TO BE A DRAFT BUST…if during an interview he refers to his team's hometown by saying "I didn't know there was an NFL team there!"
YOU KNOW A PLAYER IS GOING TO BE A DRAFT BUST…if the player drafted has a gold necklace around his neck with a picture of HIMSELF!
BUT……..
Not all is lost. Often, on day two, as many of us fans are still in a catatonic state watching the ESPN scrawl on the bottom of our television screens with the intensity of a broker betting his life savings on ENRON, there are always those little no name, no agent, small school players that wind up being LEGENDS…
(ring…..ring…..Dave Kreig??? Dave Kreig??? Please pick up the white courtesy phone….)
BUT……..
Just who IS OUT there to draft? Beats me. I know about as much about college football players as I do about why Britney Spears felt compelled to marry the local yokel for all of five minutes in a Las Vegas wedding chapel…
(ring…..ring…..Madonna??? Madonna??? Please pick up the white courtesy phone….)
So, I let the so-called "experts" tell me what I should look for. I went to the local bookstore and snatched up the recent college football draft magazine. Inside, there are about 10,000 scouting reports on 10,000 players. They use all these cool phrases like:
"Has plenty of upside"
"Must be used in one-gap penetrating scheme"
"Needs to work on technique"
"Great burst out of stance"

You know. Stuff like that.
Right away I noticed something: CHECK OUT THE FUNKY NAMES ON THESE GUYS!!! All these vowels and consonants look like they were just thrown together after the parents couldn't think of a REAL NAME and just took the first ten or twelve letter chips out of an old Scrabble game so they could sign their child up for their own Social Security card.
Where are my "BILL JOHNSONS"?
Where are my "STEVE JONESES"??
WHERE ARE MY "WILL SMITHS"?????

Oh, yeah. There IS a Will Smith in this draft…my bad…
So, here from our office IN MEL KIPER'S SOCK DRAWER comes……….. (drum roll)….
"THE TOP THREE FUNKY NAMES TO BE ELIGIBLE DRAFT IN THE NFL THIS YEAR"
3.NIKO KOUTOUVIDES (ILB-Purdue) (He plays well in a NIKO-back defense!)
2. ADIMCHINOBE ECHEMANDU (RB-California) (Who do? ECHEMANDU!)
1. KENECHI UDEZE (DE-USC) (nothing is EASY if you try to run through UDEZE!)
Of course, I realize that the last laugh will be on ME when those guys get drafted and make a ton of money playing a game we all wish we could. Still, I can't WAIT to hear old Paul Tagliabue pronounce those names at the podium. I can hear him now: "Vanna, I'd like to buy a vowel, please!"
(ring…..ring…..Pat Sajak??? Pat Sajak??? Please pick up the white courtesy phone….)
One of the coolest parts of the NFL draft is the idea of "THE WAR ROOM"….
Each NFL team takes only the elite leaders of their respective teams and place them in secret annexes to secretly plot the future of their respective franchises…It the kind of secret private stuff that makes James Bond jealous!
(ring…..ring…..Sean Connery??? Sean Connery??? Please pick up the white courtesy phone….)
Of course, our Seahawks are no different. We ALSO have a "WAR ROOM"… In it, all the heads of the Seahawk state plot, laugh, cry, jump for joy, and PROBABLY order pizza. NO ONE KNOWS WHAT GOES ON IN THERE…
…..UNTIL NOW! Yes, last year, yours truly MOSES hit a secret microphone in Holmgren's Subway sandwich to catch up on some "SUPER SECRET CONVERSATION" between the powers that ARE in Seahawkland. What I recorded both amused and FRIGHTENED ME…
So here, from THE MICROPHONE HIDDEN IN MIKE HOLMGREN'S DELIVERY SUBWAY SANDWICH (hold the mayo) comes……….. (drum roll)….
"THE TOP THREE THINGS OVER HEARD IN THE SEATTLE SEAHAWKS WAR ROOM ON DRAFT DAY"
3. "WHO PUT THE CHEEZ WIZ ON THE SEAT OF MR. HOLMGREN'S HARLEY OUTSIDE?"
2. "I DON'T CARE WHO HE IS. IF PAUL ALLEN PICKS UP HIS GUITAR AND STARTS PLAYING 'STAIRWAY TO HEAVEN' AGAIN, I AM GOING TO LEAVE!"
1."BILL GATES HAS IT ALL SET UP FOR US. ALL IT TAKES IS A PHONE CALL TO MICROSOFT AND WE CAN GET UP TO 40 EXTRA PICKS IN THE FIRST ROUND!"

So there it is. My very first draft special. I hope it both entertained and amused you.
SO many unanswered questions to be answered this weekend. Things like:
WILL THE SEAHAWKS DRAFT PLAYER NEED OR BEST AVAILABLE PLAYER?
WILL HOLMGREN ORDER OUT FOR A PIZZA OR A SUB?
WILL THE SEAHAWK WAR ROOM BECOME THE "PANIC ROOM"?

(ring…..ring…..Jodie Foster??? Jodie Foster??? Please pick up the white courtesy phone….)

MOSES PREDICTS:
SEAHAWKS MAKE PICKS THAT SOLIDIFY A CHAMPIONSHIP RUN IN 2004!!!!

SO LET IT BE WRITTEN, SO LET IT BE DONE!!!!!
MOSES
Sharpclaw Posted: Sat Apr 24, 2004 4:03 am Post subject: It's D-DAY!!!!
Here we go again. General consensus pick for Seattle in Round #1 is DT M. Tubbs (6-4+ 318 lbs.) Rumor has it that Seattle likes this player, he might well be on the board when it's our turn to select, and he fills a want for the team. However, what if he is already chosen? Then what? YIKES!!! Strong rumor also has us trading RB S. Alexander to Oakland for the #2 pick in the draft, then trading that pick to Cleveland for their #1 pick and selecting a RB. RB Alexander is surefire not to be with us after this season, so there is good reason to trade him this season while we can still obtain something in return. It's going to be an interesting draft day for Seattle, and no matter which way the board falls to us, we will get a solid player with out first two selections. Before the day is over, we will most likely have a DT, WR, RB, and/or DB in the stable. MLB is still a want; but that might have to wait until Day #2, or until FA after the June 1 releases. (MLB Trotter?) Have an enjoyable draft day, and......................... GO SEAHAWKS!!!!!
Sharpclaw Sat Apr 24, 2004 5:50 pm Post subject: Very Solid Draft So Far After 2 Rounds
OLB Michael Boulware! Yes!!!! Great Pick!! Seattle will move him to Strong Safety. He has the speed (4.5) and the coverage ability to play the SS position. If he can make the transition as Seattle projects he can, we wind up with a player at SS that is akin to having an extra linebacker on the filed! WOW!!! Seattle is building ONE TOUGH run defense for the future. Just an excellent personnel projection, and we've only just begun this draft.