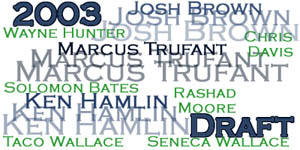 Links will only be valid during current draft season.
2003 Seattle Seahawks Draft Picks

Rd 1, Pick 11 (11)
Marcus Trufant
CB, Washington State
5-11, 199 lb.
Rd 2, Pick 10 (42)
Ken Hamlin
FS, Arkansas
6-3, 209 lb.
Rd 3, Pick 9 (73)
Wayne Hunter
OT, Hawaii
6-6, 303 lb.
Rd 4, Pick 13 (110)
Seneca Wallace
QB, Iowa State
5-11, 196 lb.
Rd 4, Pick 38 (135)
Compensatory
Solomon Bates
ILB, Arizona State
6-1, 243

Rd 5, Pick 12 (147)
Traded to Green Bay
for Rd 5, Pick 30 (165)
& Rd 6, Pick 30 (203)
Rd 5, Pick 30 (165)
Chris Davis
FB, Syracuse
5-11, 235 lb.
Rd 6, Pick 10 (183)
Rashad Moore
DT, Tennessee
6-3, 324 lb.
Rd 6, Pick 30 (203)
From Green Bay
Traded to New Orleans for
Norman Hand, DT
Rd 7, Pick 8 (222)
From Jacksonville
Josh Brown
K, Nebraska
6-1, 202 lb.
Rd 7, Pick 10 (224)
Taco Wallace
WR, Kansas State
6-1, 190 lb.
.

.

.

.

After the fact, 2008
Rashad Moore practiced with the Falcons.

In a move that was considered traitorous by Seahawks fans, Josh Brown declined a higher offer of pay by the Seahawks to sign with division rival Rams. Prior to this move Josh Brown was a popular player in Seattle.

After the fact, 2007
Ken Hamlin was traded to the Cowboys.

Wayne Hunter was traded to the Jets.

Rashad Moore played for the Patriots.

After the fact, 2006
Wayne Hunter was traded to the Jaguars.

Rashad Moore trained with the Raiders and was signed by the Jets.

Marcus Trufant continues as a starter, getting negative media attention for getting beat but playing well most of the time.

Ken Hamlin continues to be the miracle man, returning to football after his devastating off-field injury last season. I don't think anyone expected him to be able to return to football, let alone to have such a successful and inspirational season. Ken Hamlin is one amazing athlete.

Seneca Wallace showed that he does indeed have the athleticism that Coach Holmgren has been telling us about. Wallace took over for the injured Matt Hasselbeck and improved with each game. His fast feet and scrambling abilities have led to media calling him "Zornesque". Nothing boring about the game when Wallace is in!

After the fact: 2005
Taco Wallace was signed by the Packers.

Marcus Trufant had an exceptional year in 2005! He was definitely a key player in the defense.

Ken Hamlin was on his way to a record-setting season when he was injured in a non-football related brawl in Pioneer Square in the wee hours of the morning. The injuries were so severe we feared they could be life-threatening as the news broke, and accepted the fact that they were career-ending instead. However Ken Hamlin was seen on the sidelines late in the season, supporting his team mates. He raised the #12 Fan flag in the stadium for a play-off game. We still don't know all the details from that evening, nor do we have updates on his medical condition but it's been terrific to see him on the sidelines, and we hope for a full recovery and a return to football!

Seneca Wallace had the play of the game in the Championship playoff against the Panthers as far as I'm concerned. Due to injuries, Wallace lined up as a wide receiver in practice before the game. Even though Engram and Jackson were back in the line-up on game day, Coach Holmgren put Wallace in as a wide receiver. Hasselbeck threw deep, Wallace made a spectacular twisting, turning, leaping catch, and a couple of plays later we had a touchdown! It was beautiful, it was athletic, and it was justice for a team player to get the opportunity to make a big move like that!

Josh Brown made a name for himself this season as a consistent kicker. He's got a lot of confidence, he's given us some huge wins, and he's defined himself as the real deal.

After the fact: 2004
Ken Hamlin was, in my opinion, the star of this draft in 2004. I was so sure he'd have a breakthrough season that I chose him to follow throughout the entire year. His season summary can be found here.

I'm puzzled why Josh Brown gets the bad media he receives because I think he's sensational. He's very consistent and he doesn't seem to be affected by heavy pressure. I think he does a fantastic job and we're lucky to have him.

From: "Q"
Sent: Sunday, April 27, 2003 7:10 PM
Subject: 03 Draft

Seahawks with the trade for an overweight but out to prove himself Norman Hand have pretty much addressed all areas of need. Great draft boys. Keep up the good work, now lets have some good competition at the kicker position to give this kid from Nebraska the feeling he doesn't have the position locked up just yet.


OT Wayne Hunter! Yes!! This Is Like The "Brink's Roberry"!!!
Posted by Sharpclaw on 4/26/2003, 8:13 pm

There is NO WAY OT Hunter should have been on the board when Seattle selected. He has the athletic ability of a 1st Round pick. The only thing that dropped in the draft was the fact that he only played the postion for one year in collge. Still, there is NO WAY he sould not have gone somewhere early to mid Round #2. QB, CB, DE, and OLT are the four prized positions in the NFL. To be able to acquire a player with the ability of OT Hunter on Round #3 in unheard of. What a day!!!! Come Along For The Ride! GO SEAHAWKS!!!!!

YES!!! We Got Our 'Snot-Knocker'!!! S Ken Hamlin!!!
Posted by Sharpclaw on 4/26/2003, 5:19 pm

Seahawk opponents better have their chin straps buckled up tight, as this young man will really un-horse you!! It couldn't be going any better for Seattle so far. This is like a dream!!! Now, on Round #3, we've got some very good options. We can go either WR, OLB, or DE depending who they pass to us on the board. I'm pulling for OLB/DE Shurron Pierson. God is smiling on the Seahawks! Come Along For The Ride!!!! GO SEAHAWKS!!!!!

It's Truffant!
Posted by drjekyl on 4/26/2003, 12:17 pm

I was hoping for Kennedy, but we went for the CB from WSU. Let's hope his injury concerns melt away! Go Hawks!

Yep! Whoooo-Hooooo!
Posted by Sharpclaw on 4/26/2003, 1:43 pm, in reply to "It's Truffant!"

I couldn't see any scenario that CB Trufant would still be on the board when we picked. Sometimes the Gods just smile on you! What a great pick for Seattle!! Now we're on to Round #2. I've got my fingers crossed for S K. Hamlin now. What a great day so far! "Come Along For The Ride!" GO SEAHAWKS!!!!!

draft dream
Posted by drjekyl on 4/26/2003, 5:21 am

I had a dream last night. In it, we traded Walter Jones to Houston straight across for the number three pick in the draft. Then, we drafted D. Robertson with number 3 and J. Gross at number 11! This way we got rid of unhappy Walter and picked up two major studs on the line. And Houston got a wide body to protect their oft-sacked young QB. Everybody wins. Unfortunately, reality probably won't be quite this sweet.

I'm not sure we should trade up for Trufant. If he falls to us, fine, but he does have a little risk factor going...

Sharpclaw is right when he says it really comes down to round 2. I think round four is another crucial one. Do we take a kicker here, or wait...? I don't think Seth Marler will be available in round six. He might not be there in round five!

I wouldn't mind taking a late round flyer on WSU's WR Mike Bush. Ok, he's a bit slow, but he catches everything and he is HUGE...

Anyway, rain or shine, win or lose, GO HAWKS!

Agreed On K Seth Marler
Posted by Sharpclaw on 4/26/2003, 11:07 am, in reply to "draft dream"

I agree that K Marler might still be available on Round #6, and if so could be Seattle's selection on that Round. WR Bush is also a possibility in the later rounds. He lacks the speed you usually look for; but he has the potential to become a dependable possession receiver. Here's my predictions for the first day of our draft:

1. DT Jimmy Kennedy
2. S Ken Hamlin
3. LB/DE Shurron Pierson or WR Sam Aiken

Some other players Seattle might consider on day 2 might be: MLB Kawika Mitchell, LB Sam Williams, WR Bethel Johnson, CB Ivan Taylor, and OC Wayne Lucier. Seattle's going to have another soild draft. Let the fun begin. "Come Along For The Ride!" GO SEAHAWKS!!!!!

Looks Like Maybe CB Trufant As Our #1
Posted by Sharpclaw on 4/19/2003, 2:51 pm

IF (doubtful) he is still on the board. If he's gone then MLB E.J. Henderson might get serious consideration. GO SEAHAWKS!!!!!

Re: Looks Like Maybe CB Trufant As Our #1
Posted by MOSES on 4/19/2003, 8:07 pm, in reply to "Looks Like Maybe CB Trufant As Our #1"

It isn't even PRESEASON.... And already Sharpclaw is in SEASON FORM!!! Of course, knowing how FOGGY your view of the team was last year, I am not surprised. Hey! I bet they only allowed about 3 yards rushing a game from where you sit, eh Sharpclaw?

Uh, NO.... Sharpclaw.... Pal.... Sorry...

SERIOUS ISSUES at DT....

So, draft a....CB?

Yeah, right.....

Hey! Why not draft a tight end, too?

Oh, no! We only have TWO GREAT YOUNG tailbacks, too... Maybe we should draft McGahee!!!

(please note the SARCASM in the above sentence..)

I have missed you, Sharpclaw! Nice to see you haven't wasted any unnecessary funds on THERAPY during the off season!

Keep the faith...