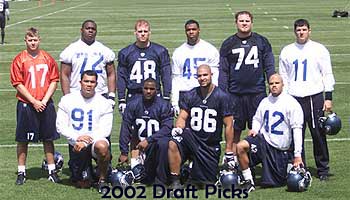 Links will only be valid during current draft season.
2002 Seattle Seahawks Draft Picks

Rd 1, Pick 20 (20)
Traded to Green Bay
for Rd 1, Pick 28 &
Rd 2, Pick 28 (60)
Rd 1, Pick 28 (28)
JERRAMY STEVENS
TE, Washington
6'7" 265 lb.
Rd 2, Pick 22 (54)
MAURICE MORRIS
RB, Oregon
5'11" 208 lb.
Rd 2, Pick 28 (60)
ANTON PALEPOI
DE, Nevada-Las Vegas
6'3" 279 lb.
Rd 3, Pick 20 (85)
KRIS RICHARD
CB, Southern California
5'11" 186 lb.
Rd 4, Pick 22 (120)
TERREAL BIERRIA
FS, Georgia
6'3" 216 lb.
Rd 5, Pick 11 (146)
From Indy for Huard
ROCKY BERNARD
DT, Texas A&M
6'3" 294 lb.
Rd 5, Pick 21 (156)
Traded to Green Bay
for Rd 1, Pick 28 &
Rd 2, Pick 28 (60)
Rd 5, Pick 34 (169)
Compensatory
RYAN HANNAM
TE, Northern Iowa
6'2" 251 lb.
Rd 5, Pick 36 (171)
Compensatory
MATT HILL
OT, Boise State
6'6" 300 lb.
Rd 6, Pick 22 (194)
CRAIG JARRETT
P, Michigan State
6'2" 215 lb.
Rd 7, Pick 21 (232)
JEFF KELLY
QB, Southern Mississippi
6'1" 206 lb.
After the fact: 2009
Maurice Morris traded 2/27/09 to the Lions.

Rocky Bernard traded 2/28/09 to the Giants.

After the fact: 2009
Jerramy Stevens was After the fact: 2008
Stevens was re-signed by the Bucs. He was suspended for 2 games and fined 3 game checks for violating the league's substance abuse policy on 6/4/08.

Kris Richard was hired as asst. coach by Pete Carroll for the USC Trojans secondary.

After the fact, 2007
Anton Palepoi signed with the New Orleans Saints in May. This, following stints with the Seahawks, Broncos and Cardinals.

Kris Richard signed with the Raiders.

It doesn't appear as though Jerramy Stevens has a future in Seattle anymore after having been pulled over for reckless driving, and then found to be under the influence and in possession of marijuana. Mike Sando does a good job with a wrap up of his troubles:
Arrest leaves Stevens' future in jeopardy
MIKE SANDO; The News Tribune
Published: March 14th, 2007 01:00 AM

A police report said Stevens was driving erratically and admitted to drinking "four or five margaritas" at the Salty Senorita bar at 3636 N. Scottsdale Road. Stevens refused a portable breath test, the report said, but blood was drawn later in the morning.

Police said they found marijuana in Stevens' left rear pocket, and that they smelled the "strong odor" of the plant in the vehicle.

Stevens, formerly of the University of Washington and River Ridge High School in Lacey, could face an NFL suspension if he signs with another team. His criminal history dates to 1998, with convictions for assault, hit-and-run property damage and reckless driving.

The 2003 reckless-driving conviction resulted from a plea agreement after Stevens was charged with DUI. Sixteen days after his arrest in that case, Stevens was clocked traveling 90 mph in a 60 mph zone, his sixth infraction in an eight-month period, records showed.
Stevens was signed by Tampa Bay on 4/29/07.
After the fact, 2006
Ryan Hannam signed with the Cowboys on 3/18/06. Knee surgery put him on injured reserve.
Jerramy Stevens has drawn negative press for "dirty" and aggressive play, and was fined for getting kneed in the groin, officials suggesting he had started it earlier in the game. Replay didn't show aggression on the play in which he was fined, sparking controversy. He has suffered from injuries throughout the season, was boo'd by fans on a regular basis, but seemed to have the undying support of his teammates.
Maurice Morris filled in for the injured Shaun Alexander. He had a slow start to the season but picked it up as he got more reps.
After the fact, 2005
Kris Richard was traded to the Dolphins, and later signed by the 49ers.
This is the year of Jerramy Stevens. For all the troubled reports we had since his signing, this year he came of age. Nothing but positive press from training camp to Championship games where he made terrific plays. Good for Jerramy Stevens!
What can I say about Mo Morris? Playing behind the MVP of the NFL, Shaun Alexander, Mo doesn't get a lot of playing time but when called to action, as he periodically was, the came through for us big time! We've got a winner!
Bierria was the sad story of the season in my opinion. His family lived in the hurricane striken area of Katrina. When asked to put football first, Bierria told Holmgren he couldn't play, that he needed to go home. Holmgren gave him permission, and then cut him. I'm sure there's more to the story than that, but it was an unfortunate circumstance no matter how you look at it. I will always wish the best for Terreal Bierria.
Robert Bernard? ROBERT Bernard? Don't they mean Rocky, as we know him!? I have to laugh as I look back over this draft and see his formal name!
After the fact, 2004
While not a break-out year for Jerramy Stevens, he had a successful year. With all the bad press he received when we signed him, I just want to say that he was, to my knowledge, a decent and outstanding athlete. Good for him.
After the fact, 2003
Another year in which Jerramy Stevens worked hard, made some plays, and stayed clean. That's a good thing.
After the fact, 2002
Jerramy Stevens, the controversial pick, did us proud. None of the worst-case-scenario nightmares were realizes. I think it's time to put his past behind him and look to the future. Let's just see where this young man with all the negative and very public press goes. I wish him the best.
Darrell Jackson predicted each of the games for the season at the start of the season. You can read his comments in the Game Summary each week!
I'm no guru... I usually depend on the likes of Kiper, et al. But rumors (from the papers) has Holmgren trading up... who is up there that we want? I think, smoke grinding etc., that we need a solid CB, another great WR, and as always OL men! Watcha y'all think?

--Pat
I am DEFINITELY no Mel Kiper either, but if we don't adress the tight end position in the first round with someone from Miami of Florida or Colorado, it BETTER be for a cornerback that no one will EVER throw at.

Translation: If we can't break into the top 3, then we need a TE.

Wow! How "Johnny Cochran" of me!

--Moses
Truly inspirational! Unfortunately I'll miss most of the first round for the first time in years (yes, I'm one of the geeks who camps in front of the tube for it. One day I'll make it to Madison Sq.).. Let's hope Johnny C is on target!

--Pat
WHAT??!?!?!

What could be so important that you're missing the draft?!?!?

(Careful who you're calling a geek!)

--Becky
So Brock Huard is dealt for a draft pick. That gives the Seahawks a lot of picks. So, what is Holmgren going to do? Here is my take on it.

Think about the 49ers of the 80's and 90's. The ones Holmgren learned everything from. How did they continue to be so successful?

Simple. Draft quality over quanity. Trade away multiple picks to teams with a number of holes. In exchange, you get a higher pick and draft a bonified starter in a spot or two you may need.

Remember when the 49ers traded picks to jump in front of the Seahawks to get Bryant Young? We settled for Sam Adams. Not bad, but who had the better IMMEDIATE impact?

It seemed to me those pesky 49ers were ALWAYS pulling off those draft day deals to jump up in the order. Sure, they may have drafted LESS players, but they were QUALITY NFL MATERIAL.

I am telling you. I think that tomorrow may get REAL INTERESTING REAL FAST. If Holmgren has learned anything from his San Francisco days, let's all hope he learned how to make the very MOST out of the next couple of days.

--Moses
I am happy for Brock Huard. In Indianapolis, he has a real shot to be one of those "quality backups" you hear about. He is TOO GOOD to be a third stringer somewhere. Face it. We ALL watched Minnesota's third stringer on the last Monday night game of the year. If Sturgeon Wynn has a job in the NFL as a thrid string quareterback, then Brock DESERVES to be a quality #2 somewhere.

In Indy, I think he will fit nicely behind Manning. Rypien (their current backup) is TOO old. With Huard, if something happens to Manning, the Colts have another gun slinger.

Best wishes, Brock!

--Moses
I'm with you, Moses! The longer Huard stayed in Seattle as 3rd string, the less his chances to make it in the NFL. Might as well trade him and see if he can flourish elsewhere in the league!

Good luck to Brock Huard!!!

And now we have yet another pick in the 5th round! That round practically belongs to us. (At least for now!)

--Becky