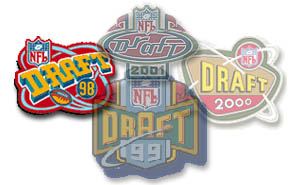 1984 Seattle Seahawks Draft Picks

Round
Player
Position
College
Pick
1.
Taylor, Terry
DB
Southern Illinois
22
2.
Turner, Darryl
WR
Michigan State
49
3.
Young, Fred
LB
New Mexico State
76
3.
Hagood, Rickey
DT
South Carolina
86
6.
Kaiser, John
LB
Arizona
162
7.
Slater, Sam
T
Weber State
189
8.
Puzar, John
C
Long Beach State
216
9.
Schreiber, Adam
G
Texas
243
10
. Morris, Randall
RB
Tennessee
270
11.
Gemza, Steve
T
UCLA
302
12.
Windham, Theodis
DB
Utah State
329
1983 Seattle Seahawks Draft Picks

Round
Player
Position
College
Pick
1.
Warner, Curt
RB
Penn State
3
5.
Castor, Chris
WR
Duke
123
6.
Gipson, Reginald
RB
Alabama A&M
150
7.
Merriman, Sam
LB
Idaho
177
8.
Hernandez, Matt
T
Purdue
210
9.
Clasby, Bob
T
Notre Dame
236
10.
Speros, Pete
G
Penn State
263
11.
Mayberry, Bob
G
Clemson
290
12.
Dow, Don
T
Washington
317
1982 Seattle Seahawks Draft Picks

Round
Player
Position
College
Pick
1.
Bryant, Jeff
DE
Clemson
6
2.
Scholtz, Bruce
LB
Texas
33
3.
Metzelaars, Pete
TE
Wabash
75
6.
Campbell, Jack
T
Utah
144
7.
Williams, Eugene
LB
Tulsa
174
8.
Cooper, Chester
WR
Minnesota
201
9.
Jefferson, David
LB
Miami
228
10.
Austin, Craig
LB
South Dakota
258
11.
Clancy, Sam
DE-DT
Pittsburgh
284
12.
Naylor, Frank
C
Rutgers
311
1981 Seattle Seahawks Draft Picks

Round
Player
Position
College
Pick
1.
Easley, Kenny
DB
UCLA
4
2.
Hughes, David
RB
Boise State
31
3.
Dugan, Bill
G
Penn State
58
4.
Phillips, Scott
WR
BYU
87
5.
Bailey, Edwin
G
South Carolina State
114
6.
Durham, Steve
DE
Clemson
140
7.
Johnson, Ron
WR
Long Beach State
170
7.
Scovill, Brad
TE
Penn State
186
8.
Lane, Eric
RB
BYU
196
9.
Stone, Jim
RB
Notre Dame
223
9.
Whatley, Jim
WR
Washington State
236
10.
Dawson, Ken
RB
Savannah State
252
11.
Olander, Lance
RB
Colorado
279
12.
Bednarek, Jeff
DT
Pacific
306
1980 Seattle Seahawks Draft Picks

Round
Player
Position
College
Pick
1.
Green, Jacob
DE
Texas A&M
10
2.
Hines, Andre
T
Stanford
44
4.
Dion, Terry
DE
Oregon
97
5.
Steele, Joe
RB
Washington
127
5.
Jacobs, Daniel
DE
Winston-Salem State
132
6.
McNeal, Mark
DE
Idaho
153
8.
Minor, Vic
DB
Northeast Louisiana
204
8.
Cosgrove, Jack
C
Pacific
207
9.
Swift, Jim
T
Iowa
238
10.
Essink, Ron
T
Grand Valley State
265
10.
Reaves, Billy
WR
Morris Brown
274
11.
Ena, Tali
RB
Washington State
292
12.
Gilbert, Presnell
DB
U.S. International
319
1979 Seattle Seahawks Draft Picks

Round
Player
Position
College
Pick
1.
Tuiasosopo, Manu
DT
UCLA
18
2.
Norman, Joe
LB
, Indiana
45
3.
Jackson, Michael
LB
Washington
57
4.
Bell, Mark E.
TE
Colorado State
102
7.
Polowski, Larry
LB
Boise St
169
9.
Tate, Ezra
RB
Mississippi College
240
10.
Hardy, Robert
DT
Jackson State
267
11.
Hinesly, Jim
G
Michigan State
293
12.
Moore, Jeff
RB
Jackson State
319
'79 Draft Success Too Soon to Tell
By John Thompson
Norm Evans' Seahawk Report
July 23-Aug. 5, 1979
While Don Testerman wanted to be traded because he felt he could be a starter elsewhere, we obviously can't afford to make decisions solely for that reason, and we didn't. The trade should work out well for the Redskins and for ourselves. Larry Polowski might not have been available to us later in the seventh round, plus we'll pick up an extra player a year from now.
Source: Norm Evans' Seahawk Report, Oct. 29 – Nov. 4, 1979
A Seahawk Blueprint: from expansion to contention
By Gary Huff
If past history holds, several of this years draftees should star this season. Already producing are Manu Tuiasosopo (1st round), tight end Mark Bell (2nd round), Robert Hardy (10th), Joe Norman (2nd), Michael Jackson (3rd) and Jeff Moore (12th).
Ezra Tate, taken in the ninth round, is spending the year on the injured reserve list along with free agent Marc Allen. Larry Polowski, a seventh round pick who was nearly sentenced to Buffalo, will play for the Seahawks after all.
Carl Eller, Dan Doornink, Jesse Green, Tony Green and Jeff Sevy were added to the team.
1978 Seattle Seahawks Draft Picks

Round
Player
Position
College
Pick
1.
Simpson, Keith
DB
Memphis State
9
2.
Butler, Keith
LB
Memphis State
36
3.
Jury, Bob
DB
Pittsburgh
63
4.
Hunter, Al
RB
Notre Dame
Choice
5.
Bullard, Louis
T
Jackson State
119
6.
Starks, Glenn
WR
Texas A&I
146
7.
Harris, John
DB
Arizona State
173
9.
Grimmett, Rich
T
Illinois
231
10.
Stewart, Rob
WR
Lafayette
258
11.
Halas, George
LB
Miami
301
12.
Bergeron, Jeff
RB
Lamar
316
Al Hunter was the FIRST player picked in the FIRST NFL Supplemental Draft in 1977, and it was the Seahawks who did so on Round #4. As a result Seattle had to forfeit their 4th Round pick in the 1978 regular NFL Draft. -- submitted by Sharpclaw, 2007
Source: Norm Evans' Seahawk Report, Oct. 29 – Nov. 4, 1979
A Seahawk Blueprint: from expansion to contention
By Gary Huff
In the third year, Seattle went 9-7 and barely missed not only a spot in the playoffs but also the division championship. Much of the improvement can certainly be traced to the development of the young players acquired during the previous two campaigns. But again in 1978, Jack Patera and John Thompson used all available means to improve the team. In the draft, the Hawks added Keith Simpson (1st round), Keith Butler (2nd), Louis Bullard (5th) and John Harris (7th). Again there was one disappointment. Third-rounder Bob Jury fell behind Harris at free safety and as a result wound up in San Francisco. At last report, Jury was no longer in the NFL.
Seattle also used the trade route to good advantage in 1978, acquiring Efren Herrera and Bill Gregory from the Cowboys. Herrera cost Seattle a fifth-rounder whereas Dallas got sixth round pick and an exchange of third round drafting positions for Gregory. Detroit gave up Ernie Price for defensive lineman Bill Cooke (who has since returned) and Seattle's position in the 1979 eighth round.
As in prior seasons, several free agents made the 1978 team. Still with the Seahawks are Kerry Justin and Brian Peets.
1977 Seattle Seahawks Draft Picks

Round
Player
Position
College
Pick
1.
August, Steve
G
Tulsa
14
2.
Lynch, Tom
T
Boston Co.
30
2.
Beeson, Terry
LB
Kansas
41
2.
Cronan, Pete
LB
Boston College
51
3.
Boyd, Dennis
DE
Oregon State
58
4.
Yarno, John
C
Idaho
87
4.
Seivers, Larry
WR
Tennessee
111
6.
Benjamin, Tony
RB
Duke
142
7.
Sims, David
RB
Georgia Tech
169
9.
Adzick, George
DB
Minnesota
225
10.
Adkins, Sam
QB
Wichita State
254
11.
Westbeld, Bill
T
Dayton
281
12.
Wilson, I.V.
DT
Tulsa
329
Source: Norm Evans' Seahawk Report, Oct. 29 – Nov. 4, 1979
A Seahawk Blueprint: from expansion to contention
By Gary Huff
For the second season, the Hawks picked up Cornell Webster, a future star at cornerback, via the free agent route. Also signing on as free agents were Herman Weaver and Charles McShane. John Sawyer was picked up on waivers from Houston. Bill Sandifer was acquired from San Francisco for linebacker Ed Bradley. Autry Beamon came from Minnesota with linebacker Amos Martin, both for a `78 eighth-rounder.
The biggest assist to the Seahawks building plans came, however, from the 1977 college draft. The Tony Dorsett trade helped by increasing the number of early Seattle picks. However, the team's fine selections continued throughout the two-day affair. As a result, Steve August (1st round), Tom Lynch, Terry Beeson, Pete Cronan (all 2nd), Dennis Boyd (3rd), John Yarno (4th), Tony Benjamin (6th), David Sims (7th) and Sam Adkins (10th) all cavort on the Kingdome carpet. The only `77 draft disappointment was Larry Sievers, a highly touted receiver whom the Hawks drafted on the 4th round with the selection acquired from Minnesota for Ahmad Rashad.
Thanks to a draft-day trade, Duke Fergerson came to Seattle. Dallas obtained a mid-second round pick in return and used it to select backup quarterback Glenn Carano. In a later supplemental draft, the Hawks gave up a 1978 fourth round pick to select running back Al Hunter.
The foundation in the second season had progressed but was still incomplete. The record: 5-¬9.
1976 Seattle Seahawks Draft Picks

Round
Player
Position
College
Pick
1.
Niehaus, Steve
DT
Notre Dame
2
2.
Green, Sammy
LB
Florida
29
2.
Smith, Sherman
RB
Miami (OH)
58
2.
Raible, Steve
WR
Georgia Tech
59
3.
Lloyd, Jeff
DE
West Texas State
62
3.
Engles, Rick
P
Tulsa
89
3.
Bitterlich, Don
K
Temple
92
4.
Myer, Steve
QB
New Mexico
93
4.
Johnson, Randy
G
Georgia
122
4.
Bolton, Andy
RB
Fisk
123
5.
Dufek, Don
DB
Michigan
126
5.
Jones, Ernie
DB
Miami
153
5.
Bates, Larry
RB
Miami
156
6.
Darby, Alvis
TE
Florida
157
7.
Dixon, Lodie
DT
Arkansas State
184
8.
Shipp, Larry
WR
LSU
210
9.
Bos, Bob
T
Iowa State
239
10.
Coffield, Randy
LB
Florida State
266
11.
Muehr, Keith
P
Southwestern Louisiana
293
12.
Barnett, Ronnie
WR
Texas-Arlington
320
13.
Reid, Andy
RB
Georgia
349
14.
Blinks, Jarvis
DB
Northwestern State (LA)
376
15.
Smith, Dan
T
Washington State
405
16.
Urczyk, Jeff
G
Georgia Tech
432
17.
Rowland, Chris
QB
Washington
461
Source: Norm Evans' Seahawk Report, Oct. 29 – Nov. 4, 1979
A Seahawk Blueprint: from expansion to contention
By Gary Huff
The bulk of the Seahawks first team in 1976 came, of course, from the veteran allocations draft. Many of those drafted merely filled positions until the college draft could provide quality replacements. Only four of those expansion draftees, Nick Bebout, Art Kuehn, Sam McCullum and Dave Brown remain today.
The Hawks' first-year college draft, while tainted with a few drafting errors, added five quality players. The selection of Steve Niehaus, the team's initial first-rounder, must now be regarded as one of the team's larger draft mistakes. In the third and fourth rounds, where a team should come up with some fine down-the-road players, the Hawks bombed. Jeff Lloyd (DL) and Randy Johnson (OG) didn't survive training camp. Rick Engles (P), Don Bitterlich (K) and Andrew Bolton (RB) didn't last much longer. All of these players have had shots with other teams, but their careers are essentially over.
Despite these shortcomings, the `76 draft did produce some important members of the `79 team: Sammy Green, Sherman Smith, Steve Raible (all in the second round), Steve Myer (4th) and Don Dufek (5th).
Three of Seattle's greatest personnel coups occurred prior to the start of the `76 regular season. First, of course, was the free agent signing of the then-unknown Jim Zorn. Seattle stole Steve Largent from Houston for an eighth round draft choice. The Hawks also acquired guard Ron Coder from Pittsburgh for a 1977 17th round draft choice. When the `77 draft was shortened to 12 rounds, the Hawks wound up switching places in the final round with the Steelers. Coder, who was drafted by the Steelers as a defensive tackle, spent his first year in Seattle learning the ways of an offensive lineman. For the 1976 campaign, Seattle also acquired guard Bob Newton on waivers from Chicago. Thus, with the foundation just underway, Seattle's first-year record was 2-12.