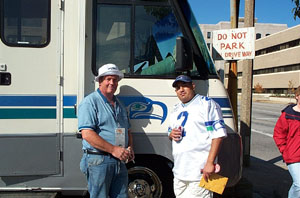 In the summer of 2002, the Midwest Sea Hawkers club was formed as an extension of the Sea Hawkers clubs in the Seattle area. Peter Flores was named Vice-President, Entertainment. Peter took his job seriously!
Months prior to the Seahawks/Rams game in October 2002, Peter started preparations for the annual meeting and tailgate party. After learning that the Seahawks wouldn't assist us in getting tickets, he worked with a broker to get a group seating in the same section of the stadium. He scoped out the area around the stadium and found an excellent spot for tailgating within a block of the Holiday Inn Select where many fans stayed. He fronted the money for all the tailgating expenses, including copious amounts of food and beverage! He made numerous phone calls and sent e-mail messages to people in Seattle who might be willing to donate give-away prizes for our raffle, and to breweries in St. Louis who might want to do a bit of advertising for their beer. He recruited his brother to help, he rented a U-Haul trailer to haul the supplies, he had posters printed for fans to sign and send to members who weren't able to make it -- there was nothing he didn't think of!
Then the big day came and Peter was up at the crack of dawn to prepare the site. He set up the grills, cooked the food, made sure all of us were well-fed and happy -- I can't say enough about his effort for this event! And through it all, he was charming and gracious!
THANKS, Peter! You're awesome, and like many Seahawks fans who attended the event, I'll never forget the fun we had in St. Louis! You're definitely worthy of the Seahawk Fan Ring of Honor!