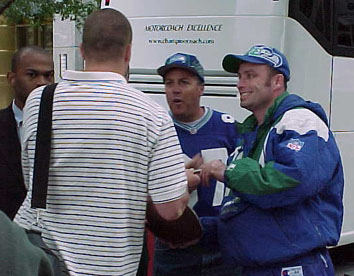 When the season schedule came out for 2000, Seahawk Fan Pat asked me if I'd like to meet him in Charlotte for a game! You don't have to ask me twice!
Never having been to North Carolina, much less Charlotte, I very much enjoyed my stay which was filled with two days of Seahawks excitement which included a hilarious (if not somewhat embarrassing) stake-out of the Hawks at the hotel where they stayed!
While waiting in the lobby, we had the opportunity to meet the parents of Lamar King. Lovely people. We had such a nice time visiting with them, and when the players finally came through, they actually pulled Lamar over to us and told him they wanted him to meet "these nice people"! Isn't it supposed to be the other way around!? Lamar was a real trooper with those of us who were stalking the Seahawks -- he even gave the wee ones photo ops to please the dads in the crowd! Great, great time!
And yes, we really did ride the elevator to get autographs! I don't believe to this day that I actually did that -- and that it worked! How crazy is that?! It was SO much fun! Embarrassing! But tons of fun!
Oh, and if you ever guy tickets through a broker and they come with a "box lunch" -- GET IT! Ours turned out to be a 3 course buffet meal in a swank hotel restaurant! What a fun surprise that turned out to be!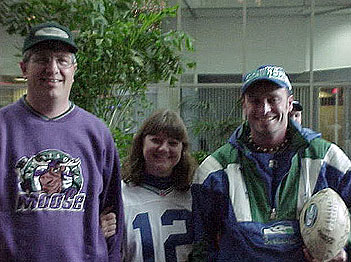 Thanks Pat, for a lot of laughs and a fun-filled two days in a lovely city, and for all the fun we've had since that initial get-together. I like to think that the weekend when Dave Krieg was inducted into the Seahawks Ring of Honor made up for the sadness of losing such a pitiful game in Charlotte.
And remember ... you said you'd name your first born after me! I'm sure little Becky will know all about Chuck Knox and Dave Krieg one day!