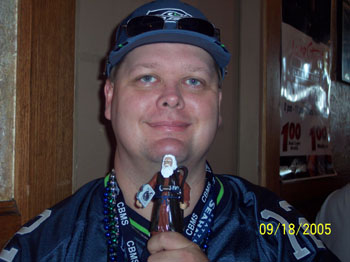 Why in the world has it taken me this long to induct Moses into the Hall of Fame?
Moses is the first Seahawks fan I met on-line over 10 years ago. I was an Internet newbie and I found the KJR radio station Seahawks chat room, and there was Moses! Many an hour were spent with Moses from Indiana, First Down from Canada, joec from Portland (I think) and Paws from Alaska at the KJR chat! It was then that I realized that Seahawks fans are spread far and wide, and if the Internet could bring us all together, I wanted to be part of it!
Without knowing it, Moses was inspirational in the growth of my Seahawks fan website. He'd throw out terrific ideas in the course of our banter and I'd run with them on the site. I knew nothing about designing web pages back then but it didnít matter -- if someone suggested it, I put it on-line! Moses began writing a game day preview by Moses on High that I would publish on my site. His articles were a huge hit and the persona grew! He branched out from game day previews to menus to the ... uh ... ever popular ... haiku????? Yes, yes, thatís right, the ever popular haiku. :-)
When I met Moses he was a starving college student. Now he's married, he has children, and he's dutifully taken his family on a pilgrimage to Seattle where he became well-connected on his very first visit to the Emerald City! It's through Moses that I've been able to meet the most die hard fans. It's through Moses that I stood on the field before a game and heard my name chanted from the end zone crowd! It's through Moses that I've once again enjoyed privileges reserved for the Seahawks elite!
Moses, you've not only been a good friend through the years, you've been a champion Seahawks fan! Thank you so much, and here's to many years and another generation of Seahawks fans!