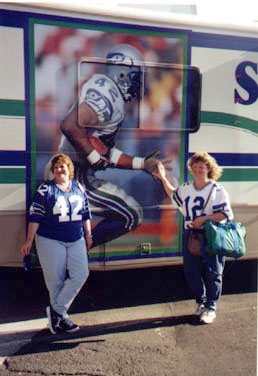 In September 1997 I flew to Seattle for my first game in the Kingdome! I hadn't been to Seattle in about 10 years and I'd never been to a football game in the Kingdome so I had no idea what to expect. I met up with season ticket holders Marolyn and Jim who showed me the ropes! They were kind enough to share their End Zone membership, allowing me access to game day activities that I didn't know existed, including the post-game press conference! Jim selflessly gave up his admission to the event so that Marolyn and I could go together!
We started the adventure outside the stadium as we obtained autographs from players as they entered the Kingdome. Marolyn knew all the players by sight, and she knew most of the fans there, too. I felt like a celebrity in her presence!
The club membership allowed us into the stadium early to have lunch on linen at tables set with blue and green everything! There were Seahawks murals painted on the walls -- I was instantly pumped up!
After the game we met in the press conference room where we were served hot and cold finger foods and our choice of beverages while we waited for players to arrive to be interviewed! Right there -- in the room -- listening to the players address the media and this select group of die hard fans! I thought I'd died and gone to heaven!
Another unbelievable experience thanks to the generosity of Seahawks fans!
Thanks, Marolyn and Jim! You were the inaugural members of my Fans Hall of Fame, and I'll always be grateful for the fun you shared with me!