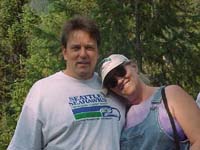 In August 2001 I flew to Spokane for a week. My goal was simple enough: to see what I could of the Seahawks' training camp in Cheney. Although I've known Karyn for 5+ years, I'd never met her face-to-face.
Leave it to Karyn and Craig to give me a thrill a day! Their generosity, friendship and laughter (ohhh, the laughter!) has awarded them a spot in my Seahawk Fan Ring of Honor!
That, and the fact that I was a princess the entire time I was there. Training camp was enough of a thrill for me, but Karyn managed to pull some strings and get us into the locker room on the last day of training camp. They were tearing things down and giving things away -- like nameplates from the lockers! TREASURE!!
I'd have been perfectly content to have gone home right then. Instead we headed to a cabin in the mountains (where the bludgeoning was to begin!) for some hiking, swimming, and yet another gourmet meal cooked on the deck of a dream-come-true cabin. I think I'll remember that night for as long as I live -- the cool air, the starry sky, a feeling of true peace.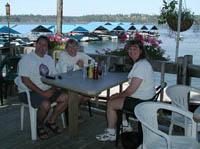 But that wasn't all! Karyn and Craig pulled a few strings to get us into an outdoor concert. On the top of a beautiful mountain. On a gorgeous day. They knew all the members in the band, and apparently some of the band knew me. It was the craziest thing! After the main act, 38 Special, had performed, Karyn used her connections once again to get us backstage. We hung around to take some photos of the concert organizer with the band, and as the band finished up their gig and headed out the door, they actually shook my hand and thanked me ... ME!!! ... for allowing them to be there!! Um, sure, any time!!!!
I laugh so hard when I'm with Karyn and Craig. I love them to pieces, and I'll go anywhere with them for the fun of their company!
DEFINITELY worthy of the Hall of Fame. Thanks guys, for many awesome memories!