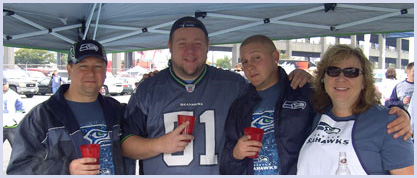 Hall of Fame inductees catch me off guard every time, which is often why they're here in the Hall of Fame. Cris is no exception.
Cris is a regular at my Seahawks forum. I'd never met him personally prior to the 2007 Seahawks/Bengals game but I was headed to the game and thought I'd pop by to say hi. The conversation started innocently enough when Cris teased Moses about being in Seattle and not coming to his tailgate party, and I wrote back telling Cris we had another opportunity because both Moses and I would be in Seattle for the Bengals game. Cris wrote:
I'm always in the Pyramid back parking lot. My whole family is there and we ALWAYS have a ton of food and beer!!! We throw the football around until about 12:20, then we head over to the field. We start around 10AM. I'll be in front of a red Expedition wearing a Tatupu Jersey running around the parking lot catching the ball most likely.
The day of the game came and we cruised in to Seattle from Gig Harbor. My friends and I found a parking spot close to the Pyramid and started walking around looking for Cris. I recognized him instantly from the picture he'd posted of himself playing football.
Now, Cris had said that he was putting together an extra special tailgate party with kabobs since he was having guests. What I wouldn't have expected in a million years was the spread his family laid out for us! First of all his mom, Lorrie, is an awesome cook! She had finger foods set out when we arrived, including smoked pork and chips and dip. The whole family was generous with mini kegs of beer on tap and bottles of Mike's Hard Lemonade.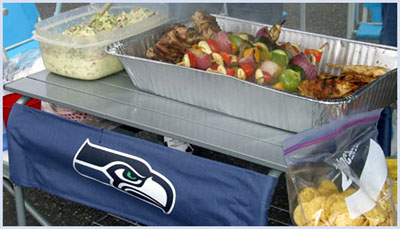 They had set up a Seahawks tent with a Seahawks serving cart - Lorrie was wearing a Seahawks apron - and she started working her magic on the grill. She had skewered pork on stalks of rosemary for the most beautiful and tasty shish-kabobs EVER! Who'd have thought to do that?!? What a great and flavorful idea! She also grilled chicken kabobs and wonderfully delicious vegetable kabobs. There was a huge bowl of coleslaw to go with the rest. I thought I'd died and gone to heaven!
Not only did they feed us, when unexpected friends of my friends showed up, they invited them to eat as well! They didn't know these people from Adam, but they were all welcome at the table.
Not only were they generous with food and beverages, but they refused to accept payment and they did the cleaning up. That's above and beyond, to be sure! And on top of all that, they are SO nice!!! What a great conversation we had! We've got to do this again sometime!!!
Thank you so much Cris for the casual invitation to your tailgate party that turned into a terrific treat! You have an awesome family, and we all appreciate your generosity and friendship! Next time we meet up, we'll be contributing to the party (though it will be hard to top this year's tailgate)!!